Joseph Johnson, letter, to Eleazar Wheelock, 1767 December 29
ms-number: 767679.2
abstract: Johnson writes of his spiritual concerns, the progress of the school, and his differences with Kirkland.
handwriting: Handwriting is small, yet mostly clear and legible. Letter case is frequently difficult to discern, especially with regard to the letter S.
paper: Large sheet folded in half to make four pages is in good condition, with light staining, creasing and wear.
ink: Black-brown ink is faded in spots.
---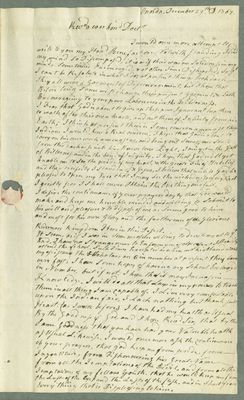 (View Page Image)
Onoida.
December 29..

th

AD. 1767.

Rev

d

& ever hon

d

Doct.

r



I would once more attempt to
write to you my Hon
d
Benefactor; Notwithſtanding I find
my mind so Diſcompoſ'd, it is as if their was no Solidneſs in my
mind, sometimes Encouraged, & at other time Diſhearted; So y
t
I cant be Reſolute in what I do. at preſent things look dark—
They all wear a garment of Diſcouragement, but I hope that
Before long Some will change their preſent garment, & Look
Encouraging to your poor Labourers in the Wilderneſs.
I Fear that God is about to give up theſe poor Ignorant heathen
to walk after their own hearts, and cut them of Intirely from his
Earth; I think at preſent their is Some concern amongſt theſe
Indians I would hope a Real concern, I hope that God is about to
carry on his own work amongſt us, and bring out Some of our Souls
from this darkneſs into his Marvelous Light. I am yet in the Gall
of Bitterneſ and in the bond of Iniquity. I hope that God will yet
Enable me to See the pride of my heart, & the great Sin of Unbelief
and the Neceſsity I Stand in of X Jeſus, I believe that unleſs God be
pleaſed to open my Eyes that I may See the wickedneſs of my h
⇑
e
art
I greatly fear I shall never Obtain the One thing needfull.
I deſire the continuance of your prayers dayly that God would
make and keep me humble minded and willing to Submit to
his will and pleaſure & to diſpoſe of me as Seems good to him
and moſt for his own Glory and the furtherence of the Glorious
Redeemers Kingdom Here in this Deſert.
It seems as if I was in Some meaſure willing to devote my at to y
t
End. I have no Strange news to Enform you of at preſent I steadily
attend the School, Such Times Excepted as when
m

r

kirtland
wants
my aſsiſtan
t
ce the
illegible
Scholars ar 5 in number at preſent they larn
very faſt, I have Some hopes of having my School Enlargd
in Number, but if not, I hope that it may Increaſe in—
Knowledge. I will do all that Lays in my power to teach
them in all thing I am capable of. I Live very comfortable
upon the Indian fair, I Lack nothing but thank full
Heart. (as I wrote before.) I have had my health as Uſual
By the Goodneſs of God, and I hope
Rev

d

Sir,
that by the
Same Go
d
odneſs that you have had your Valuable health
aſ Uſual Likewiſe. I would once more aſk the continuance
of your prayers, that god keep me from pride, from—
Ingratitude, from diſhonouring his Great Name—
from all the Temptations of the Divil, and from all the
Temptations of my fellow Youth. that he would keep me from
the Luſts of the Eye, and the Luſts of the fleſh. and in Short from
Everything that is Diſpleaſing to him.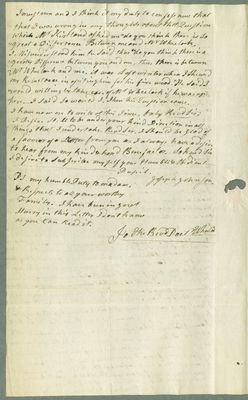 (View Page Image)
I muſt own and I think it my duty to confeſs now that
that I was wrong in my thoughts about that Queſtion
which
M

r

kirtland
aſked me "do you think there is So
"great a Differrence Between me and
M

r

Wheelock
,
I Miſunderſtood him he Said that "do you think there is a
"greater Difference between you and me, then there is between
"
M

r

Wheelock
and me. it was Laſt winter when I Shewed
my Reluctance in aſsiting him for his fire wood." He Said I
"would willingly take care of
M

r

Wheelock
if he was up
"here.—I said So would I. Then his Queſtion came.
I have no more to write at this Time, Only
Rev

d

Sir
;
I Deſire Still to be under your kind Direction in all
things thal I undertake.
Rev

d

Sir
. I should be glad of
a favour of a
illegible
Litter from you as I always have a deſire
to hear from my kind & hon
d
Benefactor.
So hon

d

Sir
I deſire to Subſcribe myſelf your Humble & Obedient—
—Pupil.
Joſeph Johnſon.
PS. my humble Duty to
madam
,
& Reſpects to all your worthy
Family. I have been in great
Hurry in this Letter I dont know
as you can Read it.
To The Rev

d

Doct

r

Wheeloc

⇑

k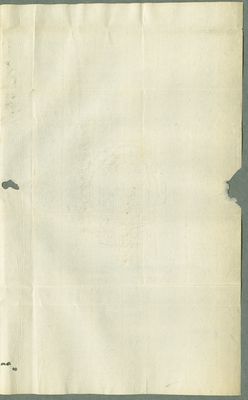 (View Page Image)
Blank page.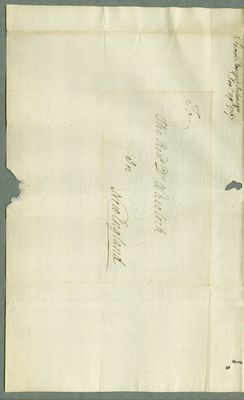 (View Page Image)
From
Joseph Johnson
Dec.

r

29.

th

1767
To
The
Rev.

d

D

r

Wheelock
In
New England
Oneida
Oneida is a city in Madison County located at the geographical center of New York state. Before European settlement of the area, the Oneida Tribe, one of the Six Nations of the Haudenosaunee (Iroquois) Confederacy, inhabited a large territory adjacent to nearby Oneida Lake. Around 1533, they built their first village on the south shore of the lake, at or near the mouth of Oneida Creek. At the end of the 17th century, this area began suffering raids by parties from the French colony of Quebec, in a battle to control the fur trade. In 1696, Oneida village was burned by the French. As a result, the Oneidas moved their chief village east of the original site, called Old Oneida, to a new site called Kanawalohale, also known as Oneida Castle, which was fortified by tall palisades and a moat. This is the site of the present-day village of Oneida Castle, a small hamlet west of the city of Oneida in the northwest corner of the town of Vernon. When used in Occom Circle documents, the place name "Oneida" usually refers to the territory inhabited by the Tribe east of Oneida Lake, but can also refer specifically to Oneida Castle. Although the Oneidas sided with the patriots during the Revolutionary War, much of their territory was sold or appropriated by the state of New York. In 1790, the first European settlers moved into the area of Old Oneida village, and the district began to expand. In the 1830s, the state built a feeder from Oneida Creek through the present city site to provide water for the new canal system, which enabled canal boats to ship freight into the town. Eventually, the railroad came through the town and helped with its expansion. This led to the incorporation of the Village of Oneida in 1848 and the establishment of the Town of Oneida in 1896. The town was chartered as the City of Oneida in 1901, and with two more railroad lines transecting the area, it became a thriving manufacturing center for the first half of the 20th century.
Johnson, Joseph
Joseph Johnson was a Mohegan who studied at Moor's Indian Charity School and became one of the most important organizers of the Brothertown Movement (a composite tribe composed of Christian members of seven Southern New England Algonquian settlements). He was a prolific writer and his papers are relatively well-preserved. Johnson's writing is especially noteworthy for his skillful use of Biblical allusion and his awareness of the contradiction that he, as an educated Native American, presented to white colonists. Johnson arrived at Moor's in 1758, when he was seven years old, and studied there until 1766, when he became David Fowler's usher at Kanawalohale. He continued teaching in Oneida territory until the end of 1768, when Samuel Kirkland sent him home in disgrace for drunkeness and bad behavior. After a stint teaching at Providence, Rhode Island, and working on a whaling ship, Johnson returned to Mohegan in 1771 and became a zealous Christian. He opened a school at Farmington, CT, in 1772, for which he seems to have received some minimal support from the New England Company. From his base at Farmington, he began organizing Southern New England Algonquians for the Brothertown project. The goal was to purchase land from the Oneidas, the most Christianized of the Six Nations, and form a Christian Indian town incorporating Algonquian and Anglo-American elements. Johnson spent the rest of his short life garnering necessary support and legal clearance for the Brothertown project. Johnson died sometime between June 10, 1776 and May 1777, at 25 or 26 years old, six or seven years before Brothertown was definitively established in 1783. He was married to Tabitha Occom, one of Samson Occom's daughters. She lived at Mohegan with their children even after Brothertown's founding, and none of their children settled at Brothertown permanently. Like most of Wheelock's successful Native American students, Johnson found that he could not satisfy his teacher's contradictory standards for Native Americans. Although Johnson's 1768 dismissal created a hiatus in their relationship, Johnson reopened contact with Wheelock after his re-conversion to a degree that other former students, such as Samson Occom, David Fowler, and Hezekiah Calvin, never did.
Wheelock, Eleazar
Eleazar Wheelock was a New Light Congregationalist minister who founded Dartmouth College. He was born into a very typical Congregationalist family, and began studying at Yale in 1729, where he fell in with the emerging New Light clique. The evangelical network that he built in college propelled him to fame as an itinerant minister during the First Great Awakening and gave him many of the contacts that he later drew on to support his charity school for Native Americans. Wheelock's time as an itinerant minister indirectly brought about his charity school. When the Colony of Connecticut retroactively punished itinerant preaching in 1743, Wheelock was among those who lost his salary. Thus, in 1743, he began operating a grammar school to support himself. He was joined that December by Samson Occom, a Mohegan Indian, who sought out an education in hopes of becoming a teacher among his people. Occom's academic success inspired Wheelock to train Native Americans as missionaries. To that end, he opened Moor's Indian Charity School in 1754 (where he continued to train Anglo-American students who paid their own way as well as students who functionally indentured themselves to Wheelock as missionaries in exchange for an education). Between 1754 and 1769, when he relocated to New Hampshire, Wheelock trained approximately 60 male and female Native American students from nearby Algonquian tribes and from the Haudenosaunee (Iroquois) of central New York. At the same time, he navigated the complicated politics of missionary societies by setting up his own board of the Society in Scotland for Propagating Christian Knowledge, although he continued to feud with the Boston Board of the SSPCK and the London Commissioners in Boston (more colloquially called the New England Company). By the late 1760s, Wheelock had become disillusioned with the idea of Native American education. He was increasingly convinced that educating Native Americans was futile (several of his students had failed to conform to his confusing and contradictory standards), and, in late 1768, he lost his connection to the Haudenosaunee. With his inclination and ability to sponsor Native American missionaries largely depleted, Wheelock sought instead to fulfill his ultimate ambition of obtaining a charter and opening a college, which he did in 1769. To fund this new enterprise, Wheelock drew on the £12,000 that Samson Occom had raised for Moor's Indian Charity School during a two-and-a-half year tour of Great Britain (1765 to 1768). Much of this money went towards clearing land and erecting buildings in New Hampshire for the Charity School's relocation — infrastructure that also happened to benefit Dartmouth. Many of Wheelock's contemporaries were outraged by what they saw as misuse of the money, as it was clear that Dartmouth College was not intended for Indians and that Moor's had become a side project. Although Wheelock tried to maintain at least some commitment to Native American education by recruiting students from Canadian communities, the move did a great deal of damage to his public image. The last decade of Wheelock's life was not easy. In addition to the problems of trying to set up a college far away from any Anglo-American urban center, Wheelock experienced the loss of relationships with two of his most famous and successful students, Samson Occom and Samuel Kirkland (an Anglo-American protégé). He also went into debt for Dartmouth College, especially after the fund raised in Britain was exhausted.
Kirkland, Samuel
Samuel Kirkland (b. Kirtland) was Eleazar Wheelock's most famous Anglo American student. He conducted a 40-year mission to the Oneidas and founded Hamilton College (established in 1793 as Hamilton Oneida Academy). Kirkland won acclaim as a missionary at a young age by conducting an adventurous and risky mission to the Senecas, the westernmost of the Haudenosaunee (Iroquois) Six Nations. After his year and a half among them, which was well publicized by Wheelock, he was ordained and sent as a missionary to the Oneidas under the auspices of the Connecticut Board of the Society in Scotland for Propagating Christian Knowledge. He spent most of the rest of his life serving the Oneidas as a minister. Kirkland's sincere devotion to serving as a missionary was excellent publicity for Wheelock's program, but it also brought the two men into conflict. Wheelock became jealous of Kirkland when the school's British benefactors began urging Wheelock to make Kirkland his heir, and Kirkland, meanwhile, was upset that Wheelock had failed to provide him with sufficient supplies on his mission — a complaint that he was unafraid to publicize (and that almost all of Wheelock's other students shared). The breaking point came in 1770, when Kirkland split from Wheelock's Connecticut Board and affiliated with the New England Company, a missionary society that had abruptly turned against Wheelock in 1765. Wheelock and Kirkland briefly made up in 1771, but their relationship quickly dissolved into further acrimony. Although Kirkland spent most of his life as a missionary to the Six Nations, he generally held disparaging views of Native Americans. He did not approve of Wheelock's plan to educate Indians as missionaries, and was haughty towards the Moor's alumni that worked with him (notably David Fowler, Joseph Johnson, and Joseph Woolley). Prior to the Revolution, Kirkland had been stringent in his refusals to take Oneida land, even when offered to him. The Revolution seems to have shifted his loyalties from the Oneidas to local Anglo Americans. Kirkland served as a chaplain in the American army and was instrumental in convincing the Oneidas to remain neutral (or, more accurately, to side with the Americans). At one point he was the chaplain with General Sullivan's army, the force sent to ransack Seneca and Cayuga territory in 1779. It is unclear what emotions this aroused in Kirkland, who had served the Senecas less than 15 years earlier, yet after the war, Kirkland freely engaged in Oneida dispossession. Along with James Dean, another Wheelock alumnus with close ties to the Oneidas, Kirkland played a pivotal role in urging the Oneidas to sell land illegally to the state of New York. The land deals that resulted gave Kirkland the property, financial capital, and connections to establish Hamilton Oneida Academy. The last decades of Kirkland's life were difficult. He found himself in a three-way battle with Samson Occom and John Sergeant Jr., who were also ministers in Oneida territory, for the hearts and minds of their congregations; he was fired as a missionary in 1797, although he continued to serve sans salary; one of his son's business enterprises failed, leaving Kirkland nearly destitute; and two of his three sons died unexpectedly. Hamilton Oneida Academy, like Moor's Indian Charity School, largely failed at its goal of educating Indians, and in 1812, four years after Kirkland's death, it was re-purposed as Hamilton College, a largely Anglo-American institution. At some point in the mid-to-late 18th century, Kirkland changed his name from Kirtland, although the reasons for this are uncertain.
Wheelock, Mary (née Brinsmead)
Mary Wheelock was born Mary Brinsmead on July 26, 1714 in Milford, Connecticut. In the year following the death of his first wife, Eleazar began to court Mary Brinsmead, and the two married on November 21, 1747. Mary and Eleazar had five children together, including John, who would succeed his father as President of Dartmouth College. Little appears in the historical record about Mary, but many of the people who wrote to Wheelock, especially his Native correspondents who often lived with the family, referred to her warmly. In September 1770, Mary dismantled her longtime home in Connecticut, and travelled with her children to the Wheelocks' new home in the wilderness of New Hampshire. They rode in a coach sent over from England by John Thornton, accompanied by 30 Charity School students on foot. Eleazar, who had gone ahead to build housing for everyone, wrote a letter to Mary with many instructions about the move; the disposition of domestic animals, people, supplies; and the acquisition of money that suggests she was an able and trustworthy manager (manuscript 770510.1; this manuscript is not included in Occom Circle documents). She died in 1784 in Hanover, New Hampshire, where she is buried in the Dartmouth College Cemetery.