Sarah Simon, letter, to Eleazar Wheelock, 1767 October 12
ms-number: 767562.4
abstract: Simon writes that she is glad her daughter Sarah has succeeded at Wheelock's school, and hopes her young son does as well. She also offers to send another daughter and another son.
handwriting: Handwriting varies in size and wanders somewhat. However, it is largely legible. When the handwriting is compared with that of manuscript 767559, which is signed Sarah Simon but appears to have been written by Edward Deake, it seems probable that this is Simon's actual hand.
paper: Large single sheet is in good condition, with light staining, creasing and wear.
ink: Brown ink is heavily faded.
noteworthy: There is a pencil mark near the the trailer on one verso. The trailer is in an unknown hand.
---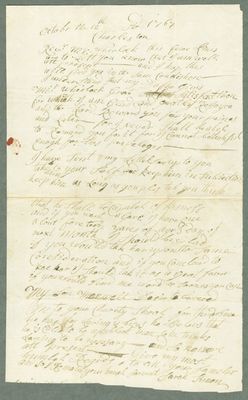 (View Page Image)
Octobr the 12

th

Ad 1767
Charleston
Rev:

r

mr:. Whealock



thes fewe Lines
are to Lett you know that I am well
att present — and I hop thes
will find you in the Sam Condishon—
I underStand that
my Da

[illegible]

ter
gives
Mi:.

r

Wheelock
Grat
Sat

[illegible]
Satisfacttion
for w
[illegible]
hich I am Glad and gratly ReJoyce
and the Lord Reward you for your paines
and Laber – for I Never Shall be abel
to Reward you for it for I Cannot be
t
thakful
Enogh for thes preveloges —
I have Sent
[illegible]
my Lettel Son
up to you
take
⇑
[below]
him
to your Self and keep him in Subi
[illegible]
[guess: ec]
tion
keep him as Long as you ples tel you think
that he Shall be Capabel of Bisneſs
and if you want a Garl I have one
about foreteen yares of age
3

d

day of
next month
I Should be Glad
if you would tak har upon the Same
ConSideration and if you Concloud to
[illegible]
[guess: kee ]
har I Should tak it as a grat favor
if you would Send me word as Soon as you Can
My Son
Manwell
Desir to be reced
In to your
Charety Shool
for the desine
he has for Lering is becas he Belevs that
he is Calld to be a publeck man So he thinks
Larning to be neseſary — and So no more
att present — Give my most
humbel Regrds to all your fameler
and So I Remain your humel Sarvent
Sarah Simon
[gap: tear]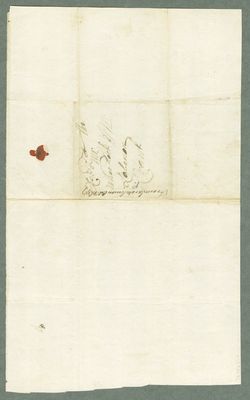 (View Page Image)
From
Sarah Simon
Oct.

r

12

th

1767
To the
Re:
v
Mr.
Wheelock
IN
Labenon
Crank
Moor's Indian Charity School
Moor's Indian Charity School was a grammar school for Native Americans that Eleazar Wheelock opened in North Lebanon, Connecticut in 1754. The school was named for Colonel Joshua Moor, also spelled More, who donated the land and school building. Moor's was essentially an expansion of the grammar school that Wheelock opened in 1743 to support himself during the fallout from the First Great Awakening, when Wheelock, who'd participated in itinerant ministry during the Awakening, had his salary confiscated by the colony of Connecticut. In December of that year, Samson Occom asked Wheelock to teach him as well. Wheelock's work with Occom was so successful that Wheelock decided to replicate the experiment with other Native American boys. He accepted his first Indian students in 1754, and in 1761 began taking female students as well. Wheelock believed that in time, his school would become just one part of a larger missionary enterprise. He planned to send his Anglo American and Native American students to various tribes as missionaries and schoolmasters, with explicit instructions to pick out the best students and send them back to Moor's to continue the cycle. His ultimate goal was to turn his school into a model Christian Indian town that would include farms, a college, and vocational training. However, Wheelock's grand design did not survive the decade. Wheelock lost the vast majority of his Native American students; he fought with many of the best, including Samson Occom, Joseph Johnson, David Fowler, and Hezekiah Calvin, and other former and current students accused him of subjecting Native Americans to disproportionate amounts of manual labor. In 1769, perhaps due to concerns about corporal punishment, the Oneida withdrew all their children from Moor's. When Wheelock relocated to Hanover in 1769, only two Native American students came with him, and it became clear that Wheelock's focus was on Dartmouth and that Dartmouth was for white students. After Wheelock's death in 1779, Moor's Indian Charity School receded further into the background as John Wheelock, his father's reluctant successor, stopped taking Indian students. Some Native American students were enrolled in Moor's until 1850, when the school unofficially closed.
Charlestown
Charlestown is located in Washington County in southwestern Rhode Island along the Block Island sound. For thousands of years before European settlement, the area was inhabited by Native Americans who lived by hunting, fishing and agriculture. When the English dissenter, Roger Williams, fled Massachusetts Bay in 1636 and stepped ashore in what would become the Plantation of Providence, he was welcomed by Canonicus, sachem of the Narragansett Indians. From Canonicus, Williams purchased a large tract of land that included the settlement of Misquamicut, which would become the site of an English settlement named Charlestown after King Charles II. It was incorporated in 1783. After the Great Swamp Fight in which the United Colonies massacred many Narragansetts — and hunted down and killed or enslaved those who escaped — 500 survivors (from a pre-war population of 5,000) signed a 1682 peace treaty and received permission to join with the Eastern Niantic tribe, which had remained neutral throughout the war and had a small reservation near Charlestown. Settlers continued to acquire land from the Naragansetts, and by 1880, the tribe ceased to exist as a legal entity. A portion of tribal lands were returned to Narragansett ownership in 1978 by the courts and state legislation, and the tribe was officially recognized in 1983. Charlestown is the present-day headquarters of the Narragansett Tribe and the location of their reservation.
Lebanon Crank
Lebanon Crank was the name of an area in the northwest part of the town of Lebanon, Connecticut, on both sides of the Hop River, which was created by the Connecticut legislature in 1716, in response to the demand of residents who did not want to travel to the First Church in Lebanon proper for services. It was also known as Lebanon North Parish and the Second Society or Second Church in Lebanon, names that refer to religious organizations of the Congregational Church. The two dozen families who started the parish built their first meetinghouse near the site of the present structure, around which the religious and political life of the community revolved. Eleazar Wheelock served as minister in this parish from 1735 to 1769, and his house, built around 1735, is the oldest building still standing. Lebanon Crank played a major role in his life. It was his base of operations when he became an itinerant mininster during the religious awakenings of the 1730s and 1740s, and he presided over a revival in the Second Church in 1740. His Indian Charity school was located nearby in Lebanon, and his students attended the Second Church in Lebanon Crank as part of their education. The parish was so invested in Wheelock's School that they tried to keep him from moving it up to New Hampshire when he founded Dartmouth College, but failed. Lebanon Crank was subsequently renamed Columbia and established as a separate town in May 1804.
Simon, Sarah
Mrs. Sarah Simon is the matriarch of the Narragansett Simon family, which included herself, Miss Sarah Simon, James Simon, Abraham Simon, Daniel Simon, and Emmanual Simon. All five children (there was at least one other) were educated at Moor's, to some degree. The Simon family spells their name Simon, but Wheelock and others vary it. She sent five children to Wheelock. Although Miss Sarah wrote that Mrs. Sarah was ill in 1769, missionary records indicate that Mrs. Sarah survived until at least 1773.
Wheelock, Eleazar
Eleazar Wheelock was a New Light Congregationalist minister who founded Dartmouth College. He was born into a very typical Congregationalist family, and began studying at Yale in 1729, where he fell in with the emerging New Light clique. The evangelical network that he built in college propelled him to fame as an itinerant minister during the First Great Awakening and gave him many of the contacts that he later drew on to support his charity school for Native Americans. Wheelock's time as an itinerant minister indirectly brought about his charity school. When the Colony of Connecticut retroactively punished itinerant preaching in 1743, Wheelock was among those who lost his salary. Thus, in 1743, he began operating a grammar school to support himself. He was joined that December by Samson Occom, a Mohegan Indian, who sought out an education in hopes of becoming a teacher among his people. Occom's academic success inspired Wheelock to train Native Americans as missionaries. To that end, he opened Moor's Indian Charity School in 1754 (where he continued to train Anglo-American students who paid their own way as well as students who functionally indentured themselves to Wheelock as missionaries in exchange for an education). Between 1754 and 1769, when he relocated to New Hampshire, Wheelock trained approximately 60 male and female Native American students from nearby Algonquian tribes and from the Haudenosaunee (Iroquois) of central New York. At the same time, he navigated the complicated politics of missionary societies by setting up his own board of the Society in Scotland for Propagating Christian Knowledge, although he continued to feud with the Boston Board of the SSPCK and the London Commissioners in Boston (more colloquially called the New England Company). By the late 1760s, Wheelock had become disillusioned with the idea of Native American education. He was increasingly convinced that educating Native Americans was futile (several of his students had failed to conform to his confusing and contradictory standards), and, in late 1768, he lost his connection to the Haudenosaunee. With his inclination and ability to sponsor Native American missionaries largely depleted, Wheelock sought instead to fulfill his ultimate ambition of obtaining a charter and opening a college, which he did in 1769. To fund this new enterprise, Wheelock drew on the £12,000 that Samson Occom had raised for Moor's Indian Charity School during a two-and-a-half year tour of Great Britain (1765 to 1768). Much of this money went towards clearing land and erecting buildings in New Hampshire for the Charity School's relocation — infrastructure that also happened to benefit Dartmouth. Many of Wheelock's contemporaries were outraged by what they saw as misuse of the money, as it was clear that Dartmouth College was not intended for Indians and that Moor's had become a side project. Although Wheelock tried to maintain at least some commitment to Native American education by recruiting students from Canadian communities, the move did a great deal of damage to his public image. The last decade of Wheelock's life was not easy. In addition to the problems of trying to set up a college far away from any Anglo-American urban center, Wheelock experienced the loss of relationships with two of his most famous and successful students, Samson Occom and Samuel Kirkland (an Anglo-American protégé). He also went into debt for Dartmouth College, especially after the fund raised in Britain was exhausted.
Simon, Sarah
Miss Sarah Simon was a member of the Narragansett Simon family: Mrs. Sarah Simon, Miss Sarah Simon, James Simon, Abraham Simon, Daniel Simon, and Emmanual Simon. All five children (there was at least one other) were educated at Moor's, to some degree. The Simon family spells their name Simon, but Wheelock and others vary it. Miss Sarah was one of Wheelock's female students, and wrote a spiritually troubled letter to him before departing (769900.1).
Simon, James
Part of the Simon family: Mrs. Sarah Simon, Miss Sarah Simon, James Simon, Abraham Simon, Daniel Simon, James Simon, and Emmanual Simon. All five children (there was at least one other) were educated at Moor's, to some degree. The Simon family spells their name Simon, but Wheelock and others vary it. James Simon served in Revolution.
Simon, Emmanuel
Part of the Simon family: Mrs. Sarah Simon, Miss Sarah Simon, James Simon, Abraham Simon, Daniel Simon, James Simon, and Emmanuel Simon. All five children (there was at least one other) were educated at Moor's, to some degree. The Simon family spells their name Simon, but Wheelock and others vary it. Emmanuel eventually enlisted in the Revolution.