Mary Secutor, letter, to Eleazar Wheelock, 1767 October 12
ms-number: 767562.2
abstract: Secutor writes that she is thankful for Wheelock's permission to visit her Nation, and that she will return around Thanksgiving.
handwriting: Formal hand is clear and legible. Handwriting is the same as on 765566.1, 767115.1, 767552, 767559, 767630.2, 767660.2, and possibly 767231 and 767251. It is likely that of Edward Deake, schoolmaster at Charlestown.
paper: Single small sheet is in good condition, with light creasing, staining and wear.
ink: Black-brown ink varies in intensity.
noteworthy: Mary's last name is spelled three different ways on this document.
signature: The document bears two signatures for Mary Secutor: one in the same hand that has written the body of the letter, the second in an unknown hand that is likely Mary's own.
---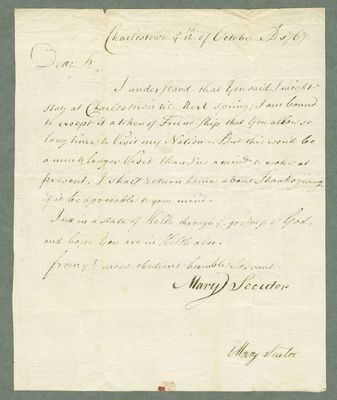 (View Page Image)
Charlestown

y

e

12.

th

of October AD. 1767.

Dear ſ

r

,

I underſtand that You said I might
Stay at
Charlestown
till Next spring; I am bound
to except it a token of Friend-ſhip that You allow so
long time to Visit my Nation. But this wou'd be
a much longer Visit than I've a mind to make at
present; I shall return home about Thanksgiving,
if it be agreeable to your mind.
I am in a state of Helth through y
e
goodneſs of God,
and hope You are in Helth also.
from y

r

most obedient humble Servant.
Mary Secutor
Mary Secetor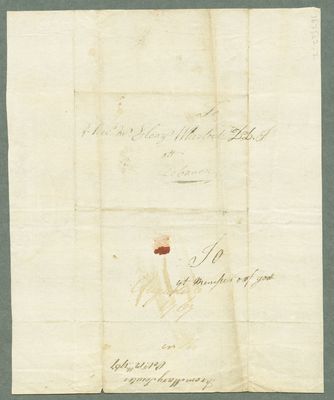 (View Page Image)
To
y
e
Rev
d
m
r
Eleaz

r

Wheelock
D.D.
T
att
Lebanon
To
yt Miniſter oof god
[illegible]
1767
in
[illegible]
[bottom]
From

Mary Secuter


Oct.

r

12

th

1767
Lebanon
Lebanon is a town located in the state of Connecticut southwest of the town of Hartford. The land that became Lebanon was inhabited at least 10,000 years ago based on the archeological record. By the 1600s, the land was permanently inhabited by the Mohegan Indians, who used the area primarily for hunting. Lebanon was officially formed in 1700 when English settlers consolidated a number of land tracts, including several land grants by the Connecticut General Assembly and lands purchased from the Mohegans. However, these purchases were controversial. In 1659, the Mohegans entrusted their reserve land to Major John Mason, and in the following year, Mason transferred this land to the Connecticut colonial government with the understanding that there would be enough land left for the Mohegans to farm. The Mohegans claimed that they never authorized a transfer to the colonial government and only Mason's heirs were entrusted with their land. In 1662, Connecticut, which included the Mohegan land that had been entrusted to the Masons, was incorporated by a royal charter. Based on this charter, the colony argued that the land was now the property of the government. In 1687, the colony began granting the Mohegan land to townships, and in 1704 the Masons petitioned the Crown on behalf of the Mohegans, claiming that such transfers of land to townships were illegal. Between the years of 1705 and 1773 legal disputes and controversies persisted, finally ending in a verdict by the Crown against the Mohegans. In 1755, Wheelock received property and housing in Lebanon that he would use as his house and school. While Lebanon was originally incorporated as a part of New London County in 1700, in 1724 it became a part of New Windham, before once again becoming a part of New London County in 1826. Lebanon was central to the American Revolution with half of its adult population fighting for the colonists and hundreds of meetings convened in the town for the revolutionary cause.
Charlestown
Charlestown is located in Washington County in southwestern Rhode Island along the Block Island sound. For thousands of years before European settlement, the area was inhabited by Native Americans who lived by hunting, fishing and agriculture. When the English dissenter, Roger Williams, fled Massachusetts Bay in 1636 and stepped ashore in what would become the Plantation of Providence, he was welcomed by Canonicus, sachem of the Narragansett Indians. From Canonicus, Williams purchased a large tract of land that included the settlement of Misquamicut, which would become the site of an English settlement named Charlestown after King Charles II. It was incorporated in 1783. After the Great Swamp Fight in which the United Colonies massacred many Narragansetts — and hunted down and killed or enslaved those who escaped — 500 survivors (from a pre-war population of 5,000) signed a 1682 peace treaty and received permission to join with the Eastern Niantic tribe, which had remained neutral throughout the war and had a small reservation near Charlestown. Settlers continued to acquire land from the Naragansetts, and by 1880, the tribe ceased to exist as a legal entity. A portion of tribal lands were returned to Narragansett ownership in 1978 by the courts and state legislation, and the tribe was officially recognized in 1983. Charlestown is the present-day headquarters of the Narragansett Tribe and the location of their reservation.
Secutor, Mary
Mary Secutor, the daughter of John Secutor, grew up on the Narragansett tribal lands. In December of 1763 she became one of the few women to study with Eleazar Wheelock at Moor's Indian Charity School. Upon her arrival she met Hezekiah Calvin and the two remained at school together for a year and a half before Hezekiah was sent to teach school to Mohawk children. Later Calvin requested Mary's father's permission for the two to marry. John did not give his consent and asked Wheelock to intervene. Despite this, the two became engaged. However, Mary and Hezekiah never married. Mary appears to have been a model student initially, but began to falter as time went on. In December of 1767 she confessed to sins, taking the name of God in vain, and lewd behavior in front of male members of the school while intoxicated. She pledged to cease this behavior, but in March of 1768 she confessed again to unseemly conduct while under the infulence of alcohol. In July of 1768 she wrote to Wheelock expressing that she did not feel worthy and no longer wished to attend the school, and asking his permission to leave.
Wheelock, Eleazar
Eleazar Wheelock was a New Light Congregationalist minister who founded Dartmouth College. He was born into a very typical Congregationalist family, and began studying at Yale in 1729, where he fell in with the emerging New Light clique. The evangelical network that he built in college propelled him to fame as an itinerant minister during the First Great Awakening and gave him many of the contacts that he later drew on to support his charity school for Native Americans. Wheelock's time as an itinerant minister indirectly brought about his charity school. When the Colony of Connecticut retroactively punished itinerant preaching in 1743, Wheelock was among those who lost his salary. Thus, in 1743, he began operating a grammar school to support himself. He was joined that December by Samson Occom, a Mohegan Indian, who sought out an education in hopes of becoming a teacher among his people. Occom's academic success inspired Wheelock to train Native Americans as missionaries. To that end, he opened Moor's Indian Charity School in 1754 (where he continued to train Anglo-American students who paid their own way as well as students who functionally indentured themselves to Wheelock as missionaries in exchange for an education). Between 1754 and 1769, when he relocated to New Hampshire, Wheelock trained approximately 60 male and female Native American students from nearby Algonquian tribes and from the Haudenosaunee (Iroquois) of central New York. At the same time, he navigated the complicated politics of missionary societies by setting up his own board of the Society in Scotland for Propagating Christian Knowledge, although he continued to feud with the Boston Board of the SSPCK and the London Commissioners in Boston (more colloquially called the New England Company). By the late 1760s, Wheelock had become disillusioned with the idea of Native American education. He was increasingly convinced that educating Native Americans was futile (several of his students had failed to conform to his confusing and contradictory standards), and, in late 1768, he lost his connection to the Haudenosaunee. With his inclination and ability to sponsor Native American missionaries largely depleted, Wheelock sought instead to fulfill his ultimate ambition of obtaining a charter and opening a college, which he did in 1769. To fund this new enterprise, Wheelock drew on the £12,000 that Samson Occom had raised for Moor's Indian Charity School during a two-and-a-half year tour of Great Britain (1765 to 1768). Much of this money went towards clearing land and erecting buildings in New Hampshire for the Charity School's relocation — infrastructure that also happened to benefit Dartmouth. Many of Wheelock's contemporaries were outraged by what they saw as misuse of the money, as it was clear that Dartmouth College was not intended for Indians and that Moor's had become a side project. Although Wheelock tried to maintain at least some commitment to Native American education by recruiting students from Canadian communities, the move did a great deal of damage to his public image. The last decade of Wheelock's life was not easy. In addition to the problems of trying to set up a college far away from any Anglo-American urban center, Wheelock experienced the loss of relationships with two of his most famous and successful students, Samson Occom and Samuel Kirkland (an Anglo-American protégé). He also went into debt for Dartmouth College, especially after the fund raised in Britain was exhausted.