Robert Keen, letter, to Nathaniel Whitaker, 1767 September 1
ms-number: 767501.2
abstract: Keen writes to Whitaker about drafts he has received, and advises him to deal cautiously with Mason, who is travelling to Sheffield to speak with Occom.
handwriting: Formal handwriting is clear and legible.
paper: Single small sheet is in good condition, with minimal staining, creasing and wear. The paper does appear to be somewhat speckled, which can occasionally be confusing with regard to punctuation.
ink: Brown-black.
noteworthy: It is uncertain to whom Keen refers when he mentions "Mr. Smith," however it is likely John Smith.
events: Fundraising Tour of Great Britain, Mason Land Case
---
(View Page Image)
London

1

st

Sep.

t

1767—

Dear S

r




Yours of the
26.

th

Aug:

st
came safe to hand Enclosing
2 Draughts One for £100 — — — the other £103 — — and yours
of y
e
22.

d ult
came safe w.
th
one for £56 — — — — no doubt you rec
d
mine acknowledge
g
y
e
receipt of y
e
former 3
⇑
draughts
in one letter — but as I have them all now before
me they are One of £151..10..6 another of £40 and y
e
other of £15—
theſe Six draughts is the whole I've rec
d
since your leaving
England
—­ indeed
it is wonderfull how the Lord opens the Hearts of people. I hope it is a
sure Token of the Work being his, and that He intends to bleſs it accordingly.
You have I suppose last week & y
e
week before, rece
d
from
M.

r

Oliver
a full supply of Narratives & Letters — I always send to him
immediately — — — —
M.

r

Mason
of
Connecticutt
& another or
2 is to set off To Morrow morning for
Sheffield
—­ to settle matters with
M.

r

Occom
—­ I see no likelihood of his succeeding or indeed of ever
finishing y
e
matter he is come about, and
M

r

Smith
with my Self & others
think he should not depend for Money on
M.

r

Occom
—­ nor any other way
on y
e
work we are engag'd in — he has had 40 Guineas of me & is so
neceſsitous, that he could dispence with 400 — —
M.

r

Occom
must be desir'd
to act cautiously, least he make himself a principal & disoblige
M

r

Wheelock
& all his
Connecticut
Friends —­ I don't write this out of any dislike to
M.

r

Mason
but that
M.

r

Occom
& you might be carefull in all engagements
I am D.

r

S.

r

y.

rs

in haste

Rob.

t

Keen
P. S. Remember me to
M.

r

Occom
. I rec
d
his letter
yesterday & read it to
M

r

Mason
—­but I suppose he will
[illegible]
[guess: be at]
Sheffield
as soon as this is.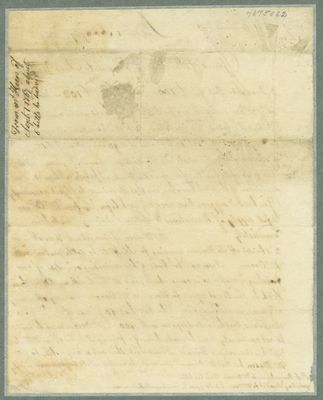 (View Page Image)
From
m

r

Keen
of
Sept. 1. 1767
about
6 bills he had rec
d
Connecticut
Connecticut is a state in southern New England that borders Massachusetts to the north and the Long Island Sound to the south. Its name is derived from the Algonquian "Quonehtacut," meaning "long river," referring to the Connecticut, which runs from the border with Canada into the Long Island Sound. The area was originally inhabited by Algonquian-speaking Pequots, Mohegans, and Quinnipiacs. European settlers took advantage of tribal divisions to establish dominance in the region. Dutch explorer Adrian Block sailed up the Connecticut River in 1614, establishing an active Dutch trading post at what is now Hartford. English claims to Connecticut began in 1630, but settlement truly began when Thomas Hooker, a Congregationalist minister now known as "The Father of Connecticut," left Boston to found Hartford in 1636. Hartford became the center of the Colony of Connecticut, which did not receive its charter until 1662 when Governor John Winthrop, Jr. secured it from Charles II. In 1665, the Colony of New Haven, established in 1638 by the Puritan minister John Davenport, joined the Colony of Connecticut under this charter. Early settler relations with local Indians were tense, and encouraged the New England colonies of Massachusetts Bay, Plymouth, Connecticut, and New Haven to unify as the "United Colonies" or "New England Confederation" and fight together, with Indian allies, in the Pequot War and again in King Philip's (Metacom's) War. These wars helped establish a specifically Connecticut and specifically American identity; the latter drove the colony to join the rebellion against Britain in 1776. Occom, born into a Mohegan household in Connecticut, was closely associated with the Colony and retained strong ties to the region throughout his life. He converted to Christianity in 1743 when the Great Awakening spread through Connecticut, and inspired Wheelock's Indian Charity School, which was founded in Lebanon, CT in 1754. He also became involved in the Mason Land Case, a long-standing dispute over the ownership of reserve Mohegan lands in Connecticut. Wheelock also had strong ties to Connecticut, moving his Indian Charity School only when the colony would not grant it a charter.
London
The capital and largest city of the United Kingdom, London is located in the southeastern region of England along the Thames River. The outpost that would become London originated as a military storage post for the Romans when they invaded Britain in the year 43. It soon developed as a trading center and financial hub for Roman Britain. During a revolt against the Romans in 61, London was burned to the ground; the rebuilt town appeared in Tacitus's Annals as Londinium. With the decline of the Roman Empire in the 4th century, Londinium became a Saxon trading town. Following the Norman Conquest, London retained its central political and commercial importance. In the 14th century, under Edward II, Westminster became an administrative center and London became the capital of England. In the early 18th century, London was an important hub for evangelical Christianity and home to many influential people, like the charismatic Anglican minister, George Whitefield, who were sympathetic to Wheelock's missionary endeavors. Occom arrived in London in February 1766 on his fundraising tour for Wheelock's school and preached his first sermon at Whitefield's Tabernacle. London would be Occom's home base for the next two years, as he and Whitaker travelled throughout England and Scotland. Occom made many friends in London who would continue to support him after his break with Wheelock and the School. By the late 18th century, London had replaced Amsterdam as the center of world commerce, a role it would maintain until 1914.
Keen, Robert
Robert Keen was a London wool merchant and an ardent supporter of George Whitefield, the eminent evangelical. Although it is unclear when Keen and Whitefield first came into contact, by the 1760s Whitefield was writing to Keen frequently. In 1763, Keen, along with Daniel West, was given the task of managing Whitefield's religious enterprises in London (specifically, his Tottenham Court Chapel and the Tabernacle, another London church), which they continued to do after Whitefield's death. Keen was also one of the four executors of Whitefield's affairs in England (along with West and Charles Hardy). As a result of his relationship with Whitefield, Keen was introduced to Occom and Whitaker upon their arrival in February 1766. He was a member of the informal committee that collected donations before October 1766 and provided Occom and Whitaker with advice on their route and strategies. Keen also became a member of the English Trust, the formal organization formed in October 1766 to safeguard donations. As secretary and deputy treasurer of the Trust, Keen played an important role in transmitting accounts and correspondence between the Trust and Wheelock during the tour and the long process of Wheelock's relocation to New Hampshire. Along with fellow Trust members Samuel Savage and John Thornton, Keen continued to provide financial support to Wheelock after the Trust had been exhausted.
Smith, John
John Smith was an affluent Boston merchant who supported Wheelock's school throughout the 1760s. It is likely that Smith and Wheelock were introduced by George Whitefield or someone similarly involved in evangelical and missionary efforts in the British Atlantic world: John Smith made somewhat regular trips to London for business, and had been in contact with Whitefield since the 1740s. Like the other Boston merchants who supported Moor's Indian Charity School (including Moses Peck, William Hyslop, and Nathaniel Eells), Smith traded with Wheelock and kept him up to date on political developments in Boston, especially as they concerned attitudes towards Moor's Indian Charity School. However, Smith was better educated (and likely more affluent) than the other merchants that Wheelock worked with, and, correspondingly, played a more important role than his brethren in Wheelock's efforts. Smith publicized the school independently (his letter to an unnamed friend, catalogued as 764318.2, is one of the most cited letters on the organization of Moor's) and assisted Wheelock in publishing the Narratives. John Smith's greatest contribution to Wheelock's design was his support during Samson Occom and Nathaniel Whitaker's fundraising tour of Great Britain (1765-1768). Smith set out for Britain in July 1765 to improve his health, and while there, acted as a vanguard for Occom and Whitaker. He managed their correspondence, suggested destinations, and served on an ad hoc advisory council that included George Whitefield, Samuel Savage, Robert Keen, and several other influential men. The pace of the journey caught up with John Smith, however, and he died in 1768 while in Britain.
Whitaker, Nathaniel
Nathaniel Whitaker was an outspoken Presbyterian minister with a long and wide-ranging career. Between his ordination in 1755 and his death in 1795, Whitaker ministered to five different congregations. His longest tenure was at Chelsea, CT (near Norwich), from 1761-1769, during which he joined Occom on his two-and-a-half-year fundraising tour of Britain. While in Chelsea, Whitaker was very involved in Wheelock's project. The two engaged in frequent correspondence, and Whitaker served on Eleazar Wheelock's Board of Correspondents in Connecticut, as well as on the Board of Trustees of Moor's Indian Charity School. At one time, he was Wheelock's presumed successor, but Dartmouth's Trustees demanded that Wheelock appoint another. Wheelock, in part due to his strongly-held belief that Native Americans were childlike and rash, was convinced that Occom needed an Anglo-American supervisor on his fundraising tour. After several candidates turned down the job, Wheelock selected Whitaker. He proved to be a poor choice; he was, by many accounts, a difficult man to get along with, and many of Wheelock's British allies, including George Whitefield and the English Trust (the organization that took control of the money Occom raised in England) preferred to deal with Occom, although Whitaker insisted on handling the tour's logistics. Furthermore, in Britain, Occom was the obvious star of the tour, and it was unclear to many why Whitaker asserted himself so prominently. Whitaker's poor decisions seriously alienated the English Trust and increased their suspicion of Wheelock's later dealings and treatment of Occom. He gave the English Trust the impression that they would have control over money raised in Scotland (which was in fact lodged with the parent organization of the SSPCK), and he was the executor of the "Eells Affair," a plan initiated by the CT Board of the SSPCK to bring the money that Occom and Whitaker raised back to the colonies by investing it in trade goods and selling them at a profit (Eells was one of the merchants who was to help with the resale of goods). The English Trust learned about the plan by reading letters that Whitaker had given them permission to open in his absence, and were immediately shocked. The wording of certain letters made it appear that only a percentage of the profit from the resale of the goods would go towards Moor's Indian Charity School, but beyond that detail, the English Trust was scandalized at the thought of money raised for charity being invested in trade. The English Trust blamed Whitaker entirely for these affairs, and issued specific instructions for Occom to notarize all documents requiring Whitaker's signature. In short, they wanted Occom to supervise Whitaker, when Wheelock had envisioned the opposite relationship (both Occom and Whitaker seem to have ignored their instructions, preferring to have as little contact with one another as possible). In 1769, a year after his return to Connecticut in 1768, Whitaker found himself dismissed by his Chelsea congregation (likely because he had spent two and a half years away from them). He went on to serve several more congregations before his death in 1795. Whitaker was an outspoken Whig, and during the Revolution he published several pamphlets on his political opinions.
Oliver, Andrew
Andrew Oliver was an influential Boston merchant and politician, who was a member of several societies that funded Eleazar Wheelock, including the Boston Board of the New England Company (treasurer) and Massachusetts General Assembly (secretary). Oliver played an important political role in pre-Revolutionary Massachusetts and, as a firm advocate of Indian missions, attended multiple conferences with Indian tribes. He believed that Anglican and Dissenter missionaries and societies could cooperate, and after Oliver and Wheelock were introduced in 1756, Oliver helped Wheelock access funding from the New England Company, the Massachusetts Assembly, and the Boston Board of the Society in Scotland for Propagating Christian Knowledge. Their relationship deteriorated, however, when the London Board of the New England Company turned against Wheelock late in 1765. Wheelock became aware of the London Board's change of heart through the "Oliver letter," a letter purportedly written by Oliver (actually written by Ebenezer Pemberton) that was "injurious" to the characters of Wheelock, Whitaker, and Occom. In 1765, Wheelock also lost his funding from the Massachusetts Assembly. It is unclear what role Oliver played in these events. On the one hand, the breach between Wheelock and the New England Company coincided with the collapse of Oliver's political career over his attempts to enforce the Stamp Act. Oliver may have been too preoccupied to be involved in the London Board's change of heart; after all, Boston mobs were burning him in effigy. On the other hand, if Oliver was not involved, it is more difficult to explain why his correspondence with Wheelock ended abruptly in 1767 or why Wheelock lost funding from the Assembly and the London Board at the same time. Oliver would be the obvious link; but of course, Wheelock had many detractors in Boston and another explanation is certainly possible.
Occom, Samson
Samson Occom was a Mohegan leader and ordained Presbyterian minister. Occom began his public career in 1742, when he was chosen as a tribal counselor to Ben Uncas II. The following year, he sought out Eleazar Wheelock, a young Anglo-American minister in Lebanon, CT, in hopes of obtaining some education and becoming a teacher at Mohegan. Wheelock agreed to take on Occom as a student, and though Occom had anticipated staying for a few weeks or months, he remained with Wheelock for four years. Occom's academic success inspired Wheelock to open Moor's Indian Charity School in 1754, a project which gave him the financial and political capital to establish Dartmouth College in 1769. After his time with Wheelock, Occom embarked on a 12-year mission to the Montauk of Long Island (1749-1761). He married a Montauk woman, Mary Fowler, and served as both teacher and missionary to the Montauk and nearby Shinnecock, although he was grievously underpaid for his services. Occom conducted two brief missions to the Oneida in 1761 and 1762 before embarking on one of the defining journeys of his career: a fundraising tour of Great Britain that lasted from 1765 to 1768. During this journey, undertaken on behalf of Moor's Indian Charity School, Occom raised £12,000 (an enormous and unanticpated amount that translates roughly to more than two-million dollars), and won wide acclaim for his preaching and comportment. Upon his return to Mohegan in 1768, Occom discovered that Wheelock had failed to adequately care for his family while he was gone. Additionally, despite the vast sums of money that he had raised, Occom found himself unemployed. Wheelock tried to find Occom a missionary position, but Occom was in poor health and disinclined to leave his family again after seeing the treatment with which they had met while he was in Britain. Occom and Wheelock's relationship continued to sour as it became apparent to Occom that the money he had labored to raise would be going towards infrastructure at Dartmouth College, Wheelock's new project, rather than the education of Native Americans. After the dissolution of his relationship with Wheelock, Occom became increasingly focused on the needs of the Mohegan community and increasingly vocal in criticizing Anglo-Americans' un-Christian treatment of Native Americans. In September of 1772, he delivered his famous "Sermon on the Execution of Moses Paul," which took Anglo-American spiritual hypocrisy as one of its major themes, and which went into four printings before the end of the year. In 1773, Occom became further disillusioned when the Mason Land Case was decided in favor of the Colony of Connecticut. The details of the Mason Case are complicated, but to summarize: the Colony of Connecticut had gained control of Mohegan land early in the 18th century under very suspect circumstances, and successfully fended off the Mohegan's 70-year-long legal challenge. The conclusion of the case came as a blow to the Mohegans, and further convinced Occom of Anglo-American corruption. Along with David Fowler (Montauk Tribe), Occom's brother-in-law, and Joseph Johnson (Mohegan), Occom's son-in-law, Occom helped found Brothertown, an Indian tribe formed from the Christian Mohegans, Pequots, Narragansetts, Montauks, Tunxis, and Niantics. They eventually settled in Oneida country in upstate New York. Occom moved there with his family in 1789, spending the remaining years of his life serving as a minster to the Brothertown, Stockbridge, and Mohegan Indians. Harried by corrupt land agents, the Brothertown and Stockbridge groups relocated to the eastern shore of Lake Winnebago, though Occom died in 1792 before he could remove himself and his family there. Occom's writings and legacy have made him one of the best known and most eminent Native Americans of the 18th century and beyond.
Wheelock, Eleazar
Eleazar Wheelock was a New Light Congregationalist minister who founded Dartmouth College. He was born into a very typical Congregationalist family, and began studying at Yale in 1729, where he fell in with the emerging New Light clique. The evangelical network that he built in college propelled him to fame as an itinerant minister during the First Great Awakening and gave him many of the contacts that he later drew on to support his charity school for Native Americans. Wheelock's time as an itinerant minister indirectly brought about his charity school. When the Colony of Connecticut retroactively punished itinerant preaching in 1743, Wheelock was among those who lost his salary. Thus, in 1743, he began operating a grammar school to support himself. He was joined that December by Samson Occom, a Mohegan Indian, who sought out an education in hopes of becoming a teacher among his people. Occom's academic success inspired Wheelock to train Native Americans as missionaries. To that end, he opened Moor's Indian Charity School in 1754 (where he continued to train Anglo-American students who paid their own way as well as students who functionally indentured themselves to Wheelock as missionaries in exchange for an education). Between 1754 and 1769, when he relocated to New Hampshire, Wheelock trained approximately 60 male and female Native American students from nearby Algonquian tribes and from the Haudenosaunee (Iroquois) of central New York. At the same time, he navigated the complicated politics of missionary societies by setting up his own board of the Society in Scotland for Propagating Christian Knowledge, although he continued to feud with the Boston Board of the SSPCK and the London Commissioners in Boston (more colloquially called the New England Company). By the late 1760s, Wheelock had become disillusioned with the idea of Native American education. He was increasingly convinced that educating Native Americans was futile (several of his students had failed to conform to his confusing and contradictory standards), and, in late 1768, he lost his connection to the Haudenosaunee. With his inclination and ability to sponsor Native American missionaries largely depleted, Wheelock sought instead to fulfill his ultimate ambition of obtaining a charter and opening a college, which he did in 1769. To fund this new enterprise, Wheelock drew on the £12,000 that Samson Occom had raised for Moor's Indian Charity School during a two-and-a-half year tour of Great Britain (1765 to 1768). Much of this money went towards clearing land and erecting buildings in New Hampshire for the Charity School's relocation — infrastructure that also happened to benefit Dartmouth. Many of Wheelock's contemporaries were outraged by what they saw as misuse of the money, as it was clear that Dartmouth College was not intended for Indians and that Moor's had become a side project. Although Wheelock tried to maintain at least some commitment to Native American education by recruiting students from Canadian communities, the move did a great deal of damage to his public image. The last decade of Wheelock's life was not easy. In addition to the problems of trying to set up a college far away from any Anglo-American urban center, Wheelock experienced the loss of relationships with two of his most famous and successful students, Samson Occom and Samuel Kirkland (an Anglo-American protégé). He also went into debt for Dartmouth College, especially after the fund raised in Britain was exhausted.
Fundraising Tour of Great Britain
After many months of planning and shifting personnel, Occom, accompanied by the minister Nathaniel Whitaker, sets sail in December 1765 for a two-and-a-half year tour of England and Scotland in order to solicit contributions to Wheelock's Indian Charity School and missionary efforts. Introduced to aristocrats and prominent clergy by the minister George Whitefield, Occom preaches many sermons, travels widely, and collects a large sum of money.
Mason Land Case
This enduring and complex controversy begins with an ambiguous agreement of September 28, 1640 in which Uncas, sachem of the Mohegans, either gives or entrusts a large tract of the Tribe's territory to the Colony of Connecticut, to be overseen by Major John Mason, a long-time advisor to the Mohegans. Over the years, Mason's heirs, on behalf of the Mohegan Tribe, resist the Colony's claims that it owns the lands through a series of suits and appeals. In 1743, Occom attends hearings of the case, which has split the Tribe into opposing factions. The case is finally decided in the Royal Courts in London in 1773 against the Mohegans.