Account, 1765 September 3 to 1767 May 6
ms-number: 767306.5
abstract: A brief account of missionary expenses from September 3 to May 6, 1767.
handwriting: Unknown hand is clear and legible.
paper: Small strip of paper is in good condition, with light creasing and minimal staining and wear.
ink: Black-brown.
noteworthy: Due to ledger formatting, transcription line breaks may not exactly match those of the original document.
---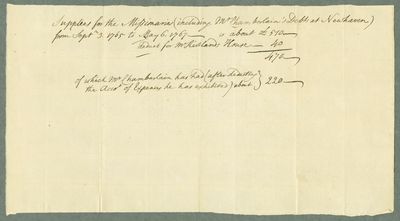 (View Page Image)
Supplies for the Miſsionaries (including M
r
Chamberlain
's Debts at
Newhaven
)
from Sept.

r

3. 1765 to

May 6. 1767

— is about
£570—
deduct for M

r

Kirtlands House —

40

470 —
of which M

r

Chamberlain has had (after deducting}
the Acco

t

of Expences he has exhibited) about}
220 —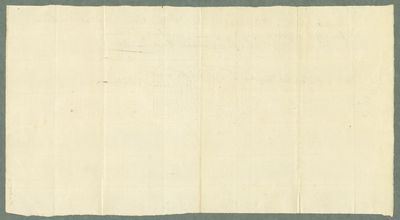 (View Page Image)
Blank page
New Haven
New Haven is a city in south central Connecticut on New Haven Harbor and the Long Island Sound. The Quinnipiac Indians, specifically the Momauguin band of the Algonquin-speaking Tribe, were the area's original inhabitants. The Quinnipiacs lived along the banks of Connecticut's many rivers; fittingly, Quinnipiac means long water country. After Dutch explorer Adrian Block first sailed up the Connecticut River in 1614, Quinnipiac lands and peoples began to dwindle, especially as English settlement expanded. In 1638, Reverend John Davenport and Theophilus Eaton, a London merchant, sailed into New Haven Harbor from Massachusetts Bay Colony and formally established New Haven as a Puritan settlement. Though he did not have a royal charter for his new colony, Davenport signed a treaty with Quinnipiac sachem Momauguin in 1738, which gave the English formal ownership over the land. Davenport had left Massachusetts in the midst of the Anne Hutchinson controversy, likely coming to Connecticut to found his own Puritan theocracy. New Haven existed as its own colony distinct from Connecticut until 1665, when Charles II united the two under the Colony of Connecticut. From then on, New Haven referred to the city specifically, which in 1701 became the co-capital of Connecticut along with Hartford. In 1716, the college that would become Yale, where Eleazar Wheelock received his degree in 1733, moved to its permanent home in New Haven. From its creation, Yale was committed to training Christian missionaries; several of Wheelock's Anglo-American missionaries studied at Yale while many of his Anglo-American students from Moor's went on to study there. Wheelock took Occom to New Haven in 1744 to see Yale's commencement exercises, but due to terrible eye strain, Occom never attended the College. Because New Haven was the co-capital of Connecticut, any of Occom's or Wheelock's dealings with the Colony of Connecticut often involved New Haven. By the Revolutionary War, the city had a population of 3,500, almost none of whom were Quinnipiac Indians. New Haven remained co-capital of Connecticut until 1873, when it lost to Hartford in what is known as the "single capital contest."
Chamberlain, Theophilus
Theophilus Chamberlain was a Yale graduate and missionary employed by Wheelock. His interest in Indian ministry may have started during the French and Indian War, when he was taken captive by a tribe allied with the French (it is unclear which tribe) at Fort William Henry and spent a year in Nova Scotia. After his return to New England, Chamberlain attended Yale. Wheelock recruited Chamberlain, along with fellow Yale graduate Titus Smith, to spearhead Moor's 1765 mission to the Six Nations. Chamberlain was examined as a missionary on March 12, 1765, and ordained on April 24, 1765. During the mission, he was stationed at Canajoharie (the Mohawk "Upper Castle") and oversaw the mission to the Mohawks. While on his mission, he converted to Sandemanianism, a decision that profoundly shaped the rest of his life. It is difficult to evaluate his efficacy as a missionary: he had high praise for himself, and David Fowler said the Mohawks were affectionate towards him, but Occom described him as overzealous. Chamberlain served the duration of his contract, but clashed with Wheelock afterwards over who was responsible for debts he had incurred on his mission (e.g. transportation costs, support for schoolmasters and interpreters). After departing from Wheelock's service, Chamberlain was ordained as a Sandemanian bishop. He fled to New York and later Nova Scotia during the American Revolution because of his religious and political beliefs. In Nova Scotia, Chamberlain oversaw the establishment of the settlement of Preston.
Kirkland, Samuel
Samuel Kirkland (b. Kirtland) was Eleazar Wheelock's most famous Anglo American student. He conducted a 40-year mission to the Oneidas and founded Hamilton College (established in 1793 as Hamilton Oneida Academy). Kirkland won acclaim as a missionary at a young age by conducting an adventurous and risky mission to the Senecas, the westernmost of the Haudenosaunee (Iroquois) Six Nations. After his year and a half among them, which was well publicized by Wheelock, he was ordained and sent as a missionary to the Oneidas under the auspices of the Connecticut Board of the Society in Scotland for Propagating Christian Knowledge. He spent most of the rest of his life serving the Oneidas as a minister. Kirkland's sincere devotion to serving as a missionary was excellent publicity for Wheelock's program, but it also brought the two men into conflict. Wheelock became jealous of Kirkland when the school's British benefactors began urging Wheelock to make Kirkland his heir, and Kirkland, meanwhile, was upset that Wheelock had failed to provide him with sufficient supplies on his mission — a complaint that he was unafraid to publicize (and that almost all of Wheelock's other students shared). The breaking point came in 1770, when Kirkland split from Wheelock's Connecticut Board and affiliated with the New England Company, a missionary society that had abruptly turned against Wheelock in 1765. Wheelock and Kirkland briefly made up in 1771, but their relationship quickly dissolved into further acrimony. Although Kirkland spent most of his life as a missionary to the Six Nations, he generally held disparaging views of Native Americans. He did not approve of Wheelock's plan to educate Indians as missionaries, and was haughty towards the Moor's alumni that worked with him (notably David Fowler, Joseph Johnson, and Joseph Woolley). Prior to the Revolution, Kirkland had been stringent in his refusals to take Oneida land, even when offered to him. The Revolution seems to have shifted his loyalties from the Oneidas to local Anglo Americans. Kirkland served as a chaplain in the American army and was instrumental in convincing the Oneidas to remain neutral (or, more accurately, to side with the Americans). At one point he was the chaplain with General Sullivan's army, the force sent to ransack Seneca and Cayuga territory in 1779. It is unclear what emotions this aroused in Kirkland, who had served the Senecas less than 15 years earlier, yet after the war, Kirkland freely engaged in Oneida dispossession. Along with James Dean, another Wheelock alumnus with close ties to the Oneidas, Kirkland played a pivotal role in urging the Oneidas to sell land illegally to the state of New York. The land deals that resulted gave Kirkland the property, financial capital, and connections to establish Hamilton Oneida Academy. The last decades of Kirkland's life were difficult. He found himself in a three-way battle with Samson Occom and John Sergeant Jr., who were also ministers in Oneida territory, for the hearts and minds of their congregations; he was fired as a missionary in 1797, although he continued to serve sans salary; one of his son's business enterprises failed, leaving Kirkland nearly destitute; and two of his three sons died unexpectedly. Hamilton Oneida Academy, like Moor's Indian Charity School, largely failed at its goal of educating Indians, and in 1812, four years after Kirkland's death, it was re-purposed as Hamilton College, a largely Anglo-American institution. At some point in the mid-to-late 18th century, Kirkland changed his name from Kirtland, although the reasons for this are uncertain.