Jonathan Murdock, letter, to Eleazar Wheelock, 1767 February 26
ms-number: 767176.1
abstract: Murdock lists the various reasons why he cannot undertake a mission.
handwriting: Formal handwriting is somewhat uneven, yet clear and legible. The trailer is in an unknown hand.
paper: Large sheet folded in half to make four pages is in good condition, with light staining, creasing and wear. There is a prominent watermark.
ink: Brown ink is lightly faded.
layout: The first page of the letter is on one recto, but the second page is on two recto, not one verso.
---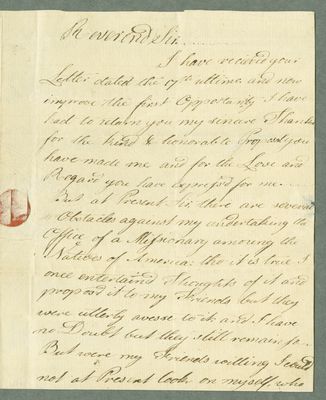 (View Page Image)
Reverend Sir. —

I have recieved your
Letter dated the
17

.th

ultimo
. and now
improve the first Opportun
⇑
i
ty I have
had to return you my sincere Thanks
for the kind & honorable Proposal you
have made me and for the Love and
Regard you have expreſs'd for me. —
But at Present Sir, there are several
Obstacles against my undertaking the
Office of a Miſsionary amoung the
Natives of America: tho' it is true I
once entertained Thoughts of it and
propos'd it to my Friends but they
were utterly averse to it; and I have
no Doubt but they still remain ſo. —
But were my Friends willing I could
not at Present look on myself, who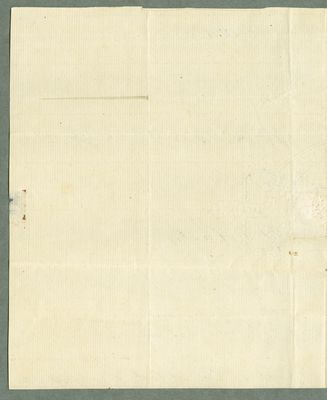 (View Page Image)
Blank page.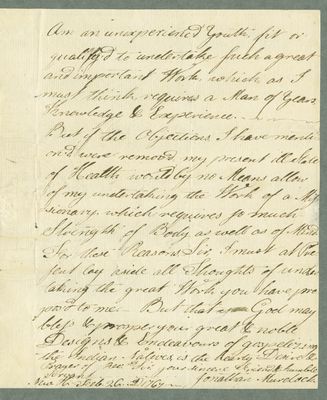 (View Page Image)
Am an unexperienc'd Youth, fit or
quali
[illegible]
fy'd to undertake ſuch a great
and important Work, which, as I
must think, requires a Man of Years,
Knowledge & Experience. —
But if the Objections I have menti=
on'd were remov'd, my present ill State
of Health would by no Means allow
of my undertaking the Work of a Miſ
=sionary, which requires ſo much
Strength of Body as well as of Mind.
For these Reasons, Sir, I must at
Pre=
ſent lay aside all Thoughts of under‐
taking the great Work you have pro=
pos'd to me. — But that
[guess: you]
God may
bleſs & prosper your great & noble
Designs & Endeavours of gospelizing
the Indian Natives, is the hearty Desire &
Prayer of Rev.
nd
Sir,
your sincere Friend & Humble
Servant —
Jonathan Murdock




New H.

Feeb. 26. AD 1767

—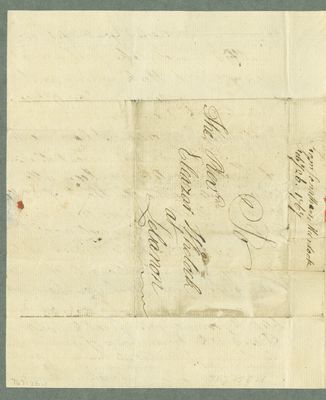 (View Page Image)
From
Jonathan Murdock
Feb

y

26. 1767
—
To
The Rev.
nd
Eleazar Wheelock
at
Lebanon
New Haven
New Haven is a city in south central Connecticut on New Haven Harbor and the Long Island Sound. The Quinnipiac Indians, specifically the Momauguin band of the Algonquin-speaking Tribe, were the area's original inhabitants. The Quinnipiacs lived along the banks of Connecticut's many rivers; fittingly, Quinnipiac means long water country. After Dutch explorer Adrian Block first sailed up the Connecticut River in 1614, Quinnipiac lands and peoples began to dwindle, especially as English settlement expanded. In 1638, Reverend John Davenport and Theophilus Eaton, a London merchant, sailed into New Haven Harbor from Massachusetts Bay Colony and formally established New Haven as a Puritan settlement. Though he did not have a royal charter for his new colony, Davenport signed a treaty with Quinnipiac sachem Momauguin in 1738, which gave the English formal ownership over the land. Davenport had left Massachusetts in the midst of the Anne Hutchinson controversy, likely coming to Connecticut to found his own Puritan theocracy. New Haven existed as its own colony distinct from Connecticut until 1665, when Charles II united the two under the Colony of Connecticut. From then on, New Haven referred to the city specifically, which in 1701 became the co-capital of Connecticut along with Hartford. In 1716, the college that would become Yale, where Eleazar Wheelock received his degree in 1733, moved to its permanent home in New Haven. From its creation, Yale was committed to training Christian missionaries; several of Wheelock's Anglo-American missionaries studied at Yale while many of his Anglo-American students from Moor's went on to study there. Wheelock took Occom to New Haven in 1744 to see Yale's commencement exercises, but due to terrible eye strain, Occom never attended the College. Because New Haven was the co-capital of Connecticut, any of Occom's or Wheelock's dealings with the Colony of Connecticut often involved New Haven. By the Revolutionary War, the city had a population of 3,500, almost none of whom were Quinnipiac Indians. New Haven remained co-capital of Connecticut until 1873, when it lost to Hartford in what is known as the "single capital contest."
Lebanon
Lebanon is a town located in the state of Connecticut southwest of the town of Hartford. The land that became Lebanon was inhabited at least 10,000 years ago based on the archeological record. By the 1600s, the land was permanently inhabited by the Mohegan Indians, who used the area primarily for hunting. Lebanon was officially formed in 1700 when English settlers consolidated a number of land tracts, including several land grants by the Connecticut General Assembly and lands purchased from the Mohegans. However, these purchases were controversial. In 1659, the Mohegans entrusted their reserve land to Major John Mason, and in the following year, Mason transferred this land to the Connecticut colonial government with the understanding that there would be enough land left for the Mohegans to farm. The Mohegans claimed that they never authorized a transfer to the colonial government and only Mason's heirs were entrusted with their land. In 1662, Connecticut, which included the Mohegan land that had been entrusted to the Masons, was incorporated by a royal charter. Based on this charter, the colony argued that the land was now the property of the government. In 1687, the colony began granting the Mohegan land to townships, and in 1704 the Masons petitioned the Crown on behalf of the Mohegans, claiming that such transfers of land to townships were illegal. Between the years of 1705 and 1773 legal disputes and controversies persisted, finally ending in a verdict by the Crown against the Mohegans. In 1755, Wheelock received property and housing in Lebanon that he would use as his house and school. While Lebanon was originally incorporated as a part of New London County in 1700, in 1724 it became a part of New Windham, before once again becoming a part of New London County in 1826. Lebanon was central to the American Revolution with half of its adult population fighting for the colonists and hundreds of meetings convened in the town for the revolutionary cause.
Wheelock, Eleazar
Eleazar Wheelock was a New Light Congregationalist minister who founded Dartmouth College. He was born into a very typical Congregationalist family, and began studying at Yale in 1729, where he fell in with the emerging New Light clique. The evangelical network that he built in college propelled him to fame as an itinerant minister during the First Great Awakening and gave him many of the contacts that he later drew on to support his charity school for Native Americans. Wheelock's time as an itinerant minister indirectly brought about his charity school. When the Colony of Connecticut retroactively punished itinerant preaching in 1743, Wheelock was among those who lost his salary. Thus, in 1743, he began operating a grammar school to support himself. He was joined that December by Samson Occom, a Mohegan Indian, who sought out an education in hopes of becoming a teacher among his people. Occom's academic success inspired Wheelock to train Native Americans as missionaries. To that end, he opened Moor's Indian Charity School in 1754 (where he continued to train Anglo-American students who paid their own way as well as students who functionally indentured themselves to Wheelock as missionaries in exchange for an education). Between 1754 and 1769, when he relocated to New Hampshire, Wheelock trained approximately 60 male and female Native American students from nearby Algonquian tribes and from the Haudenosaunee (Iroquois) of central New York. At the same time, he navigated the complicated politics of missionary societies by setting up his own board of the Society in Scotland for Propagating Christian Knowledge, although he continued to feud with the Boston Board of the SSPCK and the London Commissioners in Boston (more colloquially called the New England Company). By the late 1760s, Wheelock had become disillusioned with the idea of Native American education. He was increasingly convinced that educating Native Americans was futile (several of his students had failed to conform to his confusing and contradictory standards), and, in late 1768, he lost his connection to the Haudenosaunee. With his inclination and ability to sponsor Native American missionaries largely depleted, Wheelock sought instead to fulfill his ultimate ambition of obtaining a charter and opening a college, which he did in 1769. To fund this new enterprise, Wheelock drew on the £12,000 that Samson Occom had raised for Moor's Indian Charity School during a two-and-a-half year tour of Great Britain (1765 to 1768). Much of this money went towards clearing land and erecting buildings in New Hampshire for the Charity School's relocation — infrastructure that also happened to benefit Dartmouth. Many of Wheelock's contemporaries were outraged by what they saw as misuse of the money, as it was clear that Dartmouth College was not intended for Indians and that Moor's had become a side project. Although Wheelock tried to maintain at least some commitment to Native American education by recruiting students from Canadian communities, the move did a great deal of damage to his public image. The last decade of Wheelock's life was not easy. In addition to the problems of trying to set up a college far away from any Anglo-American urban center, Wheelock experienced the loss of relationships with two of his most famous and successful students, Samson Occom and Samuel Kirkland (an Anglo-American protégé). He also went into debt for Dartmouth College, especially after the fund raised in Britain was exhausted.