Mary Fowler Occom, letter, to Eleazar Wheelock, 1766 November 8
ms-number: 766608.2
abstract: Mary Occom writes to ask Wheelock to take her son Aaron, who has been behaving badly, under his care in Occom's absence.
handwriting: Handwriting is small but clear and legible.
paper: Single, medium-sized sheet of paper is in good condition, with light staining, creasing and wear.
ink: Black-brown.
events: Fundraising Tour of Great Britain
---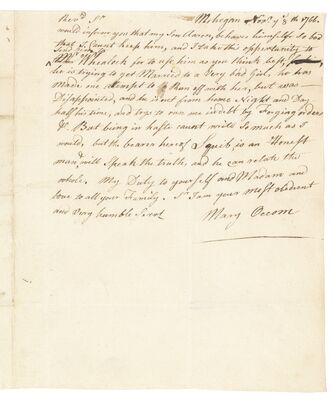 (View Page Image)
[illegible]

Mohegan

Nov

r

y

e

8

th

1766.
Rev

d

S

r



would inform you that my Son
Aaron
, behaves himſelf So bad
that I Cannt keep him, and I take this oppertunity to
⇑
Send him to
M

r

Whealock
for to uſe him as you think beſt,
[illegible]

,
he is trying to get Married to a very bad Girl, he has
made one attempt to
[illegible]
Run off with her, but was —
Diſappointed, and he is out from home Night and Day
half his time, and trys to run me in debt by Forging orders
&c. But being in haſte cannt write So much as I
would, but the bearer here of Squib, is an Honeſt
man
⇑
&
will Speak the truth, and he can relate the
whole. My Duty to yourſelf and
Madam
and
love to all your Family.
S

r

I am your moſt obedient
and very humble Serv

t
Mary Occom
(View Page Image)
Blank page.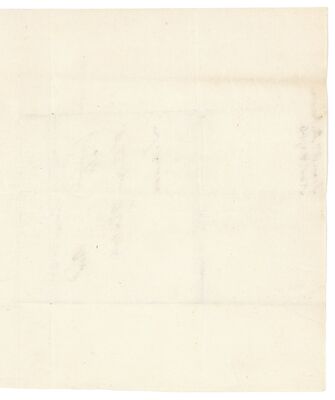 (View Page Image)
Blank page.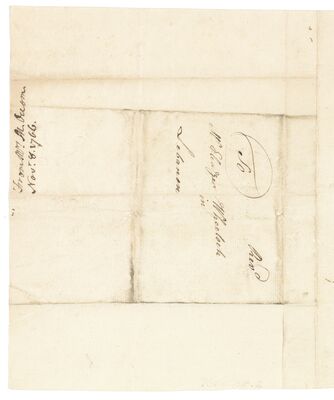 (View Page Image)
From
M

rs

M. Occom
Nov.

r

8. 1766.
To Rev
d
M.

r

Eleazer Wheelock
in
Lebanon
Mohegan
Mohegan is a village in southeastern Connecticut at the site of the present-day town of Montville, and is the location of the Mohegan Indian Reservation. The village gets its name from the Mohegan Tribe, or wolf people, who split from the Pequots in the early 17th century under the leadership of the sachem Uncas. In the 1720s, the Mohegans requested the colony of Connecticut provide them with an English educator. An English minister and schoolteacher named John Mason (no relation to Captain John Mason) moved to Mohegan in order to provide English-styled education to the Mohegans, convinced his sponsors, the New England Company, to build a schoolhouse at Mohegan, which eventually served as a boarding school for other Native American children from the surrounding area. During the 17th century, the Mohegan Tribe became embroiled in a complicated controversy over control of Mohegan land — known as the Mason Land Case or, more specifically, Mohegan Indians v. Connecticut — that included the village of Mohegan. The Tribe claimed that it never authorized a transfer of their lands, held in trust by the Mason family, to the colonial government. In 1662, the colony of Connecticut was incorporated by a royal charter, which included the disputed tribal land. The land controversy was revived in 1704 when descendants of John Mason, the original trustee, petitioned the Crown on behalf of the Mohegans, but the suit was finally decided against the Tribe in 1773. Born in Mohegan, Occom became involved in the Mason Land Case and vehemently argued for the rights of the Mohegan Indians to maintain their land, opposing Eleazar Wheelock and other ministers in the area. Although Occom left Mohegan for a 12-year mission with the Montauk Indians of Long Island, he returned at the end of 1763 with his large family to build a house in Mohegan, establishing it as his base of operations. Even after the creation of the Brothertown settlement in Oneida country, for which he served as minister, Occom continued to commute back and forth from Mohegan; he didn't sell his house in Mohegan and move his family to Brothertown until 1789. Many members of his family remained in Mohegan, including his sister Lucy Tantaquidgeon, who lived there until her death at 99 in 1830.
Lebanon
Lebanon is a town located in the state of Connecticut southwest of the town of Hartford. The land that became Lebanon was inhabited at least 10,000 years ago based on the archeological record. By the 1600s, the land was permanently inhabited by the Mohegan Indians, who used the area primarily for hunting. Lebanon was officially formed in 1700 when English settlers consolidated a number of land tracts, including several land grants by the Connecticut General Assembly and lands purchased from the Mohegans. However, these purchases were controversial. In 1659, the Mohegans entrusted their reserve land to Major John Mason, and in the following year, Mason transferred this land to the Connecticut colonial government with the understanding that there would be enough land left for the Mohegans to farm. The Mohegans claimed that they never authorized a transfer to the colonial government and only Mason's heirs were entrusted with their land. In 1662, Connecticut, which included the Mohegan land that had been entrusted to the Masons, was incorporated by a royal charter. Based on this charter, the colony argued that the land was now the property of the government. In 1687, the colony began granting the Mohegan land to townships, and in 1704 the Masons petitioned the Crown on behalf of the Mohegans, claiming that such transfers of land to townships were illegal. Between the years of 1705 and 1773 legal disputes and controversies persisted, finally ending in a verdict by the Crown against the Mohegans. In 1755, Wheelock received property and housing in Lebanon that he would use as his house and school. While Lebanon was originally incorporated as a part of New London County in 1700, in 1724 it became a part of New Windham, before once again becoming a part of New London County in 1826. Lebanon was central to the American Revolution with half of its adult population fighting for the colonists and hundreds of meetings convened in the town for the revolutionary cause.
Occom, Mary (née Fowler)
Mary Occom (née Fowler) was a Montaukett woman who married Samson Occom. Although information about her is limited and often comes from male, Anglo-American sources, it offers a tantalizing glimpse of her strength, as well as an alternative to the Eleazar Wheelock-centered narrative of Occom's life that often dominates the latter's biography. Mary was born into the influential Fowler family at Montauk, Long Island. She met Samson during his missionary service there (1749-1761). Mary studied at Samson's school along with her brothers David and Jacob, and was almost certainly literate. She and Samson married in 1751. Wheelock and several other Anglo-American powers opposed their union because they worried it might distract Occom from being a missionary (as, indeed, family life did), and thus many scholars have read in Samson and Mary's marriage an act of resistance against Samson's domineering former teacher. Little information about the minutiae of Mary's life survives, but existing sources speak volumes about her character and priorities. In front of Anglo-American missionaries visiting the Occoms' English-style house at Mohegan, Mary would insist on wearing Montaukett garb and, when Samson spoke to her in English, she would only reply in Montaukett, despite the fact that she was fluent in English. Mary Occom was, in many ways, Wheelock's worst fear: that his carefully groomed male students would marry un-Anglicized Indian women. It is not a stretch to imagine that Mary provided much of the incentive for Wheelock to begin taking Indian girls into his school, lest his other protégés replicate Samson's choice. Much of our information about Mary comes from between 1765 and 1768, when Samson was fundraising in Great Britain. Despite promising to care for Samson's wife and family (at the time they had seven children), Wheelock, by every objective measure, failed to do so, and Mary's complaints are well documented. Hilary Wyss reads in Wheelock's neglect (and in letters from the time) a more sinister story, and concludes that on some level Wheelock was holding Samson's family hostage, in return for Occom curtailing his political beliefs on the Mason Case. Wyss also notes Mary's remarkable survivance in this situation. Mary drew on various modes of contact, from letters to verbal communication with influential women (including Sarah Whitaker, the wife of Samson's traveling companion, and Wheelock's own daughters), to shame Wheelock into action and demand what she needed. One of the major struggles in Mary's life, and in Samson's, was with their sons. Both Aaron and Benoni failed to live up to their parents' expectations. Aaron attended, and left, Moor's Indian Charity School three times, and both Aaron and Benoni struggled with alcohol and refused to settle down. The Occom daughters did not cause similar problems. Given the nature of existing sources, little is known about Mary after Samson and Wheelock lessened their communication in 1771. Joanna Brooks has conjectured that Mary was likely influential in Samson's Mohegan community involvement later in life, for instance, in his continued ministry to Mohegan and, perhaps, his increasingly vehement rejection of Anglo-American colonial practices.
Wheelock, Eleazar
Eleazar Wheelock was a New Light Congregationalist minister who founded Dartmouth College. He was born into a very typical Congregationalist family, and began studying at Yale in 1729, where he fell in with the emerging New Light clique. The evangelical network that he built in college propelled him to fame as an itinerant minister during the First Great Awakening and gave him many of the contacts that he later drew on to support his charity school for Native Americans. Wheelock's time as an itinerant minister indirectly brought about his charity school. When the Colony of Connecticut retroactively punished itinerant preaching in 1743, Wheelock was among those who lost his salary. Thus, in 1743, he began operating a grammar school to support himself. He was joined that December by Samson Occom, a Mohegan Indian, who sought out an education in hopes of becoming a teacher among his people. Occom's academic success inspired Wheelock to train Native Americans as missionaries. To that end, he opened Moor's Indian Charity School in 1754 (where he continued to train Anglo-American students who paid their own way as well as students who functionally indentured themselves to Wheelock as missionaries in exchange for an education). Between 1754 and 1769, when he relocated to New Hampshire, Wheelock trained approximately 60 male and female Native American students from nearby Algonquian tribes and from the Haudenosaunee (Iroquois) of central New York. At the same time, he navigated the complicated politics of missionary societies by setting up his own board of the Society in Scotland for Propagating Christian Knowledge, although he continued to feud with the Boston Board of the SSPCK and the London Commissioners in Boston (more colloquially called the New England Company). By the late 1760s, Wheelock had become disillusioned with the idea of Native American education. He was increasingly convinced that educating Native Americans was futile (several of his students had failed to conform to his confusing and contradictory standards), and, in late 1768, he lost his connection to the Haudenosaunee. With his inclination and ability to sponsor Native American missionaries largely depleted, Wheelock sought instead to fulfill his ultimate ambition of obtaining a charter and opening a college, which he did in 1769. To fund this new enterprise, Wheelock drew on the £12,000 that Samson Occom had raised for Moor's Indian Charity School during a two-and-a-half year tour of Great Britain (1765 to 1768). Much of this money went towards clearing land and erecting buildings in New Hampshire for the Charity School's relocation — infrastructure that also happened to benefit Dartmouth. Many of Wheelock's contemporaries were outraged by what they saw as misuse of the money, as it was clear that Dartmouth College was not intended for Indians and that Moor's had become a side project. Although Wheelock tried to maintain at least some commitment to Native American education by recruiting students from Canadian communities, the move did a great deal of damage to his public image. The last decade of Wheelock's life was not easy. In addition to the problems of trying to set up a college far away from any Anglo-American urban center, Wheelock experienced the loss of relationships with two of his most famous and successful students, Samson Occom and Samuel Kirkland (an Anglo-American protégé). He also went into debt for Dartmouth College, especially after the fund raised in Britain was exhausted.
Occom, Aaron
Aaron Occom was Samson and Mary Occom's prodigal second child and oldest son. He was born in 1753, during Samson's mission to the Montauketts of Long Island. The Occoms entered Aaron in Moor's Indian Charity School when he was seven, in the hope that he would "be Brought up." However, Aaron proved ill-suited to school, and returned home in October 1761. He had two more brief stints at Moor's Indian Charity School: the first in December 1765, after Samson departed for his two-and-a-half-year fundraising tour of Great Britain, and the second in November 1766, when Mary found herself unable to control Aaron's wild behavior (which included attempting to run away with "a very bad girl" and forging store orders in Mary's name). After his last enrollment at Moor's, Aaron ran away to sea. He had returned to Mohegan by November 1768, and at age 18, he married Ann Robin. Aaron died in 1771, leaving a son also named Aaron. Samson periodically entertained the idea of apprenticing Aaron to a master, but never seems to have done so. One letter written by Aaron survives: an epistle to Joseph Johnson, another young Mohegan who studied at Moor's.
Wheelock, Mary (née Brinsmead)
Mary Wheelock was born Mary Brinsmead on July 26, 1714 in Milford, Connecticut. In the year following the death of his first wife, Eleazar began to court Mary Brinsmead, and the two married on November 21, 1747. Mary and Eleazar had five children together, including John, who would succeed his father as President of Dartmouth College. Little appears in the historical record about Mary, but many of the people who wrote to Wheelock, especially his Native correspondents who often lived with the family, referred to her warmly. In September 1770, Mary dismantled her longtime home in Connecticut, and travelled with her children to the Wheelocks' new home in the wilderness of New Hampshire. They rode in a coach sent over from England by John Thornton, accompanied by 30 Charity School students on foot. Eleazar, who had gone ahead to build housing for everyone, wrote a letter to Mary with many instructions about the move; the disposition of domestic animals, people, supplies; and the acquisition of money that suggests she was an able and trustworthy manager (manuscript 770510.1; this manuscript is not included in Occom Circle documents). She died in 1784 in Hanover, New Hampshire, where she is buried in the Dartmouth College Cemetery.
Fundraising Tour of Great Britain
After many months of planning and shifting personnel, Occom, accompanied by the minister Nathaniel Whitaker, sets sail in December 1765 for a two-and-a-half year tour of England and Scotland in order to solicit contributions to Wheelock's Indian Charity School and missionary efforts. Introduced to aristocrats and prominent clergy by the minister George Whitefield, Occom preaches many sermons, travels widely, and collects a large sum of money.