Account, 1766 October
ms-number: 766590
abstract: Account of money received by Samson Occom from Andrew Oliver and The Company for Propagation of the Gospel in New England and the parts adjacent in America.
handwriting: Hand is large, bold and clear.
paper: Single sheet is in good condition, with light-to-moderate staining, creasing and wear.
ink: Brown-black.
noteworthy: Due to ledger transcription format, line breaks may not exactly match those of the document.
---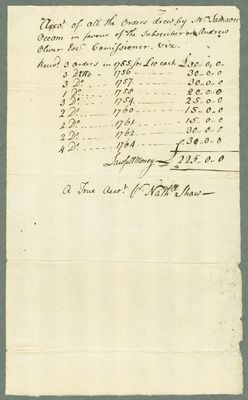 (View Page Image)
A
[illegible]
cco.
t
of all the Orders drew by
M.

r

Sa

[illegible]

mson
Occom
in favour of the Subscriber on
[illegible]
Andrew
Oliver Esq.

r
Comiſsioner. viz.
Reciv.

d

3
Orders in
17

6

55
for £10 each
£30,,0,,0,,
3
Ditto
1756
30,,0,,0
3
D.

o

1757
30,,0,,0
1
D.

o

1758
20,,0,,0
3
D.

o

1759
25,,0,,0
2
D.

o

1760
15,,0,,0
2
D.

o

1761
15,,0,,0
2
D.

o

1762
30,,0,,0
4
D.

o

1764

30,,0,,0

Lawfull Money

£

225,,0,,0
A True Acco.
t
f.
r
Nath

ll

Shaw
—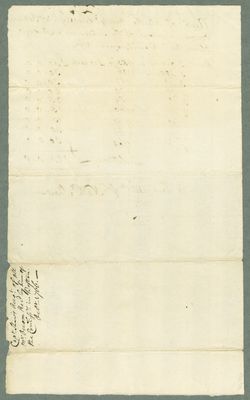 (View Page Image)
Cap.

t

Shaw
's Acco.
t
of all
M.

r

Occom
Rec
d
by him of
the
Com̅iſs

rs

in Boſton
.
Oct

r

1766
. —
The Company for Propagation of the Gospel in New England and the parts adjacent in America
The Company for Propagation of the Gospel in New England and the parts adjacent in America was a missionary society active in America from 1649 until 1786. It was first called the "New England Company" in 1770. Most secondary literature uses that name for convenience and to distinguish it from other missionary societies. The company was first chartered in 1649 as the "President and Society for the Propagation of the Gospel in New England," largely in response to John Eliot's missionary efforts. After the Restoration (1660), it was rechartered as the "Company for Propagation of the Gospel in New England and the parts adjacent in America." The New England Company was very powerful and influential, in large part because it was a coalition between Anglicans and Dissenters. It supported a range of missionaries from the Mayhews to the Sergeants to Moor's alumnus Samuel Kirkland. After the Revolution, the New England Company refocused its attentions on New Brunswick and Canadian Indians. Wheelock had a very rocky relationship with the New England Company. Initially, it supported Wheelock's efforts. The Company funded Occom's education at Moor's and paid him a small salary during his time among the Montauketts. However, from 1765 onwards, its relationship with Wheelock rapidly deteriorated. The Company opposed the fundraising tour of Great Britain and went so far as to interfere with it by sending a widely circulated letter to England questioning Occom's background. The New England Company also interferred with Titus Smith's mission to Onaquaga by sending a rival missionary, Mr. Moseley, and stealing Titus' interpreter, Elisha Gunn. In 1767 it formally withdrew its financial support from Wheelock on the grounds that the fundraising tour had raised sufficient money. It is unclear what led the New England Company to suddenly change its stance towards Wheelock. Perhaps it wanted exclusive power over missionary distribution in New England, or perhaps it was thought that focusing on education over numbers in the field was counterproductive. Most secondary sources have conflated the New England Company's Boston Board and the Society in Scotland for Promoting Christian Knowledge's Boston Board, an easy mistake to make since both are sometimes referred to as the Boston Board and both vigorously opposed Wheelock. Any secondary source's statement about either should be carefully researched.
Occom, Samson
Samson Occom was a Mohegan leader and ordained Presbyterian minister. Occom began his public career in 1742, when he was chosen as a tribal counselor to Ben Uncas II. The following year, he sought out Eleazar Wheelock, a young Anglo-American minister in Lebanon, CT, in hopes of obtaining some education and becoming a teacher at Mohegan. Wheelock agreed to take on Occom as a student, and though Occom had anticipated staying for a few weeks or months, he remained with Wheelock for four years. Occom's academic success inspired Wheelock to open Moor's Indian Charity School in 1754, a project which gave him the financial and political capital to establish Dartmouth College in 1769. After his time with Wheelock, Occom embarked on a 12-year mission to the Montauk of Long Island (1749-1761). He married a Montauk woman, Mary Fowler, and served as both teacher and missionary to the Montauk and nearby Shinnecock, although he was grievously underpaid for his services. Occom conducted two brief missions to the Oneida in 1761 and 1762 before embarking on one of the defining journeys of his career: a fundraising tour of Great Britain that lasted from 1765 to 1768. During this journey, undertaken on behalf of Moor's Indian Charity School, Occom raised £12,000 (an enormous and unanticpated amount that translates roughly to more than two-million dollars), and won wide acclaim for his preaching and comportment. Upon his return to Mohegan in 1768, Occom discovered that Wheelock had failed to adequately care for his family while he was gone. Additionally, despite the vast sums of money that he had raised, Occom found himself unemployed. Wheelock tried to find Occom a missionary position, but Occom was in poor health and disinclined to leave his family again after seeing the treatment with which they had met while he was in Britain. Occom and Wheelock's relationship continued to sour as it became apparent to Occom that the money he had labored to raise would be going towards infrastructure at Dartmouth College, Wheelock's new project, rather than the education of Native Americans. After the dissolution of his relationship with Wheelock, Occom became increasingly focused on the needs of the Mohegan community and increasingly vocal in criticizing Anglo-Americans' un-Christian treatment of Native Americans. In September of 1772, he delivered his famous "Sermon on the Execution of Moses Paul," which took Anglo-American spiritual hypocrisy as one of its major themes, and which went into four printings before the end of the year. In 1773, Occom became further disillusioned when the Mason Land Case was decided in favor of the Colony of Connecticut. The details of the Mason Case are complicated, but to summarize: the Colony of Connecticut had gained control of Mohegan land early in the 18th century under very suspect circumstances, and successfully fended off the Mohegan's 70-year-long legal challenge. The conclusion of the case came as a blow to the Mohegans, and further convinced Occom of Anglo-American corruption. Along with David Fowler (Montauk Tribe), Occom's brother-in-law, and Joseph Johnson (Mohegan), Occom's son-in-law, Occom helped found Brothertown, an Indian tribe formed from the Christian Mohegans, Pequots, Narragansetts, Montauks, Tunxis, and Niantics. They eventually settled in Oneida country in upstate New York. Occom moved there with his family in 1789, spending the remaining years of his life serving as a minster to the Brothertown, Stockbridge, and Mohegan Indians. Harried by corrupt land agents, the Brothertown and Stockbridge groups relocated to the eastern shore of Lake Winnebago, though Occom died in 1792 before he could remove himself and his family there. Occom's writings and legacy have made him one of the best known and most eminent Native Americans of the 18th century and beyond.
Oliver, Andrew
Andrew Oliver was an influential Boston merchant and politician, who was a member of several societies that funded Eleazar Wheelock, including the Boston Board of the New England Company (treasurer) and Massachusetts General Assembly (secretary). Oliver played an important political role in pre-Revolutionary Massachusetts and, as a firm advocate of Indian missions, attended multiple conferences with Indian tribes. He believed that Anglican and Dissenter missionaries and societies could cooperate, and after Oliver and Wheelock were introduced in 1756, Oliver helped Wheelock access funding from the New England Company, the Massachusetts Assembly, and the Boston Board of the Society in Scotland for Propagating Christian Knowledge. Their relationship deteriorated, however, when the London Board of the New England Company turned against Wheelock late in 1765. Wheelock became aware of the London Board's change of heart through the "Oliver letter," a letter purportedly written by Oliver (actually written by Ebenezer Pemberton) that was "injurious" to the characters of Wheelock, Whitaker, and Occom. In 1765, Wheelock also lost his funding from the Massachusetts Assembly. It is unclear what role Oliver played in these events. On the one hand, the breach between Wheelock and the New England Company coincided with the collapse of Oliver's political career over his attempts to enforce the Stamp Act. Oliver may have been too preoccupied to be involved in the London Board's change of heart; after all, Boston mobs were burning him in effigy. On the other hand, if Oliver was not involved, it is more difficult to explain why his correspondence with Wheelock ended abruptly in 1767 or why Wheelock lost funding from the Assembly and the London Board at the same time. Oliver would be the obvious link; but of course, Wheelock had many detractors in Boston and another explanation is certainly possible.
Shaw, Nathaniel
Captain Nathaniel Shaw was one of the wealthiest merchants in New London during the mid-18th century. In the early 1730s, after building a fortune through sea trade with Ireland, he settled in New London to oversee his business. Captain Shaw was sympathetic to the Company for Propagation of the Gospel in New England and the Parts Adjacent in America (often called the New England Company), and assisted them by transmitting money to Samson Occom in the 1750s, when the New England Company was providing him with financial support. Captain Shaw also had a private trade relationship with Occom, and sold him many household supplies and much of the equipment for his house at Mohegan. However, while Occom was in England (late 1765-mid 1768), Shaw refused to supply Mary Occom with goods, which put her in severe straits. Eleazar Wheelock hypothesized that Shaw was lashing out at Mary over Samson's stance in the Mason Case, which, along with other circumstances, had turned the New England Company vehemently against Wheelock and Occom. However, it is perhaps more likely that Shaw refused to supply Mary because Wheelock had shown no indication that he planned to pay Occom's debts (see 768114). During the Revolution, Captain Shaw and his son Nathaniel Shaw Jr., who took over much of the business around 1763, were noted patriots. They opened their mansion to wounded sailors, as well as to George Washington himself, helped to organize New London's participation in the war, and turned their merchant ships into a privateering fleet.