Theophilus Chamberlain, letter, to Eleazar Wheelock, 1766 October 3
ms-number: 766553
abstract: Chamberlain relates the progress, or lack thereof, of his mission among the Mohawks.
handwriting: Handwriting is small and somewhat crowded, yet mostly formal and clear. Letter case, especially with regard to the letters S and D, is frequently difficult to discern.
paper: Large sheet folded in half to make four pages is in good condition, with light staining and wear, and light-to-moderate creasing. The central vertical crease has been reinforced.
ink: Black-brown.
noteworthy: There is a red-pencil mark on two recto.
---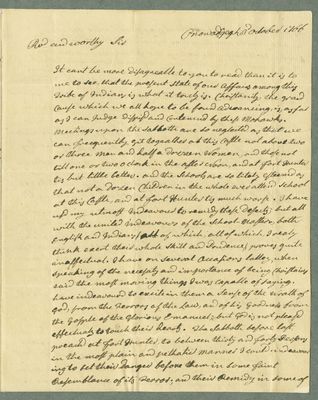 (View Page Image)
Onowad

⇑

a

gegh
3

d

October 1766
Rv

d

and worthy Sir

It cant be more diſagreable to you to read than it is to
me to see, that the preſent state of our affairs among this
Tribe of Indians is what it truly is. Chriſtanity, the grand
Cauſe which we all hope to be found advancing, is, as far
as I can Judge Disſpiſ
d
and Contemnd by theſe
Mohawks
.
meetings upon the sabbath are so neglected, as that we
can frequently get togeather at this Caſtle not above two
or three men and half a dozzen Women, and thoſe not
till one or two o clock in the after Noon, and at
fort Hunter
tis but little better. and the Schools are so litely eſteemd as
that not a Dozen Children in the whole ever attend school
at this Caſtle, and at
fort Hunter
tis much worſe. I have
uſd my utmoſt Indeavour to remidy theſe Defects; but all
with the united indeavours of the School-Maſters, both
Engliſh and Indians (
[illegible]
all of which; all of which, I realy
think exert their whole skill and Prudence), proves quite
inaffectual. I have on several occaſions latley, when
speaking of the neceſaty and importance of being Chriſtains
said the moſt moving things I was capable of saying.
have indeavourd to excite in them a Senſe of the Wrath of
God, from the Terrors of the Law, and of his goodneſs from
the goſple of the Glorious Emanuel; but God is not pleaſd
effectualy to touch their hearts. The Sabbath before laſt,
preachd at
fort Hunter
, to belween thirty and forty Perſons
in the moſt plain and pethatic manner I could indeavour
ing to let their danger before them in some faint
Reſemblance of its Terror; and their Remidy in some of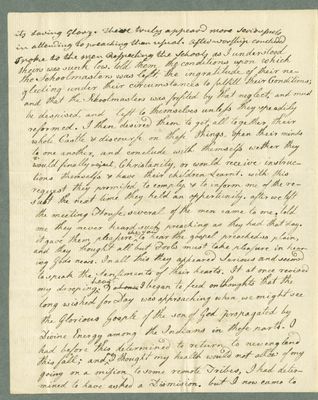 (View Page Image)
its saving glory. The
[illegible]
[guess: re]
truly appeard more seriouſneſs
in attending to preaching than uſual. After worſhip concluded
Spoke to the men Reſpecting the Schools as I understood
theirs was sunk low. told them the conditions upon which
the Schoolmasters was left, the ingratitude of their ne‐
glecting under their circumstances to fulfill their Conditions;
and that the Schoolmasters was forfited by that neglect, and must
be despised, and left to themselves unleſs they speedily
reformed. I then desired them to get all together their
whole Castle & discourſe on theſe things, open their minds
to one another, and conclude with themselfs wether they
would finally reject, Christanity, or would receive instruc‐
tions themselfs & have their children Learnt. with this
request they promiſed to comply, & to inform me of the re‐
sult the next time they held an oppertunity. after we left
the meeting Houſe, several of the men came to me. told
me they never heard such preaching as they had that day.
it gave them pleaſure
⇑
they said
to hear the gospel preached so plain,
and they thought all but Fools must take pleaſure in hear‐
ing Gods news. In all this they appeared Serious and seem'd
to speak the Sentiments of their hearts. It at once revived
my drooping
⇑
heart
. &
at once
I began to feed on thoughts that the
long wished for Day was approaching when we might see
the Glorious Gosple of the son of God propagated by
Divine Energy among the Indians in thoſe parts. I
had before this determined to return to
new england
this fall; and
⇑
as
I thought my health would not allow of my
going on a miſion to some remote Tribes, I had deter‐
mined to have asked a Dismision. but I now came to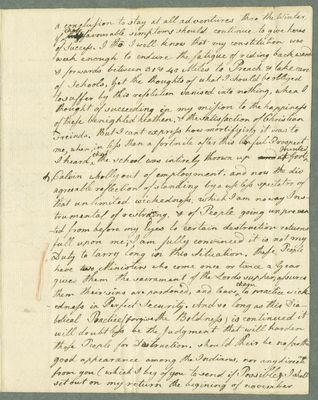 (View Page Image)
a concluſion to stay at all adventures thro the Winter,
if
⇑
thoſe
[illegible]
[guess: theſe ]
favourable simptoms should continue to give hopes
of Succeſs. I tho
t
I well know that my constitution was
week enough to endure the fatigue of riding backwards
& forwards between 30 & 40 Miles to Preach & take care
of Schools, yet the thoughts of what I should be obliged
to suffer by this reſolution vanised into nothing, when I
thought of succeeding in my miſion to the happineſs
of theſe benighted heathen, & the satisfaction of Christian
Freinds. But I cant expreſs how mortifying it was to
me, when, in leſs than a fortnite after this hopful Prospect
I heard
⇑
that
the school was intirely thrown up
and
at
fort

⇑

Hunter
⇑
[left]
&,
Calvin
wholly out of employment. and now the dis
agreeable reflection of standing by a uſeleſs spectator of
that unlimited wickedneſs, which I am no way Ins‐
trumental of restra
⇑
in
ing, & of People going unpreven
‐ted from before my Eyes to certain destruction returns
full upon me; I am fully convinced it is not my
Duty to tarry long in this Situation. theſe People
have two Ministers who come once or twice a Year
give
s
them the sacrament of the Lords supper; aſsures
them their sins are pardoned, and leave
⇑
them
to practice wick‐
‐edneſs in Perfect Security. And so long as this Dia‐
bolical Practice (forgive the Boldneſs) is continued it
will doubtleſs be the Judgment that will harden
theſe People for Destruction. should their be no farthe
[gap: worn_edge]
[guess: r]
good appearance among the Indians, nor any directi
⇑
on
from you (which I beg of you to send if Possible), I shall
set out on my return the begining of november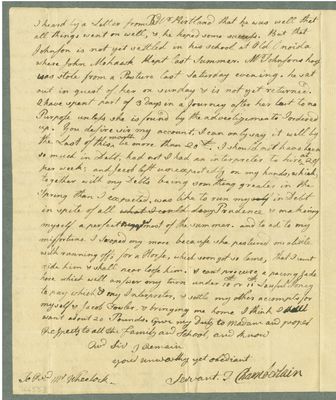 (View Page Image)
I heard by a Letter from
R

d

M

r

Kirtland
that he was well that
all things went on well, & he hoped some succeſs. But that
Johnſon
is not yet settled in his school at
Old Onoida
where
John Mohawk
Kept last Summer.
M

r

Johnſons
horſ
[gap: worn_edge]
[guess: e]
was stole from a Pasture last Saturday evening. he sat
out in quest of her on sunday & is not yet returned.
I have spent part of 3 Days in a Journey after her but to no
Purpoſe unleſs she is found by the advertizements I ordered
up. You deſire sir my account, I can only say it will by
the Last of this
⇑
month
be more than 20
£
. I should not have been
so much in Debt, had not I had an interpreter to hire
⇑
at
20/
per week; and
Jacob
left unexpectedly on my hands, which,
together with my Debts being somthing greater in the
Spring than I expected, was like to run my
self
in Debt
in spite of all
what I could do
my Prudence & makinng
myself a perfect Begg
⇑
er
most of the summer. and to ad to my
miſfortune I S
[illegible]
[guess: w]
oped my mare becauſe she pestured me a little
with running off; for a Horſe, which soon got so lame, that I cant
ride him & shall near looſe him. I cant procure a pacing Jade
here which will anſwer my turn under 10
£.
or 11
£.
Lawful Money
to pay which, & my Interpreter, & settle my other accompts for
myself &
Jacob Fowler
, & bringing me home I think I shall
want about 20 Pounds. Give my Duty to
Madam
and proper
Reſpects to all the family and School, and know
Rv

d

Sir I Remain
your unworthy yet obediant
Servant.
T. Chamberlain
Mohawk Nation
The Mohawk Nation is one of the Six Nations of the Haudenosaunee (Iroquois) Confederacy. As the "eastern door" of the Confederacy, or easternmost Haudenosaunee nation, the Mohawks were perceived throughout the colonial period as a gateway to wider alliances, trade, and religious influence with the Six Nations as a whole. Thus, they received heavy missionary attention from Jesuits, Anglicans, and Congregationalists as early as the 17th century. Throughout the 17th and 18th centuries, the Mohawks and Six Nations more generally were a point of heated competition between Britain and France, as well as between Protestant Christian sects. Wheelock sent several missionaries and schoolmasters to the Mohawks between 1765 and 1767, including Theophilus Chamberlain (Anglo-American), Hezekiah Calvin (Delaware), Abraham Major and Minor (Mohawks), Peter (Mohawk), Moses (Mohawk), and Johannes (Mohawk). The two main towns or "castles" that the mission was based at were Canajoharie and Fort Hunter. Two of the most important figures in Mohawk history as it pertains to Moor's Indian Charity School were Sir William Johnson and Joseph Brant. Sir William Johnson was the British Superintendent of Indian Affairs in the Northeast, one of the most powerful men in British North America. He married into the Mohawk Tribe and had substantial influence among the Six Nations. Initially he supported Wheelock's missionary project, but by 1769 he was endorsing Anglican missionaries instead. Joseph Brant was Sir William Johnson's brother-in-law. He was the first of 19 Mohawk students at Moor's, where he studied from 1761-1763. Although his time at the school was short, Brant entertained a deep affection for it. He went on to be an influential Mohawk war chief and may have protected Dartmouth College from raids during the Revolution. The Revolution fractured the Haudenosaunee Confederacy, with some tribes siding with the colonists and others with the British. The Mohawks sided with the British, and many of them, Joseph Brant included, relocated to the Grand River Reserve in Canada after the war. There was also a substantial Mohawk settlement established by 1700 at Kahnawake in New France (Canada), which hosted Jesuit missionaries. The Kahnawake Mohawks were often called "Canadian Mohawks" and Wheelock recruited students from them after his move to Hanover.
Fort Hunter
Located in Montgomery County, and named after Governor Hunter of New York, Fort Hunter refers to the land located where the Mohawk River and the Schoharie Creek converge in Old Albany County, New York, as well as to the fort built on that land. Fort Hunter was also referred to as the Lower Mohawk Castle, while Upper Mohawk Castle referred to another Mohawk village located near present day Danube, New York. The Mohawk people, who originally occupied this land, referred to the village as Tionondoroge (also spelled Thienderego, Teantontalago, Tiononderoga, Tienonderoga, and Icanderoga). In 1686, the city charter gave Albany the right to the land that would comprise Fort Hunter. According to a European account, "Four Mohawk Kings," including Hendrick Peters Tejonihokarawa who hailed from the Fort Hunter area, met with Queen Anne in 1710 to request protection from the French and aid for the Anglican missionaries; she complied in 1711 and authorized the building of the actual fort. The following year, Anglican clerics, who were funded by the Society for the Propagation of the Gospel in England, built a mission on the land. Because the Mohawk tribe fought with the British against the American colonists, most Mohawks from Fort Hunter fled to Montreal after the American Revolution.
Oneida
Oneida is a city in Madison County located at the geographical center of New York state. Before European settlement of the area, the Oneida Tribe, one of the Six Nations of the Haudenosaunee (Iroquois) Confederacy, inhabited a large territory adjacent to nearby Oneida Lake. Around 1533, they built their first village on the south shore of the lake, at or near the mouth of Oneida Creek. At the end of the 17th century, this area began suffering raids by parties from the French colony of Quebec, in a battle to control the fur trade. In 1696, Oneida village was burned by the French. As a result, the Oneidas moved their chief village east of the original site, called Old Oneida, to a new site called Kanawalohale, also known as Oneida Castle, which was fortified by tall palisades and a moat. This is the site of the present-day village of Oneida Castle, a small hamlet west of the city of Oneida in the northwest corner of the town of Vernon. When used in Occom Circle documents, the place name "Oneida" usually refers to the territory inhabited by the Tribe east of Oneida Lake, but can also refer specifically to Oneida Castle. Although the Oneidas sided with the patriots during the Revolutionary War, much of their territory was sold or appropriated by the state of New York. In 1790, the first European settlers moved into the area of Old Oneida village, and the district began to expand. In the 1830s, the state built a feeder from Oneida Creek through the present city site to provide water for the new canal system, which enabled canal boats to ship freight into the town. Eventually, the railroad came through the town and helped with its expansion. This led to the incorporation of the Village of Oneida in 1848 and the establishment of the Town of Oneida in 1896. The town was chartered as the City of Oneida in 1901, and with two more railroad lines transecting the area, it became a thriving manufacturing center for the first half of the 20th century.
Chamberlain, Theophilus
Theophilus Chamberlain was a Yale graduate and missionary employed by Wheelock. His interest in Indian ministry may have started during the French and Indian War, when he was taken captive by a tribe allied with the French (it is unclear which tribe) at Fort William Henry and spent a year in Nova Scotia. After his return to New England, Chamberlain attended Yale. Wheelock recruited Chamberlain, along with fellow Yale graduate Titus Smith, to spearhead Moor's 1765 mission to the Six Nations. Chamberlain was examined as a missionary on March 12, 1765, and ordained on April 24, 1765. During the mission, he was stationed at Canajoharie (the Mohawk "Upper Castle") and oversaw the mission to the Mohawks. While on his mission, he converted to Sandemanianism, a decision that profoundly shaped the rest of his life. It is difficult to evaluate his efficacy as a missionary: he had high praise for himself, and David Fowler said the Mohawks were affectionate towards him, but Occom described him as overzealous. Chamberlain served the duration of his contract, but clashed with Wheelock afterwards over who was responsible for debts he had incurred on his mission (e.g. transportation costs, support for schoolmasters and interpreters). After departing from Wheelock's service, Chamberlain was ordained as a Sandemanian bishop. He fled to New York and later Nova Scotia during the American Revolution because of his religious and political beliefs. In Nova Scotia, Chamberlain oversaw the establishment of the settlement of Preston.
Wheelock, Eleazar
Eleazar Wheelock was a New Light Congregationalist minister who founded Dartmouth College. He was born into a very typical Congregationalist family, and began studying at Yale in 1729, where he fell in with the emerging New Light clique. The evangelical network that he built in college propelled him to fame as an itinerant minister during the First Great Awakening and gave him many of the contacts that he later drew on to support his charity school for Native Americans. Wheelock's time as an itinerant minister indirectly brought about his charity school. When the Colony of Connecticut retroactively punished itinerant preaching in 1743, Wheelock was among those who lost his salary. Thus, in 1743, he began operating a grammar school to support himself. He was joined that December by Samson Occom, a Mohegan Indian, who sought out an education in hopes of becoming a teacher among his people. Occom's academic success inspired Wheelock to train Native Americans as missionaries. To that end, he opened Moor's Indian Charity School in 1754 (where he continued to train Anglo-American students who paid their own way as well as students who functionally indentured themselves to Wheelock as missionaries in exchange for an education). Between 1754 and 1769, when he relocated to New Hampshire, Wheelock trained approximately 60 male and female Native American students from nearby Algonquian tribes and from the Haudenosaunee (Iroquois) of central New York. At the same time, he navigated the complicated politics of missionary societies by setting up his own board of the Society in Scotland for Propagating Christian Knowledge, although he continued to feud with the Boston Board of the SSPCK and the London Commissioners in Boston (more colloquially called the New England Company). By the late 1760s, Wheelock had become disillusioned with the idea of Native American education. He was increasingly convinced that educating Native Americans was futile (several of his students had failed to conform to his confusing and contradictory standards), and, in late 1768, he lost his connection to the Haudenosaunee. With his inclination and ability to sponsor Native American missionaries largely depleted, Wheelock sought instead to fulfill his ultimate ambition of obtaining a charter and opening a college, which he did in 1769. To fund this new enterprise, Wheelock drew on the £12,000 that Samson Occom had raised for Moor's Indian Charity School during a two-and-a-half year tour of Great Britain (1765 to 1768). Much of this money went towards clearing land and erecting buildings in New Hampshire for the Charity School's relocation — infrastructure that also happened to benefit Dartmouth. Many of Wheelock's contemporaries were outraged by what they saw as misuse of the money, as it was clear that Dartmouth College was not intended for Indians and that Moor's had become a side project. Although Wheelock tried to maintain at least some commitment to Native American education by recruiting students from Canadian communities, the move did a great deal of damage to his public image. The last decade of Wheelock's life was not easy. In addition to the problems of trying to set up a college far away from any Anglo-American urban center, Wheelock experienced the loss of relationships with two of his most famous and successful students, Samson Occom and Samuel Kirkland (an Anglo-American protégé). He also went into debt for Dartmouth College, especially after the fund raised in Britain was exhausted.
Fowler, Jacob
Jacob Fowler was a Montauk Indian whose life was dramatically shaped by Samson Occom, his brother-in-law. Occom taught Jacob when he was a child, and in 1762, Jacob followed his older brother David Fowler to Moor's. After three years he was approved as an usher in the 1765 examination, and in 1766 he went to assist Samuel Johnson at Canajoharie. He taught among the Six Nations until at least mid-1767. In early 1770, Occom procured him a job teaching at Mushantuxet through the Boston Board of the Society in Scotland for Propagating Christian Knowledge. Jacob taught and preached among the Pequots at Mushantuxet and Stonington until 1774, when Wheelock hired him to teach at Moor's, which had relocated to Hanover, NH as a complement to Dartmouth College. During this time, Jacob also assisted Joseph Johnson with efforts to rally the New England Christian tribes for a move to Oneida territory (the Brothertown Movement). By 1776, there were no Indians enrolled in Moor's and Jacob moved on to serve Governor John Trumbull of CT as a messenger to the Six Nations during the Revolution. After the Revolution, he continued organizing the Brothertown Movement and was among those who initially emigrated in 1784. He was elected clerk at Brothertown, and died sometime in the spring of 1787.
Calvin, Hezekiah
Hezekiah Calvin was one of Eleazar Wheelock's first Native American students. Like Wheelock's other early Delaware students, he was sent by the minister John Brainerd. Calvin was certified as a schoolteacher on March 12, 1765, and was sent to the Mohawks at Fort Hunter in June 1765. The Mohawks threw him out at the end of September 1766, and he returned to Moor's. Samuel Johnson, an Anglo-American Yale student who replaced Calvin at Fort Hunter, reported that the residents unanimously accused Calvin of being abusive and rude. Calvin, in turn, maintained that the Fort Hunter Mohawks had mistreated him. Calvin's second stint at Moor's did not go well. He wrote several confessions for drunkenness and bad behavior, and frequently spoke ill of Wheelock. He left the school in the spring of 1768, and took up residence with the Secutor family (Narragansett) at Charlestown, Rhode Island. Calvin left the Narragansetts sometime late in 1768, presumably after the dissolution of his relationship with Mary Secutor. Wheelock heard reports early in 1769 that Calvin had been imprisoned at Little Ease, NJ, for forging a pass for a Black man (Calvin does not appear in the county records, so either he was never indicted or Wheelock had his information wrong). By 1777, Calvin was in a position of prominence at Brotherton, NJ (a town of Christian Delawares founded under John Brainerd's ministry). At some point after 1788, Calvin moved west with the Delawares: he may have moved directly to join the Delawares in Ohio territory, or he may have relocated to Stockbridge in 1802 and then moved west.
Johnson, Samuel
Samuel Johnson was a Yale student who, after first traveling to Canajoharie, taught the school at Fort Hunter (the smaller Mohawk town) from October 1766 until at least February 1767, possibly as late as June. Johnson returned to Yale by July 1767. Wheelock may have provided him with some financial support at college up until the end of 1767, when Johnson and Wheelock parted ways. It is possible that Johnson simply decided he did not want to be an Indian missionary, and, thus, withdrew from Wheelock's support. It is more likely that the pair split over Wheelock's treatment of his students. Johnson's last letter to Wheelock expressed his opposition to Wheelock's plan to pull Avery and McClure out of college for missions (767667.5); Johnson may have feared he would meet the same fate. Four years later, he wrote to Samuel Kirkland about Wheelock's mistreatment of Crosby, whom Wheelock expelled from Dartmouth, and David Avery, whom Wheelock required to repay large portions of his tuition because his health prevented him from serving as a missionary. Johnson graduated from Yale in 1769, was ordained the same year, and served as a minister at New Lebanon, New York and West Stockbridge, Massachusetts. In 1780, he converted to the Shaker faith, along with his wife, their children, and much of his former New Lebanon Congregation.
Johnson, Joseph
Joseph Johnson was a Mohegan who studied at Moor's Indian Charity School and became one of the most important organizers of the Brothertown Movement (a composite tribe composed of Christian members of seven Southern New England Algonquian settlements). He was a prolific writer and his papers are relatively well-preserved. Johnson's writing is especially noteworthy for his skillful use of Biblical allusion and his awareness of the contradiction that he, as an educated Native American, presented to white colonists. Johnson arrived at Moor's in 1758, when he was seven years old, and studied there until 1766, when he became David Fowler's usher at Kanawalohale. He continued teaching in Oneida territory until the end of 1768, when Samuel Kirkland sent him home in disgrace for drunkeness and bad behavior. After a stint teaching at Providence, Rhode Island, and working on a whaling ship, Johnson returned to Mohegan in 1771 and became a zealous Christian. He opened a school at Farmington, CT, in 1772, for which he seems to have received some minimal support from the New England Company. From his base at Farmington, he began organizing Southern New England Algonquians for the Brothertown project. The goal was to purchase land from the Oneidas, the most Christianized of the Six Nations, and form a Christian Indian town incorporating Algonquian and Anglo-American elements. Johnson spent the rest of his short life garnering necessary support and legal clearance for the Brothertown project. Johnson died sometime between June 10, 1776 and May 1777, at 25 or 26 years old, six or seven years before Brothertown was definitively established in 1783. He was married to Tabitha Occom, one of Samson Occom's daughters. She lived at Mohegan with their children even after Brothertown's founding, and none of their children settled at Brothertown permanently. Like most of Wheelock's successful Native American students, Johnson found that he could not satisfy his teacher's contradictory standards for Native Americans. Although Johnson's 1768 dismissal created a hiatus in their relationship, Johnson reopened contact with Wheelock after his re-conversion to a degree that other former students, such as Samson Occom, David Fowler, and Hezekiah Calvin, never did.
Kirkland, Samuel
Samuel Kirkland (b. Kirtland) was Eleazar Wheelock's most famous Anglo American student. He conducted a 40-year mission to the Oneidas and founded Hamilton College (established in 1793 as Hamilton Oneida Academy). Kirkland won acclaim as a missionary at a young age by conducting an adventurous and risky mission to the Senecas, the westernmost of the Haudenosaunee (Iroquois) Six Nations. After his year and a half among them, which was well publicized by Wheelock, he was ordained and sent as a missionary to the Oneidas under the auspices of the Connecticut Board of the Society in Scotland for Propagating Christian Knowledge. He spent most of the rest of his life serving the Oneidas as a minister. Kirkland's sincere devotion to serving as a missionary was excellent publicity for Wheelock's program, but it also brought the two men into conflict. Wheelock became jealous of Kirkland when the school's British benefactors began urging Wheelock to make Kirkland his heir, and Kirkland, meanwhile, was upset that Wheelock had failed to provide him with sufficient supplies on his mission — a complaint that he was unafraid to publicize (and that almost all of Wheelock's other students shared). The breaking point came in 1770, when Kirkland split from Wheelock's Connecticut Board and affiliated with the New England Company, a missionary society that had abruptly turned against Wheelock in 1765. Wheelock and Kirkland briefly made up in 1771, but their relationship quickly dissolved into further acrimony. Although Kirkland spent most of his life as a missionary to the Six Nations, he generally held disparaging views of Native Americans. He did not approve of Wheelock's plan to educate Indians as missionaries, and was haughty towards the Moor's alumni that worked with him (notably David Fowler, Joseph Johnson, and Joseph Woolley). Prior to the Revolution, Kirkland had been stringent in his refusals to take Oneida land, even when offered to him. The Revolution seems to have shifted his loyalties from the Oneidas to local Anglo Americans. Kirkland served as a chaplain in the American army and was instrumental in convincing the Oneidas to remain neutral (or, more accurately, to side with the Americans). At one point he was the chaplain with General Sullivan's army, the force sent to ransack Seneca and Cayuga territory in 1779. It is unclear what emotions this aroused in Kirkland, who had served the Senecas less than 15 years earlier, yet after the war, Kirkland freely engaged in Oneida dispossession. Along with James Dean, another Wheelock alumnus with close ties to the Oneidas, Kirkland played a pivotal role in urging the Oneidas to sell land illegally to the state of New York. The land deals that resulted gave Kirkland the property, financial capital, and connections to establish Hamilton Oneida Academy. The last decades of Kirkland's life were difficult. He found himself in a three-way battle with Samson Occom and John Sergeant Jr., who were also ministers in Oneida territory, for the hearts and minds of their congregations; he was fired as a missionary in 1797, although he continued to serve sans salary; one of his son's business enterprises failed, leaving Kirkland nearly destitute; and two of his three sons died unexpectedly. Hamilton Oneida Academy, like Moor's Indian Charity School, largely failed at its goal of educating Indians, and in 1812, four years after Kirkland's death, it was re-purposed as Hamilton College, a largely Anglo-American institution. At some point in the mid-to-late 18th century, Kirkland changed his name from Kirtland, although the reasons for this are uncertain.
Johannes
Johannes was a Mohawk who studied at Moor's Indian Charity School from 1761 until 1765. He was approached as an usher (junior schoolteacher) on March 12, 1765, in the Moor's graduation orchestrated by Wheelock in preparation for a mass mission to the Mohawk and Oneida. Johannes kept school at Old Oneida during the summer of 1765, but did not continue his post. A variety of Anglo-American Moor's-affiliated missionaries, including Aaron Kinne and David Avery, sought his services as an interpreter, but there is no indication that Johannes accepted any of their invitations. It is more likely that, like other Haudenosaunees (Iroquois) who studied at Moor's, Johannes rapidly reintegrated into Haudenosaunee society. Shortly after returning to Haudenosaunee territory, Johannes was too preoccupied with managing his family's horses to serve as an interpreter (manuscript 765673), and a few years later, he was unable to respond to Aaron Kinne's request because he was out hunting (manuscript 768363.1). Thus, in Johannes' disappearance from Anglo-American records, we can read a polite rejection of the assimilation project that was Moor's Indian Charity School's raison d'etre.
Wheelock, Mary (née Brinsmead)
Mary Wheelock was born Mary Brinsmead on July 26, 1714 in Milford, Connecticut. In the year following the death of his first wife, Eleazar began to court Mary Brinsmead, and the two married on November 21, 1747. Mary and Eleazar had five children together, including John, who would succeed his father as President of Dartmouth College. Little appears in the historical record about Mary, but many of the people who wrote to Wheelock, especially his Native correspondents who often lived with the family, referred to her warmly. In September 1770, Mary dismantled her longtime home in Connecticut, and travelled with her children to the Wheelocks' new home in the wilderness of New Hampshire. They rode in a coach sent over from England by John Thornton, accompanied by 30 Charity School students on foot. Eleazar, who had gone ahead to build housing for everyone, wrote a letter to Mary with many instructions about the move; the disposition of domestic animals, people, supplies; and the acquisition of money that suggests she was an able and trustworthy manager (manuscript 770510.1; this manuscript is not included in Occom Circle documents). She died in 1784 in Hanover, New Hampshire, where she is buried in the Dartmouth College Cemetery.