Daniel Fisher, letter, to Nathaniel Whitaker, 1766 September 16
ms-number: 766516.4
abstract: Fisher writes to invite Occom and Whitaker to preach and fundraise at his church in Warminster, England.
handwriting: Formal hand is small, but clear and legible.
paper: Single, medium-sized sheet is in good-to-fair condition, with moderate staining, creasing and wear. A tear at the bottom of the paper results in a minimal loss of text.
ink: Brown.
noteworthy: The postscript is written in the left-hand margin of one recto.
events: Fundraising Tour of Great Britain
---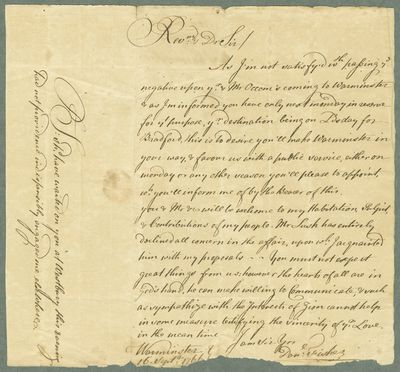 (View Page Image)
Rev:

nd

& Dr Sir/

As I'm not satisfy'd w
th
paſsing y
e
negative upon y.
r
&
Mr Occom
's coming to
Warminster
& as I'm informed you have only next monday in reserve
for y
t
purpose, y.
r
destination being on Ldsday for
Bradford
, this is to desire you'll make
Warminster
in
your way, & favour us with a public service, either on
monday or any other season you'll please to appoint,
w.
h
you'll inform me of by the Bearer of this.
you & Mr &c will be welcome to my Habitation, Pulpit,
& Contributions of my people.
Mr Lush
has entirely
declined all concern in the affair, upon w.
h
I acquainted
him with my proposals — — You must not expect
great things from us: however the hearts of all are in
God's hand, he can make willing to Communicate, & such
as sympathize with the Interests of Zion cannot help
in some measure testifying the sincerity of y.
r
Love.
in the mean time
I am Sir Yrs

Dan

l

: Fisher
[left]
PS: sh.

d

have waited on you at

Westbury

this Evening
had not providence indispensibly engaged me elsewhere.
Warminster
16: Sept:

r

1766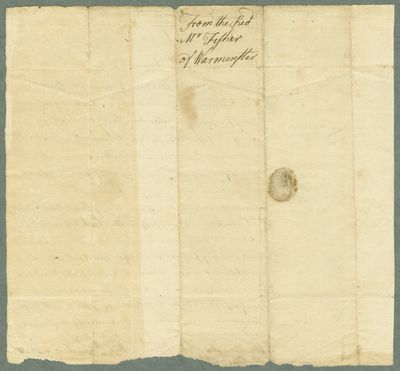 (View Page Image)
From the Rev
d
M

r

Fiſher
of
Warminſter
Bradford
An industrial city on the edge of the moors in West Yorkshire, northern England, and home to the Bronte family, Bradford became an important textile and woollen center in the late 18th and 19th centuries.
Westbury
Westbury is a small town in southwest England, 25 miles southeast of Bristol. Because it sits on the westernmost border of Wiltshire County, its name derives from "west" and the Saxon word "burgh." Humans have inhabited the area since at least the Stone Age. Beginning in the 1500s, Westbury became known for its clothiers, an industry that suffered during north England's Industrial Revolution. Occom visited the area surrounding Westbury just before the Inustrial Revolution really took hold, staying in surrounding towns in the autumn of 1766 while conducting his fundraising tour with Nathaniel Whitaker. Supporters of Wheelock's school, notably Lebeus Driver and the Calvinist minister Daniel Fisher, suggested audiences for Occom's preaching when he visited the area.
Whitaker, Nathaniel
Nathaniel Whitaker was an outspoken Presbyterian minister with a long and wide-ranging career. Between his ordination in 1755 and his death in 1795, Whitaker ministered to five different congregations. His longest tenure was at Chelsea, CT (near Norwich), from 1761-1769, during which he joined Occom on his two-and-a-half-year fundraising tour of Britain. While in Chelsea, Whitaker was very involved in Wheelock's project. The two engaged in frequent correspondence, and Whitaker served on Eleazar Wheelock's Board of Correspondents in Connecticut, as well as on the Board of Trustees of Moor's Indian Charity School. At one time, he was Wheelock's presumed successor, but Dartmouth's Trustees demanded that Wheelock appoint another. Wheelock, in part due to his strongly-held belief that Native Americans were childlike and rash, was convinced that Occom needed an Anglo-American supervisor on his fundraising tour. After several candidates turned down the job, Wheelock selected Whitaker. He proved to be a poor choice; he was, by many accounts, a difficult man to get along with, and many of Wheelock's British allies, including George Whitefield and the English Trust (the organization that took control of the money Occom raised in England) preferred to deal with Occom, although Whitaker insisted on handling the tour's logistics. Furthermore, in Britain, Occom was the obvious star of the tour, and it was unclear to many why Whitaker asserted himself so prominently. Whitaker's poor decisions seriously alienated the English Trust and increased their suspicion of Wheelock's later dealings and treatment of Occom. He gave the English Trust the impression that they would have control over money raised in Scotland (which was in fact lodged with the parent organization of the SSPCK), and he was the executor of the "Eells Affair," a plan initiated by the CT Board of the SSPCK to bring the money that Occom and Whitaker raised back to the colonies by investing it in trade goods and selling them at a profit (Eells was one of the merchants who was to help with the resale of goods). The English Trust learned about the plan by reading letters that Whitaker had given them permission to open in his absence, and were immediately shocked. The wording of certain letters made it appear that only a percentage of the profit from the resale of the goods would go towards Moor's Indian Charity School, but beyond that detail, the English Trust was scandalized at the thought of money raised for charity being invested in trade. The English Trust blamed Whitaker entirely for these affairs, and issued specific instructions for Occom to notarize all documents requiring Whitaker's signature. In short, they wanted Occom to supervise Whitaker, when Wheelock had envisioned the opposite relationship (both Occom and Whitaker seem to have ignored their instructions, preferring to have as little contact with one another as possible). In 1769, a year after his return to Connecticut in 1768, Whitaker found himself dismissed by his Chelsea congregation (likely because he had spent two and a half years away from them). He went on to serve several more congregations before his death in 1795. Whitaker was an outspoken Whig, and during the Revolution he published several pamphlets on his political opinions.
Occom, Samson
Samson Occom was a Mohegan leader and ordained Presbyterian minister. Occom began his public career in 1742, when he was chosen as a tribal counselor to Ben Uncas II. The following year, he sought out Eleazar Wheelock, a young Anglo-American minister in Lebanon, CT, in hopes of obtaining some education and becoming a teacher at Mohegan. Wheelock agreed to take on Occom as a student, and though Occom had anticipated staying for a few weeks or months, he remained with Wheelock for four years. Occom's academic success inspired Wheelock to open Moor's Indian Charity School in 1754, a project which gave him the financial and political capital to establish Dartmouth College in 1769. After his time with Wheelock, Occom embarked on a 12-year mission to the Montauk of Long Island (1749-1761). He married a Montauk woman, Mary Fowler, and served as both teacher and missionary to the Montauk and nearby Shinnecock, although he was grievously underpaid for his services. Occom conducted two brief missions to the Oneida in 1761 and 1762 before embarking on one of the defining journeys of his career: a fundraising tour of Great Britain that lasted from 1765 to 1768. During this journey, undertaken on behalf of Moor's Indian Charity School, Occom raised £12,000 (an enormous and unanticpated amount that translates roughly to more than two-million dollars), and won wide acclaim for his preaching and comportment. Upon his return to Mohegan in 1768, Occom discovered that Wheelock had failed to adequately care for his family while he was gone. Additionally, despite the vast sums of money that he had raised, Occom found himself unemployed. Wheelock tried to find Occom a missionary position, but Occom was in poor health and disinclined to leave his family again after seeing the treatment with which they had met while he was in Britain. Occom and Wheelock's relationship continued to sour as it became apparent to Occom that the money he had labored to raise would be going towards infrastructure at Dartmouth College, Wheelock's new project, rather than the education of Native Americans. After the dissolution of his relationship with Wheelock, Occom became increasingly focused on the needs of the Mohegan community and increasingly vocal in criticizing Anglo-Americans' un-Christian treatment of Native Americans. In September of 1772, he delivered his famous "Sermon on the Execution of Moses Paul," which took Anglo-American spiritual hypocrisy as one of its major themes, and which went into four printings before the end of the year. In 1773, Occom became further disillusioned when the Mason Land Case was decided in favor of the Colony of Connecticut. The details of the Mason Case are complicated, but to summarize: the Colony of Connecticut had gained control of Mohegan land early in the 18th century under very suspect circumstances, and successfully fended off the Mohegan's 70-year-long legal challenge. The conclusion of the case came as a blow to the Mohegans, and further convinced Occom of Anglo-American corruption. Along with David Fowler (Montauk Tribe), Occom's brother-in-law, and Joseph Johnson (Mohegan), Occom's son-in-law, Occom helped found Brothertown, an Indian tribe formed from the Christian Mohegans, Pequots, Narragansetts, Montauks, Tunxis, and Niantics. They eventually settled in Oneida country in upstate New York. Occom moved there with his family in 1789, spending the remaining years of his life serving as a minster to the Brothertown, Stockbridge, and Mohegan Indians. Harried by corrupt land agents, the Brothertown and Stockbridge groups relocated to the eastern shore of Lake Winnebago, though Occom died in 1792 before he could remove himself and his family there. Occom's writings and legacy have made him one of the best known and most eminent Native Americans of the 18th century and beyond.
Fundraising Tour of Great Britain
After many months of planning and shifting personnel, Occom, accompanied by the minister Nathaniel Whitaker, sets sail in December 1765 for a two-and-a-half year tour of England and Scotland in order to solicit contributions to Wheelock's Indian Charity School and missionary efforts. Introduced to aristocrats and prominent clergy by the minister George Whitefield, Occom preaches many sermons, travels widely, and collects a large sum of money.