Sermon, 1 Timothy 6:12, 1766 July 13
ms-number: 766413.1
abstract: Occom's sermon on the text 1 Timothy 6:12: Fight the good fight of faith, lay hold on eternal life, whereunto thou art also called, and has professed a good profession before many witnesses.
handwriting: Handwriting is clear and legible.
paper: Small sheets are larger than those contained in other sermon booklets, and are in fair-to-poor condition, with heavy staining and wear that results in a loss of text.
ink: Brown ink is heavily faded in spots.
noteworthy: A note reading "London July 13. 1766," has been added in a different, likely 19th-century, hand. This note appears to be the origin of the document's date.
events: Fundraising Tour of Great Britain
---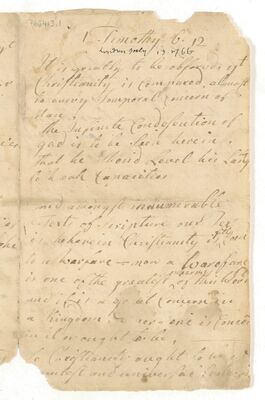 (View Page Image)
1 Timothy 6. 12
It is greatly to be obſervd, y
t
Chriſtianity is compared, almoſt
to every Temporal Concern of
Man,
the Infinite Condeſention of
gad is to be Seen here in,
that he Shou'd Level his Lang
⇑
ag
to weak Capacities
and amongſt innumerable
Texts of Scripture our Text
is he herein Chriſtianity is
⇑
fitly
[illegible]
[guess: Com

⇑

d

]
to a warfare — now a warefare
is one of the greateſt
⇑
Concerns
of this Wor
⇑
l
d
and it is a great Concern in
a Kingdom,
[illegible]
[guess: Ev]
ery one is Concer
⇑
n
in it or ought to be, —
So Chriſtianity ought to be y
e
[gap: tear]
[illegible]
[guess: gr]
eateſt and univerſal Concern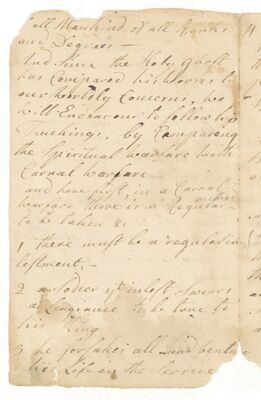 (View Page Image)
[gap: tear]
[illegible]
[guess: of]
all Mankind of all Ranks
and Degrees —
And Since the Holy ghoſt
has Compared his works to
our worldly Concerns, we
will Endeavour to follow his
Teachings, by Compar
e
ing
the Spiritual warfare with
Carnal warfare —
and here firſt, in a Carnal
warfare there is a Regular
⇑
method
—
to be taken &c
1 there muſt be a regular in­
leſtment, —
2 a Sodier y
t
inleſt Swears
a Leagiance to be true to
his King
3 he forſakes all
[illegible]
and ventu
[gap: tear]
[guess: r]
es
his Life in the Service
[gap: tear]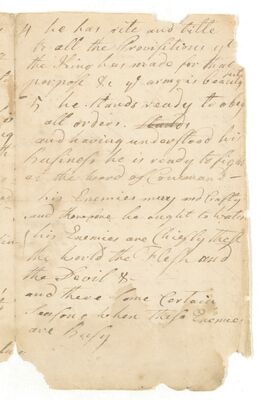 (View Page Image)
4 he has rite and title
to all the Proviſitions y
t
the King has made for that
porpoſe &c y
e
army is beauty
⇑
ful
5 he Stands ready to obey
all orders.
Stands
and having underſtood his
Buſineſs he is ready to fight
at the word of Command —
his Enemies mny and Crafty
and therefore he ought to watch
his Enemies are Chiefly theſe
the world the Fleſh and
the Devil &
and there Some Certain
Seaſons when theſe Enemies
are Buſy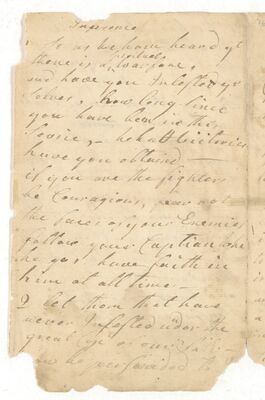 (View Page Image)
Inference

1 So as we have heard y
t
there is a
⇑
Spiritual
warfare,
and have you Inleſted y
r
Selves, how long Since
you have been in this
Sevice,— what Victories
have you obtained —
if you are the fighter,
be Couragious, fear not
the faces of your Enemies
follow your Captian whe
he gos have faith in
him at all times —
2 let them that have
never Inleſted u
⇑
n
der the
great Cap
t
of our Salv­
[gap: tear]
[guess: ati]
on be perſwaded to
[gap: tear]
[illegible]
Occom, Samson
Samson Occom was a Mohegan leader and ordained Presbyterian minister. Occom began his public career in 1742, when he was chosen as a tribal counselor to Ben Uncas II. The following year, he sought out Eleazar Wheelock, a young Anglo-American minister in Lebanon, CT, in hopes of obtaining some education and becoming a teacher at Mohegan. Wheelock agreed to take on Occom as a student, and though Occom had anticipated staying for a few weeks or months, he remained with Wheelock for four years. Occom's academic success inspired Wheelock to open Moor's Indian Charity School in 1754, a project which gave him the financial and political capital to establish Dartmouth College in 1769. After his time with Wheelock, Occom embarked on a 12-year mission to the Montauk of Long Island (1749-1761). He married a Montauk woman, Mary Fowler, and served as both teacher and missionary to the Montauk and nearby Shinnecock, although he was grievously underpaid for his services. Occom conducted two brief missions to the Oneida in 1761 and 1762 before embarking on one of the defining journeys of his career: a fundraising tour of Great Britain that lasted from 1765 to 1768. During this journey, undertaken on behalf of Moor's Indian Charity School, Occom raised £12,000 (an enormous and unanticpated amount that translates roughly to more than two-million dollars), and won wide acclaim for his preaching and comportment. Upon his return to Mohegan in 1768, Occom discovered that Wheelock had failed to adequately care for his family while he was gone. Additionally, despite the vast sums of money that he had raised, Occom found himself unemployed. Wheelock tried to find Occom a missionary position, but Occom was in poor health and disinclined to leave his family again after seeing the treatment with which they had met while he was in Britain. Occom and Wheelock's relationship continued to sour as it became apparent to Occom that the money he had labored to raise would be going towards infrastructure at Dartmouth College, Wheelock's new project, rather than the education of Native Americans. After the dissolution of his relationship with Wheelock, Occom became increasingly focused on the needs of the Mohegan community and increasingly vocal in criticizing Anglo-Americans' un-Christian treatment of Native Americans. In September of 1772, he delivered his famous "Sermon on the Execution of Moses Paul," which took Anglo-American spiritual hypocrisy as one of its major themes, and which went into four printings before the end of the year. In 1773, Occom became further disillusioned when the Mason Land Case was decided in favor of the Colony of Connecticut. The details of the Mason Case are complicated, but to summarize: the Colony of Connecticut had gained control of Mohegan land early in the 18th century under very suspect circumstances, and successfully fended off the Mohegan's 70-year-long legal challenge. The conclusion of the case came as a blow to the Mohegans, and further convinced Occom of Anglo-American corruption. Along with David Fowler (Montauk Tribe), Occom's brother-in-law, and Joseph Johnson (Mohegan), Occom's son-in-law, Occom helped found Brothertown, an Indian tribe formed from the Christian Mohegans, Pequots, Narragansetts, Montauks, Tunxis, and Niantics. They eventually settled in Oneida country in upstate New York. Occom moved there with his family in 1789, spending the remaining years of his life serving as a minster to the Brothertown, Stockbridge, and Mohegan Indians. Harried by corrupt land agents, the Brothertown and Stockbridge groups relocated to the eastern shore of Lake Winnebago, though Occom died in 1792 before he could remove himself and his family there. Occom's writings and legacy have made him one of the best known and most eminent Native Americans of the 18th century and beyond.
Fundraising Tour of Great Britain
After many months of planning and shifting personnel, Occom, accompanied by the minister Nathaniel Whitaker, sets sail in December 1765 for a two-and-a-half year tour of England and Scotland in order to solicit contributions to Wheelock's Indian Charity School and missionary efforts. Introduced to aristocrats and prominent clergy by the minister George Whitefield, Occom preaches many sermons, travels widely, and collects a large sum of money.