Samuel Buell, letter, to Samson Occom, 1766 June 9
ms-number: 766359
abstract: Buell writes that he has received Occom's letter from England, and expresses joy that God has been kind to Occom. He also notes that he has recently published a narrative ("A Narrative of the Lord's wonderful Work of Grace among us in this Day of the Redeemers conquest and triumph"), and relays information about the good health of Occom's family.
handwriting: Clear with few deletions.
paper: Some creasing staining and wear; evidence of repair work along creases.
noteworthy: Trailer beginning "Bristol…" is in Occom's hand; note — "8 to S. Occom" — added at the end of the 2nd line of the trailer, is in different handwriting/ink, likely 19th-century.
events: Fundraising Tour of Great Britain
---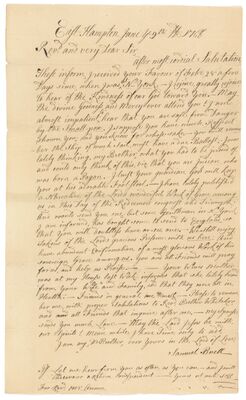 (View Page Image)
Eaſt-Hampton
June y

e

9

th

AD 1766

Rev,

d

and very Dear Sir,

After moſt cordial Salutation
Theſe inform, I received your Favour of
Feb

r

28
a few
Days since, when I was
⇑
at
N-York
. — I rejoice, greatly rejoice,
to hear of the Kindneſs of our God toward You. — May
the divine Goodneſs and Mercy ever attend you! I am
almoſt impatient
⇑
to
hear that you are safe from Danger
by the
Small
-
pox
. I suppoſe you have much Reſpect
shown you; and you know for whoſe sake. — you will remem
­ber the Ship of much Sail, muſt have a due Ballaſt. — I was
lately thinking, my Brother, what you had to be proud of,
and could only think of this, viz that you are
Indian
, who
was born a
Pagan
. — I trust your guardian God will keep
you at his adorable Foot-ſtool. — I have lately publiſh'd
a Narrative of the Lord's wonderful Work of Grace among
us
, in this Day of the Redeemer's conqueſt and Triumph:
And would send you one; but some Gentleman in
N-York
,
I am inform'd, has bought some to send to
England
so
that you will doublleſs have or see one. — We still enjoy
Tokens of the Lord's gracious Preſence with
us here
: And
have abundant Confirmation of a moſt glorious Work of his
sovereign Grace among
us
. You and all Friends will pray
for us, and help us Praiſe. — —
Your Wives Mother
was at my Houſe laſt Week — informs that she lately heard
from
your Wife
and Family, and that they were all in
Health. — Fri
r
ends in general are
[illegible]
well — Pleaſe to remem
ber me, with proper Salutations to
Rev,

d

Brother Whitaker
,
and
and
all Friends that inquire after me. — my Spouſe
sends You much Love. —
[illegible]
May the Lord Jeſus be with
our Spirits! Mean while I have Time only to add,
I am my, D

r

Brother, ever Yours in the Lord of Love.
Samuel Buell
Pſ Let me hear from you as often as You can — and I will
endeavour a Return correſpondent — Yours
ut ante
S. B
—
(View Page Image)
M

r

Buell
s
June 9: 1766
Briſtol
Aug

t

11
receiv'd
this Letter
East Hampton
East Hampton is a town in New York's Suffolk county on southeast Long Island, 14 miles southwest of Montauk. East Hampton was originally inhabited by the Algonquin-speaking Montauketts, who numbered over 10,000 and had a peaceful trading relationship with the nearby Pequots until early 17th century when English colonists played the two tribes off each other. In 1640, after the Pequot War, an English settler named Lion Gardiner purchased an island in the bay between the present-day towns of Montauk and East Hampton from the Montauketts, which began the English settlement, or seizure, of the land that would become East Hampton. The Montauketts called the island Manchonacke, or island where many died, while Gardiner named the island after himself. In 1648, the colonies of New Haven and Connecticut purchased more land from the Montauketts, spreading beyond Gardiner's Island onto Long Island and settling the town of East Hampton. In 1664, East Hampton was annexed to the colony of New York. As the number of English settlers increased, the Montauketts became increasingly dispossessed, economically tied to the English but relegated to the bottom of the social order. By 1687, the English had fenced off the majority of Montaukett land through a series of resolutions, changing the tribal structure of the Montauketts and leaving them open to conversion to Christianity. In 1749, Occom had been released from his preparatory studies for college because of poor eyesight and went on a summer fishing trip to Montauk; he decided to settle there and by November had established a school for the Montauketts. He frequented East Hampton on his travels to New York and New England from his home in Montauk beginning in 1750, often staying with Reverend Samuel Buell of the Presbytery of Suffolk County, who presided over Occom's 1759 ordination at the Presbytery. While traveling through East Hampton, Occom also stayed with William Hedges, a whaling captain and one of his benefactors. One of Occom's letters indicates that Hedges took care of Occom's family while he completed his mission to the Oneidas in 1761. Occom's relationship to East Hampton changed in the 1770s, however, when he started to believe that the pervasive English influence on Montaukett society had become corrosive. As a result of Occom's encouragement, many of the Montauketts of East Hampton moved to Brothertown in the late 1780s.
Bristol
A city in the southwest of England. In the mid-18th century, Bristol became England's second biggest city due to its thriving importation of sugar cane, tobacco, rum, and cocoa, all products of the slave trade. Its affluence made it an important and lucrative stop for Occom and Whitaker on the fundraising trip to the west of England.
Buell, Samuel
Buell was a popular Presbyterian minister during the second half of the 18th century in Long Island, as well as a close friend of Samson Occom. He was ordained in November 1743, and was a popular itinerant minister before settling at Easthampton. He preached at Occom's ordination, published the sermon in 1761 to raise funds for Occom (he also wrote the letter addressed to Bostwick prefacing his publication), and stayed in close contact with Occom even after Occom's public break from Wheelock. Occom's diary is full of references to visiting Buell and to their close friendship. During the Revolution, Buell was the only minister on Long Island for 40 miles, and was very active in assisting the American cause. He also founded Clinton Academy on Long Island in 1785, which was the first private school chartered by the New York Board of Regents. This academy was also remarkable in that it admitted women. Multiple historical sources have misconstrued Samuel Buell as Sol or Solomon Buell, likely because Buell sometimes signed his name Sa.l, a creative abbreviation of Samuel. However, there was no Reverend Solomon Buell in Easthampton, or, it seems, Long Island, in the second half of the 18th century: Samuel had no brothers, and were there to be two Reverend S. Buell's within 10 miles of one another during the same period, related or not, doubtlessly someone would have commented on it. In addition, the handwriting in letters ascribed to "Sol" and those assigned to Samuel is identical. Lastly, the only source besides collection manuscript 765530.3 describing a "Solomon Buell" is an anthology of letters from the Revolution, which contain letters from a Rev. Sol. Buell, or S. Buell, about aiding the American cause. These letters correspond well with descriptions of Samuel's life in an 1809 biography of his life, and, as he was the only Reverend but one for 40 miles during the Revolution, it is likely that these letters belong to him.
Occom, Samson
Samson Occom was a Mohegan leader and ordained Presbyterian minister. Occom began his public career in 1742, when he was chosen as a tribal counselor to Ben Uncas II. The following year, he sought out Eleazar Wheelock, a young Anglo-American minister in Lebanon, CT, in hopes of obtaining some education and becoming a teacher at Mohegan. Wheelock agreed to take on Occom as a student, and though Occom had anticipated staying for a few weeks or months, he remained with Wheelock for four years. Occom's academic success inspired Wheelock to open Moor's Indian Charity School in 1754, a project which gave him the financial and political capital to establish Dartmouth College in 1769. After his time with Wheelock, Occom embarked on a 12-year mission to the Montauk of Long Island (1749-1761). He married a Montauk woman, Mary Fowler, and served as both teacher and missionary to the Montauk and nearby Shinnecock, although he was grievously underpaid for his services. Occom conducted two brief missions to the Oneida in 1761 and 1762 before embarking on one of the defining journeys of his career: a fundraising tour of Great Britain that lasted from 1765 to 1768. During this journey, undertaken on behalf of Moor's Indian Charity School, Occom raised £12,000 (an enormous and unanticpated amount that translates roughly to more than two-million dollars), and won wide acclaim for his preaching and comportment. Upon his return to Mohegan in 1768, Occom discovered that Wheelock had failed to adequately care for his family while he was gone. Additionally, despite the vast sums of money that he had raised, Occom found himself unemployed. Wheelock tried to find Occom a missionary position, but Occom was in poor health and disinclined to leave his family again after seeing the treatment with which they had met while he was in Britain. Occom and Wheelock's relationship continued to sour as it became apparent to Occom that the money he had labored to raise would be going towards infrastructure at Dartmouth College, Wheelock's new project, rather than the education of Native Americans. After the dissolution of his relationship with Wheelock, Occom became increasingly focused on the needs of the Mohegan community and increasingly vocal in criticizing Anglo-Americans' un-Christian treatment of Native Americans. In September of 1772, he delivered his famous "Sermon on the Execution of Moses Paul," which took Anglo-American spiritual hypocrisy as one of its major themes, and which went into four printings before the end of the year. In 1773, Occom became further disillusioned when the Mason Land Case was decided in favor of the Colony of Connecticut. The details of the Mason Case are complicated, but to summarize: the Colony of Connecticut had gained control of Mohegan land early in the 18th century under very suspect circumstances, and successfully fended off the Mohegan's 70-year-long legal challenge. The conclusion of the case came as a blow to the Mohegans, and further convinced Occom of Anglo-American corruption. Along with David Fowler (Montauk Tribe), Occom's brother-in-law, and Joseph Johnson (Mohegan), Occom's son-in-law, Occom helped found Brothertown, an Indian tribe formed from the Christian Mohegans, Pequots, Narragansetts, Montauks, Tunxis, and Niantics. They eventually settled in Oneida country in upstate New York. Occom moved there with his family in 1789, spending the remaining years of his life serving as a minster to the Brothertown, Stockbridge, and Mohegan Indians. Harried by corrupt land agents, the Brothertown and Stockbridge groups relocated to the eastern shore of Lake Winnebago, though Occom died in 1792 before he could remove himself and his family there. Occom's writings and legacy have made him one of the best known and most eminent Native Americans of the 18th century and beyond.
Fowler, Elizabeth (née Pharaoh)
Elizabeth (Betty) Fowler was an influential Montauk woman and the mother of Mary Fowler Occom, David Fowler, and Jacob Fowler. She was a member of the powerful Pharaoh/Faro family, a family which boasts the current (as of 2013) Montaukett sachem. Elizabeth was married to James Fowler. Occom married their daughter Mary, and as a result the Fowler family received extra attention from the minister and became deeply Christian. James Fowler died in 1774, but Elizabeth lived until 1795. She migrated to Brothertown with Mary, David, and Jacob, where she died sometime after 1795.
Occom, Mary (née Fowler)
Mary Occom (née Fowler) was a Montaukett woman who married Samson Occom. Although information about her is limited and often comes from male, Anglo-American sources, it offers a tantalizing glimpse of her strength, as well as an alternative to the Eleazar Wheelock-centered narrative of Occom's life that often dominates the latter's biography. Mary was born into the influential Fowler family at Montauk, Long Island. She met Samson during his missionary service there (1749-1761). Mary studied at Samson's school along with her brothers David and Jacob, and was almost certainly literate. She and Samson married in 1751. Wheelock and several other Anglo-American powers opposed their union because they worried it might distract Occom from being a missionary (as, indeed, family life did), and thus many scholars have read in Samson and Mary's marriage an act of resistance against Samson's domineering former teacher. Little information about the minutiae of Mary's life survives, but existing sources speak volumes about her character and priorities. In front of Anglo-American missionaries visiting the Occoms' English-style house at Mohegan, Mary would insist on wearing Montaukett garb and, when Samson spoke to her in English, she would only reply in Montaukett, despite the fact that she was fluent in English. Mary Occom was, in many ways, Wheelock's worst fear: that his carefully groomed male students would marry un-Anglicized Indian women. It is not a stretch to imagine that Mary provided much of the incentive for Wheelock to begin taking Indian girls into his school, lest his other protégés replicate Samson's choice. Much of our information about Mary comes from between 1765 and 1768, when Samson was fundraising in Great Britain. Despite promising to care for Samson's wife and family (at the time they had seven children), Wheelock, by every objective measure, failed to do so, and Mary's complaints are well documented. Hilary Wyss reads in Wheelock's neglect (and in letters from the time) a more sinister story, and concludes that on some level Wheelock was holding Samson's family hostage, in return for Occom curtailing his political beliefs on the Mason Case. Wyss also notes Mary's remarkable survivance in this situation. Mary drew on various modes of contact, from letters to verbal communication with influential women (including Sarah Whitaker, the wife of Samson's traveling companion, and Wheelock's own daughters), to shame Wheelock into action and demand what she needed. One of the major struggles in Mary's life, and in Samson's, was with their sons. Both Aaron and Benoni failed to live up to their parents' expectations. Aaron attended, and left, Moor's Indian Charity School three times, and both Aaron and Benoni struggled with alcohol and refused to settle down. The Occom daughters did not cause similar problems. Given the nature of existing sources, little is known about Mary after Samson and Wheelock lessened their communication in 1771. Joanna Brooks has conjectured that Mary was likely influential in Samson's Mohegan community involvement later in life, for instance, in his continued ministry to Mohegan and, perhaps, his increasingly vehement rejection of Anglo-American colonial practices.
Whitaker, Nathaniel
Nathaniel Whitaker was an outspoken Presbyterian minister with a long and wide-ranging career. Between his ordination in 1755 and his death in 1795, Whitaker ministered to five different congregations. His longest tenure was at Chelsea, CT (near Norwich), from 1761-1769, during which he joined Occom on his two-and-a-half-year fundraising tour of Britain. While in Chelsea, Whitaker was very involved in Wheelock's project. The two engaged in frequent correspondence, and Whitaker served on Eleazar Wheelock's Board of Correspondents in Connecticut, as well as on the Board of Trustees of Moor's Indian Charity School. At one time, he was Wheelock's presumed successor, but Dartmouth's Trustees demanded that Wheelock appoint another. Wheelock, in part due to his strongly-held belief that Native Americans were childlike and rash, was convinced that Occom needed an Anglo-American supervisor on his fundraising tour. After several candidates turned down the job, Wheelock selected Whitaker. He proved to be a poor choice; he was, by many accounts, a difficult man to get along with, and many of Wheelock's British allies, including George Whitefield and the English Trust (the organization that took control of the money Occom raised in England) preferred to deal with Occom, although Whitaker insisted on handling the tour's logistics. Furthermore, in Britain, Occom was the obvious star of the tour, and it was unclear to many why Whitaker asserted himself so prominently. Whitaker's poor decisions seriously alienated the English Trust and increased their suspicion of Wheelock's later dealings and treatment of Occom. He gave the English Trust the impression that they would have control over money raised in Scotland (which was in fact lodged with the parent organization of the SSPCK), and he was the executor of the "Eells Affair," a plan initiated by the CT Board of the SSPCK to bring the money that Occom and Whitaker raised back to the colonies by investing it in trade goods and selling them at a profit (Eells was one of the merchants who was to help with the resale of goods). The English Trust learned about the plan by reading letters that Whitaker had given them permission to open in his absence, and were immediately shocked. The wording of certain letters made it appear that only a percentage of the profit from the resale of the goods would go towards Moor's Indian Charity School, but beyond that detail, the English Trust was scandalized at the thought of money raised for charity being invested in trade. The English Trust blamed Whitaker entirely for these affairs, and issued specific instructions for Occom to notarize all documents requiring Whitaker's signature. In short, they wanted Occom to supervise Whitaker, when Wheelock had envisioned the opposite relationship (both Occom and Whitaker seem to have ignored their instructions, preferring to have as little contact with one another as possible). In 1769, a year after his return to Connecticut in 1768, Whitaker found himself dismissed by his Chelsea congregation (likely because he had spent two and a half years away from them). He went on to serve several more congregations before his death in 1795. Whitaker was an outspoken Whig, and during the Revolution he published several pamphlets on his political opinions.
Fundraising Tour of Great Britain
After many months of planning and shifting personnel, Occom, accompanied by the minister Nathaniel Whitaker, sets sail in December 1765 for a two-and-a-half year tour of England and Scotland in order to solicit contributions to Wheelock's Indian Charity School and missionary efforts. Introduced to aristocrats and prominent clergy by the minister George Whitefield, Occom preaches many sermons, travels widely, and collects a large sum of money.