Charles Jeffrey Smith, letter, to Eleazar Wheelock, 1766 June 2
ms-number: 766352
abstract: Smith writes that he has received Wheelock's letters, and though he cannot become a missionary to the Indians, he hopes to sponser one.
handwriting: Handwriting is loose, informal and occasionally difficult to decipher.
paper: Moderate-to-heavy creasing, staining and wear.
signature: Abbreviated
---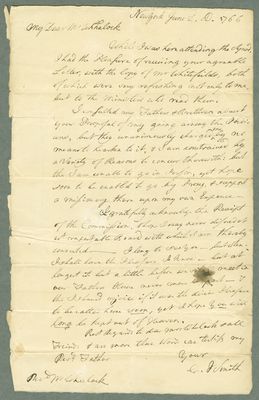 (View Page Image)
New York
June 2.

d

AD. 1766
My Dear M

r

Whhelock

While I was here attending the
Synod
,
I had the Pleaſure of receiving your agreable
Letter, with the Copy of
M

r

Whitefeild
s, both
of which were very refreshing not only to me,
but to the Ministers who read them.
I conſulted my Father & Brethren about
your Propoſal of my going among the Indi=
ans, but they unanimously charged
⇑
me
by no
means to hearken to it, & I am constrained by
a Variety of Reasons to concure therewith: but
tho I am unable to go in Perſon, yet hope
soon to be enabled to go by Proxy, & support
a Miſionary there upon my own Expence —
I gratefully acknowlege the Receipt
of the Commiſion, & hope I may never diſcredet
[illegible: [guess: th

t

] ]
[illegible]
[guess: respect]
able Board with which I am thereby
connected — I long to see you — but when
I shall have the Pleaſure I know — but at
longest its but a little before we shall meet in
our Father House never more to part — &
tho I should rejoice if it was the divine Pleaſure
to be called home
soon
, yet I hope
you
will
long
be kept out of Heaven.
Best Regards to dear
M

rs

Whelock
& all
Freinds & an more than Words can testify my
Rev.
d
Father
Rev
d
M

r

Wheelock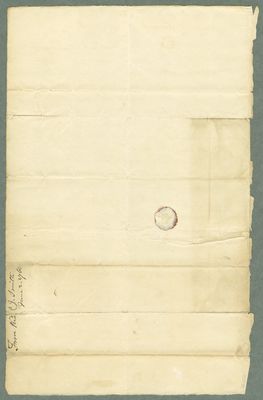 (View Page Image)
From Rev
d
CJ. Smith
June 2. 1766
Synod of New York and Philadelphia
The Synod of New York and Philadelphia was the governing body of the Presbyterian Church in the mid-Atlantic region, including New York and New England. It worked closely with other Presbyterian organizations in the region, including the New York (and, after 1769, New Jersey) Board of the Society in Scotland for Propagating Christian Knowledge, and the College of New Jersey. Like those organizations, the Synod was a potential source of funding for missionaries involved in Indian ministry, although it tended to support primarily Presbyterian efforts (e.g., John Brainerd's long ministry among the Delaware). For a period of time, the New York and Pennsylvania synods existed independently. In 1745, the Presbyteries of New York, New Brunswick, and Newcastle split from the Synod of Philadelphia over tensions resulting from the First Great Awakening, a transatlantic evangelical movement that spanned roughly 1734 until 1742. As within the Congregationalist church, the major points of contention were focused on 1) itinerant ministry and 2) qualifications for new ministers (namely, whether a college degree or demonstration of new birth was more important in a minister). The two synods reunified in 1758 as the Synod of New York and Philadelphia, although the member presbyteries continued to disagree over many of the same issues. The fact that these disagreements continued may be why writers often refer to the Synod of New York or the Synod of Philadelphia in letters from the 1760s and 1770s, even though the two synods were nominally reunified.
Smith, Charles Jeffery
Charles Jeffery Smith was an independently funded Presbyterian missionary and itinerant preacher. After his father's early death, Smith inherited a large private income. Instead of enjoying a life of leisure, he chose to complete his education at Yale and then become a missionary. After graduating, he taught at Moor's Indian Charity School, gratis, for a few months in 1763. His first mission, and his only mission among Indians, was a 1763 endeavor to the Six Nations, accompanied by then-student Joseph Brant as an interpreter. However, Pontiac's War forced them to return. Although Smith continued his missionary career, he focused on slaves in the Mid/South-Atlantic region and English-colonist congregations. Smith held several important roles in Wheelock's Grand Design. He was Wheelock's heir-once-removed (after Whitaker) in Wheelock's 1767 will, and was proposed as Occom's companion on the 1765 fundraising tour. Wheelock consulted Smith about the location of what was to be Dartmouth College (Smith proposed Virginia or South Carolina), and solicited him as an envoy to the Six Nations in 1768; when Smith refused, the job fell to Ralph Wheelock, who severely alienated the Haudenosaunee (Iroquois) and Sir William Johnson. Smith's residence was in Virginia at the time of his death, but he actually died in Long Island while visiting his family, from a gunshot wound sustained while hunting. It is unclear whether this was murder, an accidental shot, or suicide.
Wheelock, Eleazar
Eleazar Wheelock was a New Light Congregationalist minister who founded Dartmouth College. He was born into a very typical Congregationalist family, and began studying at Yale in 1729, where he fell in with the emerging New Light clique. The evangelical network that he built in college propelled him to fame as an itinerant minister during the First Great Awakening and gave him many of the contacts that he later drew on to support his charity school for Native Americans. Wheelock's time as an itinerant minister indirectly brought about his charity school. When the Colony of Connecticut retroactively punished itinerant preaching in 1743, Wheelock was among those who lost his salary. Thus, in 1743, he began operating a grammar school to support himself. He was joined that December by Samson Occom, a Mohegan Indian, who sought out an education in hopes of becoming a teacher among his people. Occom's academic success inspired Wheelock to train Native Americans as missionaries. To that end, he opened Moor's Indian Charity School in 1754 (where he continued to train Anglo-American students who paid their own way as well as students who functionally indentured themselves to Wheelock as missionaries in exchange for an education). Between 1754 and 1769, when he relocated to New Hampshire, Wheelock trained approximately 60 male and female Native American students from nearby Algonquian tribes and from the Haudenosaunee (Iroquois) of central New York. At the same time, he navigated the complicated politics of missionary societies by setting up his own board of the Society in Scotland for Propagating Christian Knowledge, although he continued to feud with the Boston Board of the SSPCK and the London Commissioners in Boston (more colloquially called the New England Company). By the late 1760s, Wheelock had become disillusioned with the idea of Native American education. He was increasingly convinced that educating Native Americans was futile (several of his students had failed to conform to his confusing and contradictory standards), and, in late 1768, he lost his connection to the Haudenosaunee. With his inclination and ability to sponsor Native American missionaries largely depleted, Wheelock sought instead to fulfill his ultimate ambition of obtaining a charter and opening a college, which he did in 1769. To fund this new enterprise, Wheelock drew on the £12,000 that Samson Occom had raised for Moor's Indian Charity School during a two-and-a-half year tour of Great Britain (1765 to 1768). Much of this money went towards clearing land and erecting buildings in New Hampshire for the Charity School's relocation — infrastructure that also happened to benefit Dartmouth. Many of Wheelock's contemporaries were outraged by what they saw as misuse of the money, as it was clear that Dartmouth College was not intended for Indians and that Moor's had become a side project. Although Wheelock tried to maintain at least some commitment to Native American education by recruiting students from Canadian communities, the move did a great deal of damage to his public image. The last decade of Wheelock's life was not easy. In addition to the problems of trying to set up a college far away from any Anglo-American urban center, Wheelock experienced the loss of relationships with two of his most famous and successful students, Samson Occom and Samuel Kirkland (an Anglo-American protégé). He also went into debt for Dartmouth College, especially after the fund raised in Britain was exhausted.
Wheelock, Mary (née Brinsmead)
Mary Wheelock was born Mary Brinsmead on July 26, 1714 in Milford, Connecticut. In the year following the death of his first wife, Eleazar began to court Mary Brinsmead, and the two married on November 21, 1747. Mary and Eleazar had five children together, including John, who would succeed his father as President of Dartmouth College. Little appears in the historical record about Mary, but many of the people who wrote to Wheelock, especially his Native correspondents who often lived with the family, referred to her warmly. In September 1770, Mary dismantled her longtime home in Connecticut, and travelled with her children to the Wheelocks' new home in the wilderness of New Hampshire. They rode in a coach sent over from England by John Thornton, accompanied by 30 Charity School students on foot. Eleazar, who had gone ahead to build housing for everyone, wrote a letter to Mary with many instructions about the move; the disposition of domestic animals, people, supplies; and the acquisition of money that suggests she was an able and trustworthy manager (manuscript 770510.1; this manuscript is not included in Occom Circle documents). She died in 1784 in Hanover, New Hampshire, where she is buried in the Dartmouth College Cemetery.
Whitefield, George
George Whitefield, the English itinerant preacher who helped spark the Great Awakening, was an essential supporter of Eleazar Wheelock's project. Whitefield studied at Pembroke College, Oxford, where he met the pioneers of Methodism, John and Charles Wesley. He was ordained in 1736, and he made the first of his seven trips to America two years later. While abroad in 1740, Whitefield founded an orphanage in Georgia, and went on a preaching tour during which he met Wheelock and spread ideals that prompted the Great Awakening. Although Whitefield was ordained in the Church of England, his enthusiastic preaching style and charismatic personality made him a controversial figure, and traditional clergyman on both sides of the Atlantic censured him. Nonetheless, he continued to be an important contact and friend of Wheelock's, and his dedication to Wheelock's vision was evident. He contributed money to the cause, secured various other funders, and donated an eighty-pound prayer bell to the school. More importantly, Whitefield not only suggested to Wheelock the idea of a fundraising tour in Great Britain, he hosted Occom and Whitaker shortly after they arrived in England, provided a house for them to reside in for the remainder of their tour, and introduced the pair to influential figures such as William Legge, the Earl of Dartmouth. Whitefield tabernacle's was the setting of Occom's first sermon in England on February 16, 1766, and many believe that Whitefield wrote the introduction to a pamphlet printed in London during the campaign (although he was not credited). Whitefield continued to be involved in Wheelock's work until he died in Newburyport, MA in September of 1770.