Blackleach Burritt, letter, to Eleazar Wheelock, 1766 March 27
ms-number: 766227
abstract: Burritt, reluctant yet undecided regarding Wheelock's invitation to become a missionary among the Indians, requests more information.
handwriting: Handwriting is largely clear and legible; however, letter case is frequently difficult to decipher, especially with regard to the letter S.
paper: Large single sheet is in fair condition, with moderate staining, creasing and wear. There is some repair work on one verso along particularly heavy creases.
ink: Black ink is faded.
---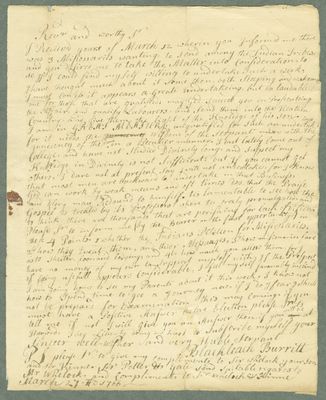 (View Page Image)
I Reciev'd yours of
March 12
wherin you Informd me there
was 3 Miſionaries wanting; to send among the Indian Tribes,
and you deſired me to take the Matter into Conſideration, to
se If I could find my Self willing to undertake such a work;
I have thought much about it since then, both Sleeping and wakeing,
I must Confeſs it appears a Greate Undertakeing, but a laudable
one for thoſe that are qualified: may God succeed you in Proſecuteing
the Affair, and qualify Labourers, and Send them into the Heathen
Country, and give them the light of the Knoledge of his son.
I am in
GREAT MEASURE
unqualified for such an undertak
⇑
ing
,
for it needs the
Innocency
Wiſdom of the serpant mix'd with the
Innocency of the
⇑
dove
in a Peculier manner. I but lately Come out of
College, and have not Studied Divinety long, and suſpect my
Kno
⇑
w
ledge in Divinety is not Sufficient; but If you cannot get
others, I dare not at preſent Say I will not undertake, for I know
that most men are backward to undertake in that Buſineſs,
God can work by weak means and oft times do's that the Praiſe
and Glory may Redound to himſelf. tis lamentable to see how the
Gospel is treated by it's Profeſsors, where tis freely promulgated, and
to think there are thouſands that are periſhing for lack of Viſion.
Pleaſe S
r
to inform me (by the Bearer or the first oppertunity) in
theſe 4 Points. 1 whether the Indians Pet
e
ition for Miſionaries,
2
ly
, how they treat them, and thier Meſsa
a
ges, 3
ly
how miſionaries fare
as to shelter, food, and lodging, and 4
ly
how much you allow them, for I
have no money of my own to support myself with, If the Proſpect
of being uſefull appears Conſiderable, I feel my self favourably inclind
I am going home to see my Parents about it this week, I know not
how to Spend time to goo a Journey now, if I do I fear I shall not
be prepard for Examination this may Coming. if you
must have a Poſitive Anſwer before Election pleaſe S
r
to
tell me if not I will Give you an Anſwer then, if you
are
⇑
will be
at
Harford
, I beg Liberty being in hast to subſcribe myself your
Sinceer well-Wiſher and very Huble Servant
Blackleach Burritt
PS pleaſe S
r
to give my compliments to
Sir Whelock
your son,
and
sir Kinne
.
Sir Potter
&
Yale
send suitable regards to
M

r

Whelock
, and Compliments to
Sir Whelock
&
Kinne
March 27 AD 1766
—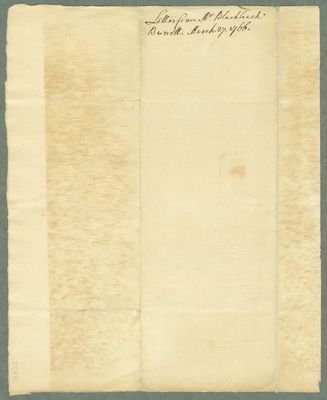 (View Page Image)
Letter from
M.

r

Blackleach.
Burrett
.
March. 27. 1766
.
Yale University
Yale University is a private research university and member of the Ivy League located in New Haven, CT. It was founded in nearby Saybrook in 1701 by a group of 10 Congregationalist ministers from Harvard, who felt their alma mater had become too liberal in terms of church polity. They established the "Collegiate School," whose mission was to educate men for public service, and ministers in theology and the sacred languages, in the hopes the school would maintain Puritan religious orthodoxy. Chartered by the Colony of Connecticut, Yale is the third oldest institution of higher education in the US. It moved to New Haven in 1716 and in 1718 was renamed "Yale College" in recognition of a gift from Elihu Yale, a Welsh merchant and philanthropist who had made his fortune in trade through the East India Company. In 1777, the College's curriculum began to incorporate humanities and sciences, and during the 19th century it established graduate and professional courses, awarding the first doctoral degree in the US in 1861, and becoming a university in 1887. Today, the undergraduate school is called "Yale College." From its inception, Yale was committed to training Christian missionaries. During the first Great Awakening, Yale graduates missionized Indian tribes in the Northeast and mid-Atlantic; in the Second Great Awakening in the 19th century, Yale missionaries travelled world-wide. Many Yale graduates, some associated with Wheelock, who graduated in 1733, became missionaries. The best-known of these include: Jonathan Edwards (Yale MA 1720), who missionized to the Stockbridge Indians; David Brainerd, who had to leave Yale because of illness and died young, but whose diary inspired many to missionary work; John Sergeant (Yale MA 1729), whose outline for an Indian boarding school influenced Wheelock; John Brainerd (Yale MA 1746) who continued the work of his brother David. Other associates of Wheelock who graduated from Yale, such as James Davenport, a notorious itinerant preacher (who converted Occom), and Benjamin Pomeroy, a life-long friend and colleague, became caught up in the New Light revivalism of the 1740s. Their "enthusiasm" did not necessarily sit well with their alma mater; President Clap refused to allow Wheelock to preach at Yale in 1742, at the height of the revivals. Still, Wheelock had strong connections with the school. During the 1740s and 1750s, to help support his growing family, Wheelock prepared young men, including Occom, to enter Yale (In 1744, Wheelock took Occom to see the commencement exercises, but Occom did not matriculate because of severe eye strain). The initial curriculum at Dartmouth College was closely modeled on Yale's.
Hartford
Hartford is the capital city of Connecticut, located in the central part of the state. The land that would become Hartford was first inhabited by the Saukiog Indians (Saukiog was also the name of a village on the Connecticut River) along with the Podunks to the east and the Tunxis to the west. The Dutch explorer Adriaen Block was the first European to visit Saukiog, and by the early 1620s, the Dutch had established a fort in the area. They brought with them a smallpox epidemic that killed many Native Americans. By the mid-17th century the Dutch, outnumbered by the English, had retreated south. In order to protect themselves against the powerful Mohawk and Pequot Indians, tribes around Saukiog allied with the English. By 1635, the Puritan preacher Thomas Hooker and one hundred of his followers moved into the area, first calling their new home Newtown but later changing it to Hartford after Hertford, England. In a 1638 sermon, Hooker claimed that the new Connecticut government should authorize itself according to the consent of the people, words that inspired Connecticut's Fundamental Orders, considered America's first written constitution. Missionaries began to preach to the Tunxis near Hartford in 1670. By 1734, Indians at Hartford requested and received English ministers for reading and religious instruction, and used the missionary interest in their community to their advantage in several ways. Minister Samuel Woodbridge reported that Indians at Hartford would attend his church and learn to read if they had the proper clothing, and the New England Company sent blankets and primers as encouragement. Hartford served as the meeting place for Congregational ministers associated with Wheelock and his School to examine the acceptability of Native missionaries, such as Mohegan minister Samuel Ashpo. In 1775, Joseph Johnson went to the Hartford Assembly to deliver letters declaring the allegiance to the colonists of the Indians who had moved to upstate New York.
Wheelock, Eleazar
Eleazar Wheelock was a New Light Congregationalist minister who founded Dartmouth College. He was born into a very typical Congregationalist family, and began studying at Yale in 1729, where he fell in with the emerging New Light clique. The evangelical network that he built in college propelled him to fame as an itinerant minister during the First Great Awakening and gave him many of the contacts that he later drew on to support his charity school for Native Americans. Wheelock's time as an itinerant minister indirectly brought about his charity school. When the Colony of Connecticut retroactively punished itinerant preaching in 1743, Wheelock was among those who lost his salary. Thus, in 1743, he began operating a grammar school to support himself. He was joined that December by Samson Occom, a Mohegan Indian, who sought out an education in hopes of becoming a teacher among his people. Occom's academic success inspired Wheelock to train Native Americans as missionaries. To that end, he opened Moor's Indian Charity School in 1754 (where he continued to train Anglo-American students who paid their own way as well as students who functionally indentured themselves to Wheelock as missionaries in exchange for an education). Between 1754 and 1769, when he relocated to New Hampshire, Wheelock trained approximately 60 male and female Native American students from nearby Algonquian tribes and from the Haudenosaunee (Iroquois) of central New York. At the same time, he navigated the complicated politics of missionary societies by setting up his own board of the Society in Scotland for Propagating Christian Knowledge, although he continued to feud with the Boston Board of the SSPCK and the London Commissioners in Boston (more colloquially called the New England Company). By the late 1760s, Wheelock had become disillusioned with the idea of Native American education. He was increasingly convinced that educating Native Americans was futile (several of his students had failed to conform to his confusing and contradictory standards), and, in late 1768, he lost his connection to the Haudenosaunee. With his inclination and ability to sponsor Native American missionaries largely depleted, Wheelock sought instead to fulfill his ultimate ambition of obtaining a charter and opening a college, which he did in 1769. To fund this new enterprise, Wheelock drew on the £12,000 that Samson Occom had raised for Moor's Indian Charity School during a two-and-a-half year tour of Great Britain (1765 to 1768). Much of this money went towards clearing land and erecting buildings in New Hampshire for the Charity School's relocation — infrastructure that also happened to benefit Dartmouth. Many of Wheelock's contemporaries were outraged by what they saw as misuse of the money, as it was clear that Dartmouth College was not intended for Indians and that Moor's had become a side project. Although Wheelock tried to maintain at least some commitment to Native American education by recruiting students from Canadian communities, the move did a great deal of damage to his public image. The last decade of Wheelock's life was not easy. In addition to the problems of trying to set up a college far away from any Anglo-American urban center, Wheelock experienced the loss of relationships with two of his most famous and successful students, Samson Occom and Samuel Kirkland (an Anglo-American protégé). He also went into debt for Dartmouth College, especially after the fund raised in Britain was exhausted.
Wheelock, Rodulphus
Ralph Rodulphus Wheelock was Wheelock's oldest son and heir apparent. While Wheelock believed that Ralph showed great aptitude for the "Indian business," others saw Ralph as arrogant and abrasive. He also suffered from epilepsy, which seriously impeded his ability to work. He died in Hanover as an invalid under almost constant care and guardianship. Wheelock's struggle to accept his son's illness and his son's struggle to overcome it provide an undercurrent for some of the stranger events in the history of Moor's Indian Charity School and Dartmouth College. Ralph grew up surrounded by and dedicated to Indian education, but also with an inflated sense of Wheelock's, and his own, importance, which stayed with him for much of his life. Joseph Brant recounts a telling anecdote: Ralph once ordered William Major, Sir William Johnson's son, to saddle his horse on the grounds that he was the son of a gentleman and William Major was not. Ralph was unable to finish coursework at the College of New Jersey, which he attended from 1761-1763, although he graduated from Yale in 1765. He made three tours of the Six Nations (in 1766, 1767, and 1768), assisting ministers in bringing back children and negotiating with tribes. He taught at Moor's for two years, and was briefly considered as a companion for Occom on the Fundraising Tour. Wheelock formally named him as his heir in the 1768 draft of his will. However, Wheelock's reliance on Ralph brought disastrous consequences for the school. In the spring of 1768, Wheelock sent Ralph to the Onondagas and Oneidas to negotiate about schoolmasters and missionaries. Once there, Ralph managed to offend the assembled chiefs beyond repair. Ralph blamed his failure on Kirkland, and it was not until 1772 that Wheelock learned the truth of the matter. It is likely that Ralph's conduct influenced the Oneidas' decision to pull their children out of Moor's later in 1768: Wheelock himself implied as much in his 1771 Journal. By the early 1770s, Wheelock had realized that Ralph was never going to take over Dartmouth College. In a later will, Wheelock provided Ralph with £50 per annum for his care, to be paid out by the College, and stipulated that his other heirs should look after his oldest son. Because Ralph was unable to serve as Wheelock's heir, the presidency of the College passed to John Wheelock, a soldier who had no theological training or desire to run a college.
Kinne, Aaron
Aaron Kinne was a Congregationalist minister and scholar who, like Titus Smith and Theophilus Chamberlain, worked as a missionary for Wheelock after graduating from Yale. After his 1765 graduation, he taught and studied at Moor's for a year before making two trips as a missionary in 1766: one to Maine to report on the local Indian tribes, and one to the Oneidas, the latter being cut short by poor health. He returned in the summer of 1768 to substitute for Samuel Kirkland. Kinne was ordained in 1770 and became the minister of the Congregationalist church at Groton, Connecticut, where he served until he was dismissed in 1798. He also became a prolific scholar, and during the Revolution, served as chaplain to American troops, including those massacred at the Battle of Fort Griswold. After dismissal from Groton, Kinne lived in a variety of locations in New England and was sporadically employed as a missionary. He died in Ohio while visiting one of daughters.