Joseph Woolley, letter, to Eleazar Wheelock, 1765 September 17
ms-number: 765517.2
abstract: Woolley writes to Wheelock about his health, the school at Onaquaga, and his decision to return to New England.
handwriting: Handwriting is formal and clear.
paper: Large sheet folded in half to make four pages is in good condition, with light-to-moderate staining, creasing and wear.
ink: Brown.
signature: The letter is signed twice, once with initials only.
---
(View Page Image)
Onohoquage

, Sep.

t

17. 1765
Rev.

d

& Hon.

d

Sir
By the divine Goodneſs
of God, I am the ſ
a
pairing Monument
of his Mercy. I am ſorry can give you
no better Account as to the Health of my
Body; My Ague Fitts has come upon me
again, not to ſuch a Degree now as a‐
‐bout Week or Ten Days ago.
S.
r
I
e
keep a School, upwards of 20
Schollers, with ſome Decency & Regularity;
& there is a daily Addition.
Sr. Purpoſe to return / God willing / to
N. En

⇑

g

land
, about the middle of October, or
towards the latter End, Tho' I determin'd to
tarry 'till next Spring. —
(View Page Image)
M.

r

Smith
thiks it adviſeable I should this
Fall, for many Reaſons.
I was obliged to bye Proviſions to carry
att
Ohquage
, by
M

r

Smith
's Advice; be‐
‐cauſe we heard at
Cherry Vally
all our
Corn were deſtroyed.
I hope ſir, I shall be enabled to walk
before my School as it becometh, & teach
them thoſe Tings that I ought which
I wiſh, Long & Pray for.
I have no More to ſay att preſent,
but my humble Duty to
M.

r

Wheelock
,
Sir, your ver unworthy Servant
Joseph Wooley

.
P.S. S.
r
If you approve the
incloſed, pleaſe to diliver it,
& Seal it &c.
J. W.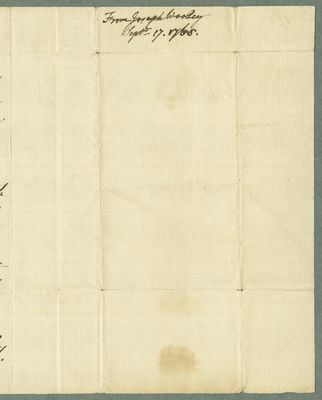 (View Page Image)
From
Joseph Wooley
Sept

r

17. 1765
.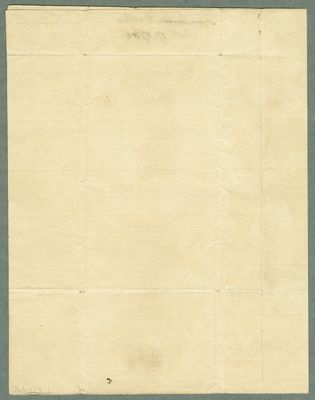 (View Page Image)
Blank page.
Onaquaga
Onaquaga (more than 50 different spellings have been documented) was a cosmopolitan Indian town on the Susquehanna River, now the site of the town of Windsor, New York. It was initially established as an Oneida settlement by those seeking an alternative to the power politics of Kanawalohale, the new chief village of the Oneidas, and Old Oneida, the former capital. However, from the end of the 17th century onwards it became an immigration destination for displaced Indians from a wide range of tribes. Yet, from the late 1760s onward, Onaquaga's cosmopolitan composition proved to be its undoing. The community was fragmented by disputes over the extent and the proper style of Christian practice, with Sir William Johnson and Joseph Brant (who owned a farm at Onaquaga) urging Episcopalianism and the New England Company urging Congregationalism. An influx of Mohawk immigrants in the years after the 1768 Fort Stanwix treaty led the inhabitants of Onaquaga to side with the Crown in the Revolution, rather than with the colonies as most Oneida towns did, and it became Joseph Brant's base of operations. The town was destroyed by the Continental Army in 1778 as part of the wave of violent retaliation for British and Indian attacks on frontier communities that culminated in General Sullivan's ravaging of Cayuga and Seneca territory. The area was resettled by Americans after the Revolution.
Cherry Valley
A village, now within the town of Cherry Valley, in Otsego County, east central New York state. It was founded in 1739 by John Lindesay, a Scot who got a land grant from King George II, and who traded with the Indians throughout western New York. It became one of the strongest settlements on the frontier, and was the site during the Revoutionary War of the Cherry Valley Massacre of 1778 led by Mohawk war chief Joseph Brant and Tory rangers.
Woolley, Joseph
Joseph Woolley was a Delaware who died of consumption while keeping school at Onaquaga. He came to Wheelock in 1757 as a replacement for John Pumshire, and although Wheelock labeled him as "fit for college" in late 1761, he never attended. In the fall of 1764, Joseph went to the Six Nations with Kirkland to learn the Mohawk language and keep school, and in March 1765, he was officially approved as a schoolmaster and returned to Onaquaga to teach. He was very popular there, but died unexpectedly in late November 1765. Joseph was engaged to Hannah Garrett, who later married David Fowler, but a letter from David (765302.2) suggests that Joseph may also have pursued Amy (David's object of interest before Hannah).
Wheelock, Eleazar
Eleazar Wheelock was a New Light Congregationalist minister who founded Dartmouth College. He was born into a very typical Congregationalist family, and began studying at Yale in 1729, where he fell in with the emerging New Light clique. The evangelical network that he built in college propelled him to fame as an itinerant minister during the First Great Awakening and gave him many of the contacts that he later drew on to support his charity school for Native Americans. Wheelock's time as an itinerant minister indirectly brought about his charity school. When the Colony of Connecticut retroactively punished itinerant preaching in 1743, Wheelock was among those who lost his salary. Thus, in 1743, he began operating a grammar school to support himself. He was joined that December by Samson Occom, a Mohegan Indian, who sought out an education in hopes of becoming a teacher among his people. Occom's academic success inspired Wheelock to train Native Americans as missionaries. To that end, he opened Moor's Indian Charity School in 1754 (where he continued to train Anglo-American students who paid their own way as well as students who functionally indentured themselves to Wheelock as missionaries in exchange for an education). Between 1754 and 1769, when he relocated to New Hampshire, Wheelock trained approximately 60 male and female Native American students from nearby Algonquian tribes and from the Haudenosaunee (Iroquois) of central New York. At the same time, he navigated the complicated politics of missionary societies by setting up his own board of the Society in Scotland for Propagating Christian Knowledge, although he continued to feud with the Boston Board of the SSPCK and the London Commissioners in Boston (more colloquially called the New England Company). By the late 1760s, Wheelock had become disillusioned with the idea of Native American education. He was increasingly convinced that educating Native Americans was futile (several of his students had failed to conform to his confusing and contradictory standards), and, in late 1768, he lost his connection to the Haudenosaunee. With his inclination and ability to sponsor Native American missionaries largely depleted, Wheelock sought instead to fulfill his ultimate ambition of obtaining a charter and opening a college, which he did in 1769. To fund this new enterprise, Wheelock drew on the £12,000 that Samson Occom had raised for Moor's Indian Charity School during a two-and-a-half year tour of Great Britain (1765 to 1768). Much of this money went towards clearing land and erecting buildings in New Hampshire for the Charity School's relocation — infrastructure that also happened to benefit Dartmouth. Many of Wheelock's contemporaries were outraged by what they saw as misuse of the money, as it was clear that Dartmouth College was not intended for Indians and that Moor's had become a side project. Although Wheelock tried to maintain at least some commitment to Native American education by recruiting students from Canadian communities, the move did a great deal of damage to his public image. The last decade of Wheelock's life was not easy. In addition to the problems of trying to set up a college far away from any Anglo-American urban center, Wheelock experienced the loss of relationships with two of his most famous and successful students, Samson Occom and Samuel Kirkland (an Anglo-American protégé). He also went into debt for Dartmouth College, especially after the fund raised in Britain was exhausted.
Wheelock, Rodulphus
Ralph Rodulphus Wheelock was Wheelock's oldest son and heir apparent. While Wheelock believed that Ralph showed great aptitude for the "Indian business," others saw Ralph as arrogant and abrasive. He also suffered from epilepsy, which seriously impeded his ability to work. He died in Hanover as an invalid under almost constant care and guardianship. Wheelock's struggle to accept his son's illness and his son's struggle to overcome it provide an undercurrent for some of the stranger events in the history of Moor's Indian Charity School and Dartmouth College. Ralph grew up surrounded by and dedicated to Indian education, but also with an inflated sense of Wheelock's, and his own, importance, which stayed with him for much of his life. Joseph Brant recounts a telling anecdote: Ralph once ordered William Major, Sir William Johnson's son, to saddle his horse on the grounds that he was the son of a gentleman and William Major was not. Ralph was unable to finish coursework at the College of New Jersey, which he attended from 1761-1763, although he graduated from Yale in 1765. He made three tours of the Six Nations (in 1766, 1767, and 1768), assisting ministers in bringing back children and negotiating with tribes. He taught at Moor's for two years, and was briefly considered as a companion for Occom on the Fundraising Tour. Wheelock formally named him as his heir in the 1768 draft of his will. However, Wheelock's reliance on Ralph brought disastrous consequences for the school. In the spring of 1768, Wheelock sent Ralph to the Onondagas and Oneidas to negotiate about schoolmasters and missionaries. Once there, Ralph managed to offend the assembled chiefs beyond repair. Ralph blamed his failure on Kirkland, and it was not until 1772 that Wheelock learned the truth of the matter. It is likely that Ralph's conduct influenced the Oneidas' decision to pull their children out of Moor's later in 1768: Wheelock himself implied as much in his 1771 Journal. By the early 1770s, Wheelock had realized that Ralph was never going to take over Dartmouth College. In a later will, Wheelock provided Ralph with £50 per annum for his care, to be paid out by the College, and stipulated that his other heirs should look after his oldest son. Because Ralph was unable to serve as Wheelock's heir, the presidency of the College passed to John Wheelock, a soldier who had no theological training or desire to run a college.
Smith, Titus
Titus Smith was a Yale graduate whom Wheelock trained and ordained as a missionary and sent to the Six Nations with the 1765 mission. Together with Theophilus Chamberlain, a Yale student with whom he was examined and ordained, Smith led the band of newly-examined schoolteachers and ushers into the Six Nations to set up day schools. After Ebenezer Moseley replaced him, Smith retired from the missionary life and became an itinerant preacher in Connecticut until 1768, when he converted to Sandemanianism and was re-ordained. Because of his religion (Sandemanians opposed violence), as well as his Tory politics, Smith found himself in danger when the Revolution broke out. His family fled to Long Island, and from there to Halifax, Nova Scotia, where Smith lived out his remaining years.