Joseph Woolley, letter, to Eleazar Wheelock, 1765 August 17
ms-number: 765467
abstract: Woolley asks Wheelock to write to Mr. Garrett about Woolley's proposal to his daughter Hannah.
handwriting: Handwriting is heavily slanted, yet largely clear and legible.
paper: Single sheet is in good-to-fair condition, with light-to-moderate creasing, staining and wear that results in some blurring of text.
noteworthy: A trailer has been added in a different, likely 19th-century hand; this trailer has not been transcribed.
---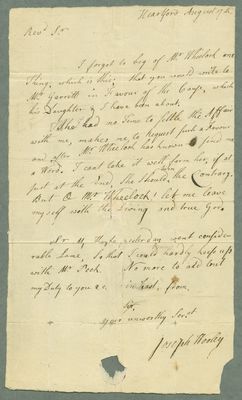 (View Page Image)
Heartford
August 17th.

Rev

d

S.

r
I forgot to beg of
M.

r

Wheelock
one
Thing, which is this; that you would write to
M

r

Garrett
in Favour of the Cauſe, which
his
Daughter
& I have been about.
The
She
T
had no Time to ſettle the Affair
with me; makes me to Request ſuch a Favour
and after
M.

r

Wheelock
has known
illegible
ſend
one
me
a Word. I cant take it well from her, if at
Just at the End, She Should
⇑
turn
the Contrary.
But O
M.

r

Wheelock
! let me leave
myself with the Living and true God.
S
r
My Horſe yesterday went conſide‐
rable Lame, So that I could hardly keep up
with
M.

r

Peck
. No more to add but
my Duty to you &c. in hast, from,
Sir,
your unworthy Ser.

vt
Joseph Wooley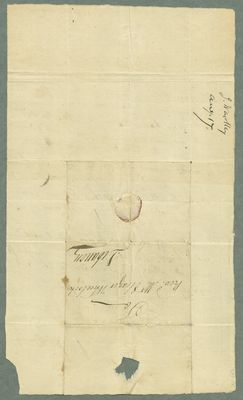 (View Page Image)
To
Rev.
d
M.
r
Eleazer Wheelock
Lebanon
Hartford
Hartford is the capital city of Connecticut, located in the central part of the state. The land that would become Hartford was first inhabited by the Saukiog Indians (Saukiog was also the name of a village on the Connecticut River) along with the Podunks to the east and the Tunxis to the west. The Dutch explorer Adriaen Block was the first European to visit Saukiog, and by the early 1620s, the Dutch had established a fort in the area. They brought with them a smallpox epidemic that killed many Native Americans. By the mid-17th century the Dutch, outnumbered by the English, had retreated south. In order to protect themselves against the powerful Mohawk and Pequot Indians, tribes around Saukiog allied with the English. By 1635, the Puritan preacher Thomas Hooker and one hundred of his followers moved into the area, first calling their new home Newtown but later changing it to Hartford after Hertford, England. In a 1638 sermon, Hooker claimed that the new Connecticut government should authorize itself according to the consent of the people, words that inspired Connecticut's Fundamental Orders, considered America's first written constitution. Missionaries began to preach to the Tunxis near Hartford in 1670. By 1734, Indians at Hartford requested and received English ministers for reading and religious instruction, and used the missionary interest in their community to their advantage in several ways. Minister Samuel Woodbridge reported that Indians at Hartford would attend his church and learn to read if they had the proper clothing, and the New England Company sent blankets and primers as encouragement. Hartford served as the meeting place for Congregational ministers associated with Wheelock and his School to examine the acceptability of Native missionaries, such as Mohegan minister Samuel Ashpo. In 1775, Joseph Johnson went to the Hartford Assembly to deliver letters declaring the allegiance to the colonists of the Indians who had moved to upstate New York.
Lebanon
Lebanon is a town located in the state of Connecticut southwest of the town of Hartford. The land that became Lebanon was inhabited at least 10,000 years ago based on the archeological record. By the 1600s, the land was permanently inhabited by the Mohegan Indians, who used the area primarily for hunting. Lebanon was officially formed in 1700 when English settlers consolidated a number of land tracts, including several land grants by the Connecticut General Assembly and lands purchased from the Mohegans. However, these purchases were controversial. In 1659, the Mohegans entrusted their reserve land to Major John Mason, and in the following year, Mason transferred this land to the Connecticut colonial government with the understanding that there would be enough land left for the Mohegans to farm. The Mohegans claimed that they never authorized a transfer to the colonial government and only Mason's heirs were entrusted with their land. In 1662, Connecticut, which included the Mohegan land that had been entrusted to the Masons, was incorporated by a royal charter. Based on this charter, the colony argued that the land was now the property of the government. In 1687, the colony began granting the Mohegan land to townships, and in 1704 the Masons petitioned the Crown on behalf of the Mohegans, claiming that such transfers of land to townships were illegal. Between the years of 1705 and 1773 legal disputes and controversies persisted, finally ending in a verdict by the Crown against the Mohegans. In 1755, Wheelock received property and housing in Lebanon that he would use as his house and school. While Lebanon was originally incorporated as a part of New London County in 1700, in 1724 it became a part of New Windham, before once again becoming a part of New London County in 1826. Lebanon was central to the American Revolution with half of its adult population fighting for the colonists and hundreds of meetings convened in the town for the revolutionary cause.
Woolley, Joseph
Joseph Woolley was a Delaware who died of consumption while keeping school at Onaquaga. He came to Wheelock in 1757 as a replacement for John Pumshire, and although Wheelock labeled him as "fit for college" in late 1761, he never attended. In the fall of 1764, Joseph went to the Six Nations with Kirkland to learn the Mohawk language and keep school, and in March 1765, he was officially approved as a schoolmaster and returned to Onaquaga to teach. He was very popular there, but died unexpectedly in late November 1765. Joseph was engaged to Hannah Garrett, who later married David Fowler, but a letter from David (765302.2) suggests that Joseph may also have pursued Amy (David's object of interest before Hannah).
Wheelock, Eleazar
Eleazar Wheelock was a New Light Congregationalist minister who founded Dartmouth College. He was born into a very typical Congregationalist family, and began studying at Yale in 1729, where he fell in with the emerging New Light clique. The evangelical network that he built in college propelled him to fame as an itinerant minister during the First Great Awakening and gave him many of the contacts that he later drew on to support his charity school for Native Americans. Wheelock's time as an itinerant minister indirectly brought about his charity school. When the Colony of Connecticut retroactively punished itinerant preaching in 1743, Wheelock was among those who lost his salary. Thus, in 1743, he began operating a grammar school to support himself. He was joined that December by Samson Occom, a Mohegan Indian, who sought out an education in hopes of becoming a teacher among his people. Occom's academic success inspired Wheelock to train Native Americans as missionaries. To that end, he opened Moor's Indian Charity School in 1754 (where he continued to train Anglo-American students who paid their own way as well as students who functionally indentured themselves to Wheelock as missionaries in exchange for an education). Between 1754 and 1769, when he relocated to New Hampshire, Wheelock trained approximately 60 male and female Native American students from nearby Algonquian tribes and from the Haudenosaunee (Iroquois) of central New York. At the same time, he navigated the complicated politics of missionary societies by setting up his own board of the Society in Scotland for Propagating Christian Knowledge, although he continued to feud with the Boston Board of the SSPCK and the London Commissioners in Boston (more colloquially called the New England Company). By the late 1760s, Wheelock had become disillusioned with the idea of Native American education. He was increasingly convinced that educating Native Americans was futile (several of his students had failed to conform to his confusing and contradictory standards), and, in late 1768, he lost his connection to the Haudenosaunee. With his inclination and ability to sponsor Native American missionaries largely depleted, Wheelock sought instead to fulfill his ultimate ambition of obtaining a charter and opening a college, which he did in 1769. To fund this new enterprise, Wheelock drew on the £12,000 that Samson Occom had raised for Moor's Indian Charity School during a two-and-a-half year tour of Great Britain (1765 to 1768). Much of this money went towards clearing land and erecting buildings in New Hampshire for the Charity School's relocation — infrastructure that also happened to benefit Dartmouth. Many of Wheelock's contemporaries were outraged by what they saw as misuse of the money, as it was clear that Dartmouth College was not intended for Indians and that Moor's had become a side project. Although Wheelock tried to maintain at least some commitment to Native American education by recruiting students from Canadian communities, the move did a great deal of damage to his public image. The last decade of Wheelock's life was not easy. In addition to the problems of trying to set up a college far away from any Anglo-American urban center, Wheelock experienced the loss of relationships with two of his most famous and successful students, Samson Occom and Samuel Kirkland (an Anglo-American protégé). He also went into debt for Dartmouth College, especially after the fund raised in Britain was exhausted.
Garrett, Benjamin
Benjamin Garrett was a Stonington Pequot Indian from a prominent family of sachems and Christian converts. He was the great grandson of Hermon Garret or Wequash Cook (Wequashcuk), an early convert to Christianity who played a role in the Pequot War of 1637; and grandson of Catapezet (Kottupesit), who had two sons, Joseph and Benjamin. Joseph, sachem of the Niantics of Lyme, CT, was the interpreter for the New England missionary Experience Mayhew (1673-1758) and helped him translate the Lord's Prayer into Pequot. Mayhew also met Benjamin, who spoke some English and, according to W. DeLoss Love, had a seven-year-old son he was "willing to devote to learning so that he may be a minister." That boy was Benjamin Garrett, father of the Hannah Garrett who married David Fowler. Further information on Benjamin Garrett and the spelling of his surname is sometimes conflicting, leading scholars to speculate that there was more than one person of this name. The historical records show that between June 1741 and July 1742, 15 members of the extended Garrett family affiliated with one of the three Stonington churches, five of them on the same day at the First Stonington Church. There is also a record of the Stonington magistrates giving financial aid to a Benjamin Garrett in 1793-4. It is possible that Benjamin was the brother of Elizabeth Garrett, the mother of Joseph Johnson, a Moor's alumnus, Occom's son-in-law, and co-founder of the Brothertown movement. That would make him Johnson's uncle, a term Johnson uses in his journal for Benjamin that could be familial or honorary. At the very least, Garrett was part of an extended Christian Indian network that sustained the work of Occom and Johnson.
Fowler, Hannah (née Garrett)
Hannah Fowler (née Garrett) was a Pequot woman who married David Fowler. The Garrett family boasted sachems and interpreters and was influential among the Stonington Pequots. Hannah grew up among the Charlestown Narragansetts, as her parents had affiliated with that tribe (a not-uncommon occurrence, given the close ties between the groups, especially in the realm of Christian spirituality). At Charlestown, Hannah received her basic education and was recruited for Moor's Indian Charity School. She studied at the school from 1763 until she married David Fowler in 1766. Hannah and David's marriage is especially noteworthy because it is the only instance where a female Moor's student married a Native American missionary from Moor's and joined him on missions — which had been Wheelock's intent in admitting Native American women in the first place. Hannah assisted David on his mission to Kanawalohale from the time of their marriage in 1766 until his departure for Montauk in 1767. In 1783, the pair moved to Brothertown, where their house was the town center. Both Fowlers proved influential in town affairs, and their children and grandchildren also played a central role in the town's administration.
Peck, Moses
Watchmaker Moses Peck took collections for Occom, and Wheelock had an account with him that involved shipping items to Lebanon and debits/credits for funding Occom. It is possible that Peck was Occom's credit source in Boston. He was enthusiastic about and involved in the Indian education mission, and offered Wheelock advice about how to deal with Anglicans. Wheelock had Peck print his brief defense of Occom to counter the London Society's rumors. Peck paid to send his son Elijah to school with Wheelock, although Elijah eventually failed his graduation examinations.