Joseph Woolley, letter, to Eleazar Wheelock, 1765 June 28
ms-number: 765378
abstract: Woolley reports on the progress of the journey to Onaquaga.
handwriting: Handwriting is largely clear and legible, with some deletions and additions.
paper: Single large sheet is in good-to-fair condition, with light-to-moderate creasing, staining and wear, with no loss of text. There is some tearing around the remnants of the seal.
ink: Black.
noteworthy: There is a trailer added in what appears to be a non-contemporary (likely 19th-century) hand that reads "J. Woolley June 28." This note has not been transcribed.
signature: Signature is spelled "Wooley" as opposed to "Woolley."
---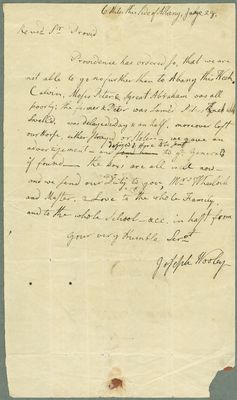 (View Page Image)
Albany

, Ju

ly

ne 28.
Reve

d

S

r

Provid


Providence has ordered ſo that we are
not able to go no further than to
Abany
this Week.
Calvin
,
Moſes
Peter
&
[illegible]
great Abraham
was all
poorly: the former &
Peter
was Lame'd
Peter
s
G
⇑
K
nee was
Swell'd. was delayed a Day & an half. moreover loſt
our Horſe, either ſtrayed or Stolen — we gave an
advertiſement ‐ and
find him
⇑
deſired y.

e

Hore to be ſent
to y.
e
General
's
if found — the Boys are all well now —
and we ſend our Duty to you,
M

rs

Wheelock
and
Maſter
, & Love to the whole Family.
and to the whole
School
— &cc in haſt from
your very Humble Ser

vt
Joſeph Wooley

—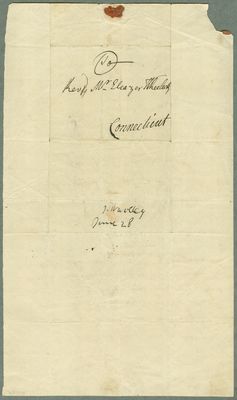 (View Page Image)
To
Rev
e
d
M

r

Eleazer Wheelock
Connecticut
Moor's Indian Charity School
Moor's Indian Charity School was a grammar school for Native Americans that Eleazar Wheelock opened in North Lebanon, Connecticut in 1754. The school was named for Colonel Joshua Moor, also spelled More, who donated the land and school building. Moor's was essentially an expansion of the grammar school that Wheelock opened in 1743 to support himself during the fallout from the First Great Awakening, when Wheelock, who'd participated in itinerant ministry during the Awakening, had his salary confiscated by the colony of Connecticut. In December of that year, Samson Occom asked Wheelock to teach him as well. Wheelock's work with Occom was so successful that Wheelock decided to replicate the experiment with other Native American boys. He accepted his first Indian students in 1754, and in 1761 began taking female students as well. Wheelock believed that in time, his school would become just one part of a larger missionary enterprise. He planned to send his Anglo American and Native American students to various tribes as missionaries and schoolmasters, with explicit instructions to pick out the best students and send them back to Moor's to continue the cycle. His ultimate goal was to turn his school into a model Christian Indian town that would include farms, a college, and vocational training. However, Wheelock's grand design did not survive the decade. Wheelock lost the vast majority of his Native American students; he fought with many of the best, including Samson Occom, Joseph Johnson, David Fowler, and Hezekiah Calvin, and other former and current students accused him of subjecting Native Americans to disproportionate amounts of manual labor. In 1769, perhaps due to concerns about corporal punishment, the Oneida withdrew all their children from Moor's. When Wheelock relocated to Hanover in 1769, only two Native American students came with him, and it became clear that Wheelock's focus was on Dartmouth and that Dartmouth was for white students. After Wheelock's death in 1779, Moor's Indian Charity School receded further into the background as John Wheelock, his father's reluctant successor, stopped taking Indian students. Some Native American students were enrolled in Moor's until 1850, when the school unofficially closed.
Albany
Albany is a city located in eastern New York. When Netherlander Henry Hudson arrived in what would become Albany in 1609, the Mohican Indians lived in several villages in the area. The Mohicans gave Hudson's crew furs, and the Dutch East India Company sent representatives to trade with the Native peoples. The Dutch established the village of Beverwyck within the territory of the New Netherlands. Beverwyck hosted a diverse population of Germans, French, Swedes, English, Irish, Scots, Dutch, and Africans. After the fall of New Netherlands to Britain in 1664, Beverwyck was renamed Albany in honor of the colony's proprietor James, Duke of York and Albany. In 1686, Albany was granted a charter that incorporated the city and provided it the sole right to negotiate trade with Native Americans. During the French and Indian War, Albany was designated as the British military headquarters in the Americas. During the Revolutionary War, most Albany residents supported the revolution because of their opposition to British trade restrictions.
Connecticut
Connecticut is a state in southern New England that borders Massachusetts to the north and the Long Island Sound to the south. Its name is derived from the Algonquian "Quonehtacut," meaning "long river," referring to the Connecticut, which runs from the border with Canada into the Long Island Sound. The area was originally inhabited by Algonquian-speaking Pequots, Mohegans, and Quinnipiacs. European settlers took advantage of tribal divisions to establish dominance in the region. Dutch explorer Adrian Block sailed up the Connecticut River in 1614, establishing an active Dutch trading post at what is now Hartford. English claims to Connecticut began in 1630, but settlement truly began when Thomas Hooker, a Congregationalist minister now known as "The Father of Connecticut," left Boston to found Hartford in 1636. Hartford became the center of the Colony of Connecticut, which did not receive its charter until 1662 when Governor John Winthrop, Jr. secured it from Charles II. In 1665, the Colony of New Haven, established in 1638 by the Puritan minister John Davenport, joined the Colony of Connecticut under this charter. Early settler relations with local Indians were tense, and encouraged the New England colonies of Massachusetts Bay, Plymouth, Connecticut, and New Haven to unify as the "United Colonies" or "New England Confederation" and fight together, with Indian allies, in the Pequot War and again in King Philip's (Metacom's) War. These wars helped establish a specifically Connecticut and specifically American identity; the latter drove the colony to join the rebellion against Britain in 1776. Occom, born into a Mohegan household in Connecticut, was closely associated with the Colony and retained strong ties to the region throughout his life. He converted to Christianity in 1743 when the Great Awakening spread through Connecticut, and inspired Wheelock's Indian Charity School, which was founded in Lebanon, CT in 1754. He also became involved in the Mason Land Case, a long-standing dispute over the ownership of reserve Mohegan lands in Connecticut. Wheelock also had strong ties to Connecticut, moving his Indian Charity School only when the colony would not grant it a charter.
Woolley, Joseph
Joseph Woolley was a Delaware who died of consumption while keeping school at Onaquaga. He came to Wheelock in 1757 as a replacement for John Pumshire, and although Wheelock labeled him as "fit for college" in late 1761, he never attended. In the fall of 1764, Joseph went to the Six Nations with Kirkland to learn the Mohawk language and keep school, and in March 1765, he was officially approved as a schoolmaster and returned to Onaquaga to teach. He was very popular there, but died unexpectedly in late November 1765. Joseph was engaged to Hannah Garrett, who later married David Fowler, but a letter from David (765302.2) suggests that Joseph may also have pursued Amy (David's object of interest before Hannah).
Wheelock, Eleazar
Eleazar Wheelock was a New Light Congregationalist minister who founded Dartmouth College. He was born into a very typical Congregationalist family, and began studying at Yale in 1729, where he fell in with the emerging New Light clique. The evangelical network that he built in college propelled him to fame as an itinerant minister during the First Great Awakening and gave him many of the contacts that he later drew on to support his charity school for Native Americans. Wheelock's time as an itinerant minister indirectly brought about his charity school. When the Colony of Connecticut retroactively punished itinerant preaching in 1743, Wheelock was among those who lost his salary. Thus, in 1743, he began operating a grammar school to support himself. He was joined that December by Samson Occom, a Mohegan Indian, who sought out an education in hopes of becoming a teacher among his people. Occom's academic success inspired Wheelock to train Native Americans as missionaries. To that end, he opened Moor's Indian Charity School in 1754 (where he continued to train Anglo-American students who paid their own way as well as students who functionally indentured themselves to Wheelock as missionaries in exchange for an education). Between 1754 and 1769, when he relocated to New Hampshire, Wheelock trained approximately 60 male and female Native American students from nearby Algonquian tribes and from the Haudenosaunee (Iroquois) of central New York. At the same time, he navigated the complicated politics of missionary societies by setting up his own board of the Society in Scotland for Propagating Christian Knowledge, although he continued to feud with the Boston Board of the SSPCK and the London Commissioners in Boston (more colloquially called the New England Company). By the late 1760s, Wheelock had become disillusioned with the idea of Native American education. He was increasingly convinced that educating Native Americans was futile (several of his students had failed to conform to his confusing and contradictory standards), and, in late 1768, he lost his connection to the Haudenosaunee. With his inclination and ability to sponsor Native American missionaries largely depleted, Wheelock sought instead to fulfill his ultimate ambition of obtaining a charter and opening a college, which he did in 1769. To fund this new enterprise, Wheelock drew on the £12,000 that Samson Occom had raised for Moor's Indian Charity School during a two-and-a-half year tour of Great Britain (1765 to 1768). Much of this money went towards clearing land and erecting buildings in New Hampshire for the Charity School's relocation — infrastructure that also happened to benefit Dartmouth. Many of Wheelock's contemporaries were outraged by what they saw as misuse of the money, as it was clear that Dartmouth College was not intended for Indians and that Moor's had become a side project. Although Wheelock tried to maintain at least some commitment to Native American education by recruiting students from Canadian communities, the move did a great deal of damage to his public image. The last decade of Wheelock's life was not easy. In addition to the problems of trying to set up a college far away from any Anglo-American urban center, Wheelock experienced the loss of relationships with two of his most famous and successful students, Samson Occom and Samuel Kirkland (an Anglo-American protégé). He also went into debt for Dartmouth College, especially after the fund raised in Britain was exhausted.
Calvin, Hezekiah
Hezekiah Calvin was one of Eleazar Wheelock's first Native American students. Like Wheelock's other early Delaware students, he was sent by the minister John Brainerd. Calvin was certified as a schoolteacher on March 12, 1765, and was sent to the Mohawks at Fort Hunter in June 1765. The Mohawks threw him out at the end of September 1766, and he returned to Moor's. Samuel Johnson, an Anglo-American Yale student who replaced Calvin at Fort Hunter, reported that the residents unanimously accused Calvin of being abusive and rude. Calvin, in turn, maintained that the Fort Hunter Mohawks had mistreated him. Calvin's second stint at Moor's did not go well. He wrote several confessions for drunkenness and bad behavior, and frequently spoke ill of Wheelock. He left the school in the spring of 1768, and took up residence with the Secutor family (Narragansett) at Charlestown, Rhode Island. Calvin left the Narragansetts sometime late in 1768, presumably after the dissolution of his relationship with Mary Secutor. Wheelock heard reports early in 1769 that Calvin had been imprisoned at Little Ease, NJ, for forging a pass for a Black man (Calvin does not appear in the county records, so either he was never indicted or Wheelock had his information wrong). By 1777, Calvin was in a position of prominence at Brotherton, NJ (a town of Christian Delawares founded under John Brainerd's ministry). At some point after 1788, Calvin moved west with the Delawares: he may have moved directly to join the Delawares in Ohio territory, or he may have relocated to Stockbridge in 1802 and then moved west.
Moses
Moses was a Mohawk Indian and Wheelock student who was part of the mission to the Canajoharie, Onaquaga, and Cherry Valley areas from 1765-1766. He taught the displaced Oneidas under Good Peter and Isaac Dakayenensere at Lake Otsego (next to Cherry Valley), along with Smith and Gunn. He taught reading and writing to between eight and 12 students. Although Joseph Woolley was initially supposed to teach this school, he fell ill and Moses replaced him. Moses also subbed for Woolley when Woolley visited the Tuscaroras. Like the other schoolteachers, Moses left over the winter of 1765 and returned to Wheelock, but he was back at Canajoharie by the next fall to teach with Samuel Johnson and Jacob Fowler. Theophilus Chamberlain speculated they could set up a third school for Moses, but this did not come to pass because by December 1st, less than a month after Chamberlain's letter, Moses had traveled to Wheelock and back to Fort Hunter delivering letters. The Indians at Fort Hunter would not take him as a teacher because they preferred Johnson and distrusted unknown teachers after their experience with Hezekiah Calvin (according to Johnson). Moses appears to have continued working in the area, because in 1768 he refused Aaron Kinne's request that he act as interpreter.
Peter
Peter was an usher (although described as "keeping school" by Woolley) at Canajoharie, along with Moses, Johannes, and the Abrahams. All of them kept separate schools. Great Abraham's school began Friday, July 12, 1765, and presumably Peter's started around the same time. He was sick in October 1765, and could not teach school. Since Wheelock mentions him in a 1767 letter, he must have survived. Peter is not to be confused with Good Peter, an Oneida at Onaqauga who visited Moor's, but was not educated there. Information about Peter generally appears in lists of the men he graduated with and taught with.
Abraham
Abraham major (aka Abraham primus), a Mohawk Indian, served as an usher or junior teacher along with Abraham Secundus and Peter. All three kept separate schools. Abraham major's school, a short ride from Abraham minor's, was outside of Canajoharie; it began Friday, July 12, 1765. As of July 17, 1765, he had 15 or 16 students, primarily male. These schools seem to have operated from July 1765 (they were still traveling in June, and Theophilus Chamberlain described their schools in late July) until December 1765, when Chamberlain reported that the Abrahams had departed, and that Abraham major was in Schoharry. Both Abrahams' schools were taken over in 1766. Abraham major must not be confused with Greater Abraham, a high-ranking Mohawk, the brother of King Peter Hendrick and uncle of Chief Abraham (not to be confused with Little Abraham, the Moor's student), who lived in Canajoharie at the same time.
Johnson, William
Sir William Johnson was a powerful British colonial official who amassed wealth and influence by integrating into the Mohawk tribe. For a brief window of time (1761-1768), he provided support for Wheelock's missionary efforts among the Six Nations. He also helped the Brothertown Nation of Indians procure land from the Oneidas. Johnson was born in Ireland in 1715. His family had been part of the Catholic elite, but after William of Orange's 1690 victory at the Battle of the Boyne, they at least nominally converted to the Episcopalian Church. In 1738, Johnson emigrated to America to manage his uncle Peter Warren's estate in Mohawk territory. Over the next decade, Johnson became wealthy in his own right through trade and land sales, acquiring a vast estate crowned by his manor house, Johnson Hall, which became the central location for British and Indian treaty making. In 1745, Johnson began collecting official British titles and positions. He played an important military role in the French and Indian War and was named Superintendent of Indian Affairs in 1756 and first baronet of New York in 1757. Much of Johnson's success was due to his influence among the Mohawks, which he obtained by learning their language and customs and integrating himself into their society. He participated in Mohawk rituals and entered into a common-law marriage with a powerful Mohawk woman, Molly Brant (also called Mary Brant). Because Haudenosaunee (Iroquois) society is matrilineal, this marriage was an essential element of his participation in Indian affairs. Wheelock desperately wanted to wield missionary influence among the Six Nations, and sought to obtain Johnson as an ally in his endeavors. At first, the two found grounds for cooperation. Wheelock sent Occom as a missionary to the Oneidas in 1761 and again in 1762, and sent a substantially larger group of missionaries and schoolmasters in 1765, 1766, and 1767. Johnson, meanwhile, encouraged Haudenosaunee children, including his brother-in-law Joseph Brant, to attend Moor's. Johnson's support proved indispensible to missionaries in the field; he helped with supplies, language skills, and relations with the Mohawks and Oneidas. Wheelock also valued Johnson for his influence in Britain, and drew on him for recommendations and public statements of support numerous times. From 1763 on, however, Johnson found himself decidedly uncomfortable with Wheelock's missionary efforts, and by 1769, their relationship had dissolved completely. In 1766, Johnson was invited to join the Society for the Propagation of the Gospel in Foreign Parts (SPG), the largest and most influential Anglican missionary society in the 18th-century British-Atlantic world. He began working to place Anglican missionaries, rather than Congregationalist and Presbyterian ones, among the Six Nations, which alarmed Wheelock. Johnson was generally supportive of Native American tribes' efforts to maintain their land and sovereignty. As the historian Linford Fisher has noted, "virtually every major Native group in southeastern New England successfully petitioned Johnson to act on their behalf during the late 1760s and early 1770s." Among these groups was the Brothertown Nation, a Christian composite tribe formed by Southern New England Algonquian Moor's alumni. Johnson helped them negotiate with the Oneidas, which proved essential to their successful land purchase and relocation to central New York.
Wheelock, Mary (née Brinsmead)
Mary Wheelock was born Mary Brinsmead on July 26, 1714 in Milford, Connecticut. In the year following the death of his first wife, Eleazar began to court Mary Brinsmead, and the two married on November 21, 1747. Mary and Eleazar had five children together, including John, who would succeed his father as President of Dartmouth College. Little appears in the historical record about Mary, but many of the people who wrote to Wheelock, especially his Native correspondents who often lived with the family, referred to her warmly. In September 1770, Mary dismantled her longtime home in Connecticut, and travelled with her children to the Wheelocks' new home in the wilderness of New Hampshire. They rode in a coach sent over from England by John Thornton, accompanied by 30 Charity School students on foot. Eleazar, who had gone ahead to build housing for everyone, wrote a letter to Mary with many instructions about the move; the disposition of domestic animals, people, supplies; and the acquisition of money that suggests she was an able and trustworthy manager (manuscript 770510.1; this manuscript is not included in Occom Circle documents). She died in 1784 in Hanover, New Hampshire, where she is buried in the Dartmouth College Cemetery.
Wheelock, Rodulphus
Ralph Rodulphus Wheelock was Wheelock's oldest son and heir apparent. While Wheelock believed that Ralph showed great aptitude for the "Indian business," others saw Ralph as arrogant and abrasive. He also suffered from epilepsy, which seriously impeded his ability to work. He died in Hanover as an invalid under almost constant care and guardianship. Wheelock's struggle to accept his son's illness and his son's struggle to overcome it provide an undercurrent for some of the stranger events in the history of Moor's Indian Charity School and Dartmouth College. Ralph grew up surrounded by and dedicated to Indian education, but also with an inflated sense of Wheelock's, and his own, importance, which stayed with him for much of his life. Joseph Brant recounts a telling anecdote: Ralph once ordered William Major, Sir William Johnson's son, to saddle his horse on the grounds that he was the son of a gentleman and William Major was not. Ralph was unable to finish coursework at the College of New Jersey, which he attended from 1761-1763, although he graduated from Yale in 1765. He made three tours of the Six Nations (in 1766, 1767, and 1768), assisting ministers in bringing back children and negotiating with tribes. He taught at Moor's for two years, and was briefly considered as a companion for Occom on the Fundraising Tour. Wheelock formally named him as his heir in the 1768 draft of his will. However, Wheelock's reliance on Ralph brought disastrous consequences for the school. In the spring of 1768, Wheelock sent Ralph to the Onondagas and Oneidas to negotiate about schoolmasters and missionaries. Once there, Ralph managed to offend the assembled chiefs beyond repair. Ralph blamed his failure on Kirkland, and it was not until 1772 that Wheelock learned the truth of the matter. It is likely that Ralph's conduct influenced the Oneidas' decision to pull their children out of Moor's later in 1768: Wheelock himself implied as much in his 1771 Journal. By the early 1770s, Wheelock had realized that Ralph was never going to take over Dartmouth College. In a later will, Wheelock provided Ralph with £50 per annum for his care, to be paid out by the College, and stipulated that his other heirs should look after his oldest son. Because Ralph was unable to serve as Wheelock's heir, the presidency of the College passed to John Wheelock, a soldier who had no theological training or desire to run a college.