Caleb Whitney, letter, to Samson Occom, 1765 June 18
ms-number: 765368.3
abstract: Whitney writes to request payment for work done on Occom's house.
handwriting: Formal handwriting is slanted yet clear and legible. There appear to be two different, unknown hands on one verso.
paper: Small single sheet is in good condition, with light creasing, staining and wear.
ink: Brown ink is somewhat faded.
events: Building of Occom's house
---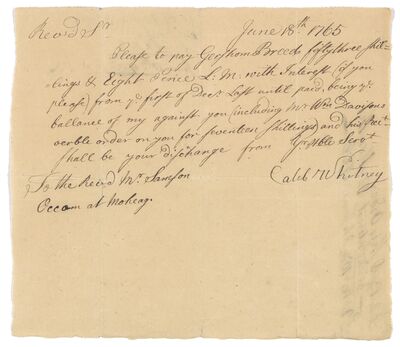 (View Page Image)
Pleaſe to pay
Gerſhom Breed
fifty three ſhil=
=lings & Eight Pence L:M: with Intereſt (if you
pleaſe) from y.
e
firſt of Dec.

r

Laſt
until paid, being y.
e
ballance of my againſt you (including M.
r
W

m

Daviſon
s
verble order on you for ſeventeen ſhillings) and his Rec
t
ſhall be your diſcharge from
Y.

r

H

ble

Serv

t
Caleb Whitney
To the
Rev

d

M.

r

Samſon
Occom
at
Moheag
.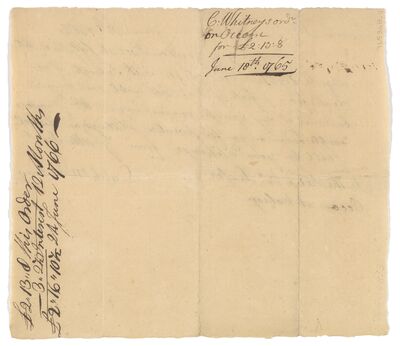 (View Page Image)
[left]
£2..13..8 this Order


—3..2 1/2

Interst 12 Months
£2..16..10 1/2

24 June 1766

—
C: Whitney
s ord
r
illegible
on
Occom
for
£2:13:8
June 18.

th

1765
Mohegan
Mohegan is a village in southeastern Connecticut at the site of the present-day town of Montville, and is the location of the Mohegan Indian Reservation. The village gets its name from the Mohegan Tribe, or wolf people, who split from the Pequots in the early 17th century under the leadership of the sachem Uncas. In the 1720s, the Mohegans requested the colony of Connecticut provide them with an English educator. An English minister and schoolteacher named John Mason (no relation to Captain John Mason) moved to Mohegan in order to provide English-styled education to the Mohegans, convinced his sponsors, the New England Company, to build a schoolhouse at Mohegan, which eventually served as a boarding school for other Native American children from the surrounding area. During the 17th century, the Mohegan Tribe became embroiled in a complicated controversy over control of Mohegan land — known as the Mason Land Case or, more specifically, Mohegan Indians v. Connecticut — that included the village of Mohegan. The Tribe claimed that it never authorized a transfer of their lands, held in trust by the Mason family, to the colonial government. In 1662, the colony of Connecticut was incorporated by a royal charter, which included the disputed tribal land. The land controversy was revived in 1704 when descendants of John Mason, the original trustee, petitioned the Crown on behalf of the Mohegans, but the suit was finally decided against the Tribe in 1773. Born in Mohegan, Occom became involved in the Mason Land Case and vehemently argued for the rights of the Mohegan Indians to maintain their land, opposing Eleazar Wheelock and other ministers in the area. Although Occom left Mohegan for a 12-year mission with the Montauk Indians of Long Island, he returned at the end of 1763 with his large family to build a house in Mohegan, establishing it as his base of operations. Even after the creation of the Brothertown settlement in Oneida country, for which he served as minister, Occom continued to commute back and forth from Mohegan; he didn't sell his house in Mohegan and move his family to Brothertown until 1789. Many members of his family remained in Mohegan, including his sister Lucy Tantaquidgeon, who lived there until her death at 99 in 1830.
Occom, Samson
Samson Occom was a Mohegan leader and ordained Presbyterian minister. Occom began his public career in 1742, when he was chosen as a tribal counselor to Ben Uncas II. The following year, he sought out Eleazar Wheelock, a young Anglo-American minister in Lebanon, CT, in hopes of obtaining some education and becoming a teacher at Mohegan. Wheelock agreed to take on Occom as a student, and though Occom had anticipated staying for a few weeks or months, he remained with Wheelock for four years. Occom's academic success inspired Wheelock to open Moor's Indian Charity School in 1754, a project which gave him the financial and political capital to establish Dartmouth College in 1769. After his time with Wheelock, Occom embarked on a 12-year mission to the Montauk of Long Island (1749-1761). He married a Montauk woman, Mary Fowler, and served as both teacher and missionary to the Montauk and nearby Shinnecock, although he was grievously underpaid for his services. Occom conducted two brief missions to the Oneida in 1761 and 1762 before embarking on one of the defining journeys of his career: a fundraising tour of Great Britain that lasted from 1765 to 1768. During this journey, undertaken on behalf of Moor's Indian Charity School, Occom raised £12,000 (an enormous and unanticpated amount that translates roughly to more than two-million dollars), and won wide acclaim for his preaching and comportment. Upon his return to Mohegan in 1768, Occom discovered that Wheelock had failed to adequately care for his family while he was gone. Additionally, despite the vast sums of money that he had raised, Occom found himself unemployed. Wheelock tried to find Occom a missionary position, but Occom was in poor health and disinclined to leave his family again after seeing the treatment with which they had met while he was in Britain. Occom and Wheelock's relationship continued to sour as it became apparent to Occom that the money he had labored to raise would be going towards infrastructure at Dartmouth College, Wheelock's new project, rather than the education of Native Americans. After the dissolution of his relationship with Wheelock, Occom became increasingly focused on the needs of the Mohegan community and increasingly vocal in criticizing Anglo-Americans' un-Christian treatment of Native Americans. In September of 1772, he delivered his famous "Sermon on the Execution of Moses Paul," which took Anglo-American spiritual hypocrisy as one of its major themes, and which went into four printings before the end of the year. In 1773, Occom became further disillusioned when the Mason Land Case was decided in favor of the Colony of Connecticut. The details of the Mason Case are complicated, but to summarize: the Colony of Connecticut had gained control of Mohegan land early in the 18th century under very suspect circumstances, and successfully fended off the Mohegan's 70-year-long legal challenge. The conclusion of the case came as a blow to the Mohegans, and further convinced Occom of Anglo-American corruption. Along with David Fowler (Montauk Tribe), Occom's brother-in-law, and Joseph Johnson (Mohegan), Occom's son-in-law, Occom helped found Brothertown, an Indian tribe formed from the Christian Mohegans, Pequots, Narragansetts, Montauks, Tunxis, and Niantics. They eventually settled in Oneida country in upstate New York. Occom moved there with his family in 1789, spending the remaining years of his life serving as a minster to the Brothertown, Stockbridge, and Mohegan Indians. Harried by corrupt land agents, the Brothertown and Stockbridge groups relocated to the eastern shore of Lake Winnebago, though Occom died in 1792 before he could remove himself and his family there. Occom's writings and legacy have made him one of the best known and most eminent Native Americans of the 18th century and beyond.
Breed, Gershom
Breed was a vendor who traded with Occom and Wheelock. His wares included food, building materials, alcohol, clothing, and finished metal goods. He was a staunch Wheelock supporter, and helped hold and deliver mail for Wheelock, as well as sending his (possibly first-born) son, John McLaren Breed, to Wheelock's school (J. Breed went on to graduate from Yale in 1768). While Occom was abroad, he was more lenient in supplying goods to Mary Occom than other local vendors, such as Captain Shaw, but eventually, he too refused to sell to her on credit.
Building of Occom's house
In December 1763, Occom returns to Mohegan to choose a site for his house, close to the Mohegan Chapel. The project engages several Indian laborers, cost about £100, and is a notable structure, clapboarded with cedar.