David Fowler, letter, to Eleazar Wheelock, 1765 May 2
ms-number: 765302.2
abstract: Fowler writes to Wheelock about his intention to marry Amy Johnson, and states that he has bought her a ring. He also writes of his worries concerning her health.
handwriting: Handwriting is formal and clear.
paper: Large sheet is folded in half to make four pages. Paper is in good-to-fair condition, with moderate creasing, staining and wear. There is significant tearing near location of seal, but it results in no loss of text. Heavy creases are silked.
ink: Brown-black.
noteworthy:  The trailer is in an unknown hand. A note under the trailer reading "about a wife" is likely 19th-century and has not been transcribed.
layout: The first page of the letter is on one recto, however the second page is on two recto, not one verso.
---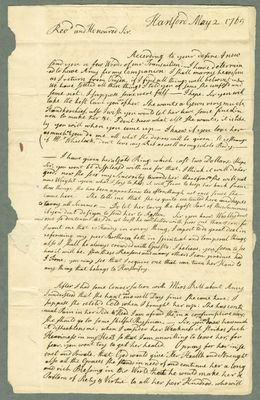 (View Page Image)
Hartford
May 2 1765
Rev

d

and Honoured Sir.


According to your deſire I now
ſend you a few Words of our Transaction.—I have determin­
­ed to have
Amy
for my Companion: I ſhall marry her as ſoon
as I return from
Onyda
, if I find all things well betwixt us—
We have ſettled all those things I told you of. ſome ſhe confeſd and
ſome not: I ſuppose ſome were falſ.—I hope, Sir you will
take the beſt Care you
⇑
can
of her. She wants a Gown very much,
Handkerchief, alſo I wiſh you would let her have ſome fine Lin
nen to make her &c. I don't know what elſe ſhe wants; it is like­
ly you will when you come up.— I know if you love her
as much
⇑
as
you do me, all what ſhe deſires will be given: it is ſtrange
(if
M

r

Wheelock
, don't love my Rib as well as my whole Body.—
—I have given her a Gold Ring, which coſt two Dollars:— I hope
Sir, you won't be diſpleaſd with me for that, I think it will do her
good; now ſhe ſees my Sincerity towards her. therefore ſhe will put
more Weight upon what I ſay to her; it will
⇑
alſo
ſerve to keep her back from
those things. ſhe has been apprehened too often; though not once ſince ſhe
came here. She tells me that ſhe is quite contented here and hopes
to tarry all Summer.— Do let her tarry the bigeſt Part of this Summer,
if you don't deſign to ſend her to
Boston
. Sir you know,
Woolly
don't
⇑
[left]
want
one ſo dexterous as I do, at leaſt he can
⇑
do
better with poor one than I can: for
I want one that is Handy in every thing; I expect to do great deal in
reforming my poor Brethren both in ſpiritual and temporal things;
alſo I ſhall be always crowded with Gueſts: I believe, you ſeem to ſee
how it will be. f
⇑
r
om these Reaſons and many others I can produce had
I Time, you may ſee that I require one that can turn her Hand to
any thing that belongs to Houſwifry.
After I had ſome Converſation with
Mirs. Bull
about
Amy
I underſtood that ſhe han't
⇑
had
one well Day ſince ſhe came here; I
ſuppose ſhe cetch'd Cold when I brought her up: She has conti­
­nual Pain in her Side & Head. I am afraid ſhe
⇑
is
in a conſumptive Way;
ſhe ſhould go to ſome ſkilful Phyſician.— Sir, you
⇑
dont
know how much
it diſheartens me, when I conſider her Weakness it ſtrikes ſuch
Heavineſs in my Hea
⇑
r
t ſo that I am unwilling to leave her; for
fear, you wont try to get her healed. O pray for her in ſe­
cret and Private, that God would give Her Health and Strenght
alſo all the Graces ſhe ſtands in need of and continue her a long
and rich Bleſsing in the World, that he would make her a
Pattern of Piety & Virtue to all her poor Kindred, who will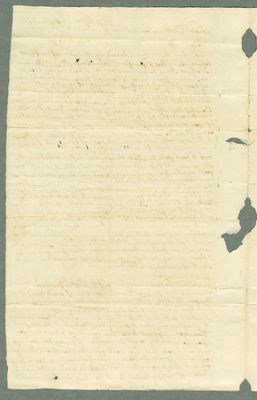 (View Page Image)
Blank page.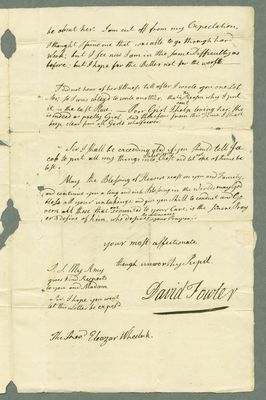 (View Page Image)
be about her. I am cut off from my Expectation,
I thought I found one that was able to go through hard
Work: but I ſee now I am in the ſame Difficulty as
before; but I hope for the Better not for the worſ
e
t. —
I did not hear of her Illneſs till after I wrote you one Let
­ter, ſo I was obligd to write another, that is
⇑
the
Reaſon why I put
it in the laſt Place. — Poor Girl I
⇑
cant
help loving her, ſhe
is indeed a pretty Girl. And therefore from this Time I ſhall
keep clear from all Girls whatſoever.
Sir I ſhall be exceeding glad if you ſhould tell
Ja­
cob
to put all my things into
⇑
Jacob Woolly
Cheſt and let
⇑
not
one of theme be
loſt.
May the Bleſsing of Heaven reaſt on you and Family,
and continue you a long and rich Bleſsing in the World, may God
bleſs all your untakings; and give you Skill to conduct and Go­
vern all those that
⇑
are
commited to your Care: is the ſincere Pray
er & deſire of him, who deſires
⇑
the continuance
your Prayers.
your moſt affectionate,

though unworthy Pupil.

David Fowler
P. S. My
Amy
gives kind Respect's
to you and
Madam
.
Sir, I hope you won't
let this Letter be expoſ'd.

The
Rev.

d

Eleazar Wheelock
.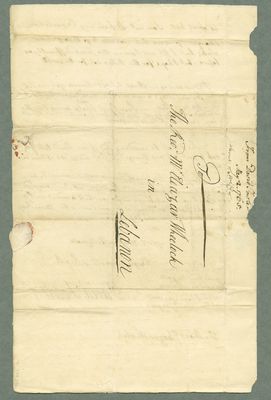 (View Page Image)
From
David Fowler
May 2. 1765
.
To —
The Rev.

d

M

r

Eleazar Wheelock
in


Lebanon
Lebanon
Lebanon is a town located in the state of Connecticut southwest of the town of Hartford. The land that became Lebanon was inhabited at least 10,000 years ago based on the archeological record. By the 1600s, the land was permanently inhabited by the Mohegan Indians, who used the area primarily for hunting. Lebanon was officially formed in 1700 when English settlers consolidated a number of land tracts, including several land grants by the Connecticut General Assembly and lands purchased from the Mohegans. However, these purchases were controversial. In 1659, the Mohegans entrusted their reserve land to Major John Mason, and in the following year, Mason transferred this land to the Connecticut colonial government with the understanding that there would be enough land left for the Mohegans to farm. The Mohegans claimed that they never authorized a transfer to the colonial government and only Mason's heirs were entrusted with their land. In 1662, Connecticut, which included the Mohegan land that had been entrusted to the Masons, was incorporated by a royal charter. Based on this charter, the colony argued that the land was now the property of the government. In 1687, the colony began granting the Mohegan land to townships, and in 1704 the Masons petitioned the Crown on behalf of the Mohegans, claiming that such transfers of land to townships were illegal. Between the years of 1705 and 1773 legal disputes and controversies persisted, finally ending in a verdict by the Crown against the Mohegans. In 1755, Wheelock received property and housing in Lebanon that he would use as his house and school. While Lebanon was originally incorporated as a part of New London County in 1700, in 1724 it became a part of New Windham, before once again becoming a part of New London County in 1826. Lebanon was central to the American Revolution with half of its adult population fighting for the colonists and hundreds of meetings convened in the town for the revolutionary cause.
Boston
The first English immigrant to settle on a peninsula in a harbor on the northeastern coast of North America the local Algonquin Indians called "Shawmet" was William Blackstone in 1629. A year later, John Winthrop arrived with a group of English Puritans and other settlers and named the area Boston after his hometown in Lincolnshire, England. The colony quickly developed representative political institutions that would help shape a democratic nation. Over the next few centuries, Boston emerged as an intellectual and educational center, and, because of its excellent harbor, became a leading commercial hub and a primary port for North America. It is the capital and largest city of the Commonwealth of Massachusetts, and the largest city in New England. Boston was the home for the Boards of Commissioners of several overseas religious societies who sent missionaries throughout the colonies in the 18th century, and was the site of many important events of the American Revolution.
Oneida
Oneida is a city in Madison County located at the geographical center of New York state. Before European settlement of the area, the Oneida Tribe, one of the Six Nations of the Haudenosaunee (Iroquois) Confederacy, inhabited a large territory adjacent to nearby Oneida Lake. Around 1533, they built their first village on the south shore of the lake, at or near the mouth of Oneida Creek. At the end of the 17th century, this area began suffering raids by parties from the French colony of Quebec, in a battle to control the fur trade. In 1696, Oneida village was burned by the French. As a result, the Oneidas moved their chief village east of the original site, called Old Oneida, to a new site called Kanawalohale, also known as Oneida Castle, which was fortified by tall palisades and a moat. This is the site of the present-day village of Oneida Castle, a small hamlet west of the city of Oneida in the northwest corner of the town of Vernon. When used in Occom Circle documents, the place name "Oneida" usually refers to the territory inhabited by the Tribe east of Oneida Lake, but can also refer specifically to Oneida Castle. Although the Oneidas sided with the patriots during the Revolutionary War, much of their territory was sold or appropriated by the state of New York. In 1790, the first European settlers moved into the area of Old Oneida village, and the district began to expand. In the 1830s, the state built a feeder from Oneida Creek through the present city site to provide water for the new canal system, which enabled canal boats to ship freight into the town. Eventually, the railroad came through the town and helped with its expansion. This led to the incorporation of the Village of Oneida in 1848 and the establishment of the Town of Oneida in 1896. The town was chartered as the City of Oneida in 1901, and with two more railroad lines transecting the area, it became a thriving manufacturing center for the first half of the 20th century.
Hartford
Hartford is the capital city of Connecticut, located in the central part of the state. The land that would become Hartford was first inhabited by the Saukiog Indians (Saukiog was also the name of a village on the Connecticut River) along with the Podunks to the east and the Tunxis to the west. The Dutch explorer Adriaen Block was the first European to visit Saukiog, and by the early 1620s, the Dutch had established a fort in the area. They brought with them a smallpox epidemic that killed many Native Americans. By the mid-17th century the Dutch, outnumbered by the English, had retreated south. In order to protect themselves against the powerful Mohawk and Pequot Indians, tribes around Saukiog allied with the English. By 1635, the Puritan preacher Thomas Hooker and one hundred of his followers moved into the area, first calling their new home Newtown but later changing it to Hartford after Hertford, England. In a 1638 sermon, Hooker claimed that the new Connecticut government should authorize itself according to the consent of the people, words that inspired Connecticut's Fundamental Orders, considered America's first written constitution. Missionaries began to preach to the Tunxis near Hartford in 1670. By 1734, Indians at Hartford requested and received English ministers for reading and religious instruction, and used the missionary interest in their community to their advantage in several ways. Minister Samuel Woodbridge reported that Indians at Hartford would attend his church and learn to read if they had the proper clothing, and the New England Company sent blankets and primers as encouragement. Hartford served as the meeting place for Congregational ministers associated with Wheelock and his School to examine the acceptability of Native missionaries, such as Mohegan minister Samuel Ashpo. In 1775, Joseph Johnson went to the Hartford Assembly to deliver letters declaring the allegiance to the colonists of the Indians who had moved to upstate New York.
Fowler, David
David Fowler was Jacob Fowler's older brother, Samson Occom's brother-in-law, and an important leader of the Brothertown Tribe. He came to Moor's in 1759, at age 24, and studied there until 1765. While at school, he accompanied Occom on a mission to the Six Nations in 1761. He was licensed as a school master in the 1765 mass graduation, and immediately went to the Six Nations to keep school, first at Oneida and then at Kanawalohale. Fowler saw himself as very close to Wheelock, but their relationship fragmented over the course of Fowler's mission, primarily because Wheelock wrote back to Kirkland, with whom Fowler clashed, but not to Fowler, and because Wheelock refused to reimburse Fowler for some expenses on his mission (767667.4 provides the details most clearly). Fowler went on to teach school at Montauk, and played a major role in negotiations with the Oneidas for the lands that became Brothertown. He was among the first wave of immigrants to that town, and held several important posts there until his death in 1807.
Wheelock, Eleazar
Eleazar Wheelock was a New Light Congregationalist minister who founded Dartmouth College. He was born into a very typical Congregationalist family, and began studying at Yale in 1729, where he fell in with the emerging New Light clique. The evangelical network that he built in college propelled him to fame as an itinerant minister during the First Great Awakening and gave him many of the contacts that he later drew on to support his charity school for Native Americans. Wheelock's time as an itinerant minister indirectly brought about his charity school. When the Colony of Connecticut retroactively punished itinerant preaching in 1743, Wheelock was among those who lost his salary. Thus, in 1743, he began operating a grammar school to support himself. He was joined that December by Samson Occom, a Mohegan Indian, who sought out an education in hopes of becoming a teacher among his people. Occom's academic success inspired Wheelock to train Native Americans as missionaries. To that end, he opened Moor's Indian Charity School in 1754 (where he continued to train Anglo-American students who paid their own way as well as students who functionally indentured themselves to Wheelock as missionaries in exchange for an education). Between 1754 and 1769, when he relocated to New Hampshire, Wheelock trained approximately 60 male and female Native American students from nearby Algonquian tribes and from the Haudenosaunee (Iroquois) of central New York. At the same time, he navigated the complicated politics of missionary societies by setting up his own board of the Society in Scotland for Propagating Christian Knowledge, although he continued to feud with the Boston Board of the SSPCK and the London Commissioners in Boston (more colloquially called the New England Company). By the late 1760s, Wheelock had become disillusioned with the idea of Native American education. He was increasingly convinced that educating Native Americans was futile (several of his students had failed to conform to his confusing and contradictory standards), and, in late 1768, he lost his connection to the Haudenosaunee. With his inclination and ability to sponsor Native American missionaries largely depleted, Wheelock sought instead to fulfill his ultimate ambition of obtaining a charter and opening a college, which he did in 1769. To fund this new enterprise, Wheelock drew on the £12,000 that Samson Occom had raised for Moor's Indian Charity School during a two-and-a-half year tour of Great Britain (1765 to 1768). Much of this money went towards clearing land and erecting buildings in New Hampshire for the Charity School's relocation — infrastructure that also happened to benefit Dartmouth. Many of Wheelock's contemporaries were outraged by what they saw as misuse of the money, as it was clear that Dartmouth College was not intended for Indians and that Moor's had become a side project. Although Wheelock tried to maintain at least some commitment to Native American education by recruiting students from Canadian communities, the move did a great deal of damage to his public image. The last decade of Wheelock's life was not easy. In addition to the problems of trying to set up a college far away from any Anglo-American urban center, Wheelock experienced the loss of relationships with two of his most famous and successful students, Samson Occom and Samuel Kirkland (an Anglo-American protégé). He also went into debt for Dartmouth College, especially after the fund raised in Britain was exhausted.
Wheelock, Mary (née Brinsmead)
Mary Wheelock was born Mary Brinsmead on July 26, 1714 in Milford, Connecticut. In the year following the death of his first wife, Eleazar began to court Mary Brinsmead, and the two married on November 21, 1747. Mary and Eleazar had five children together, including John, who would succeed his father as President of Dartmouth College. Little appears in the historical record about Mary, but many of the people who wrote to Wheelock, especially his Native correspondents who often lived with the family, referred to her warmly. In September 1770, Mary dismantled her longtime home in Connecticut, and travelled with her children to the Wheelocks' new home in the wilderness of New Hampshire. They rode in a coach sent over from England by John Thornton, accompanied by 30 Charity School students on foot. Eleazar, who had gone ahead to build housing for everyone, wrote a letter to Mary with many instructions about the move; the disposition of domestic animals, people, supplies; and the acquisition of money that suggests she was an able and trustworthy manager (manuscript 770510.1; this manuscript is not included in Occom Circle documents). She died in 1784 in Hanover, New Hampshire, where she is buried in the Dartmouth College Cemetery.
Johnson, Amy
Amy Johnson was a Mohegan woman who was the first female student at Moor's Indian Charity School. She came to Moor's in 1761 at age 13, perhaps because her brother Joseph Johnson was also a student there. She left the school at the beginning of 1766. According to W. D. Love, she then lived (and, presumably, worked) at the Bull's Tavern in Hartford, CT for some time. During this period, she was courted by David Fowler, who gave her a gold engagement ring. Their relationship ended, although it is unclear why; he may have been concerned about her poor health (his main concern in a wife was finding a partner for missionary service), or she may have rejected him (Amy was the first of the three Moor's students whom Fowler courted). Sometime before 1772 Amy married Joseph Cuish, son of the Niantic Baptist preacher Philip Cuish. The family had close ties to the Occoms and several Cuishes moved to Brothertown, although Amy and Joseph do not seem to have done so. Most of our information about Amy comes from her relationships to important men: she was sister to Joseph Johnson, student to Wheelock, the temporary object of David Fowler's affections and, eventually, wife to Joseph Cuish. From a historical standpoint, our sources on Amy speak to the increasingly patriarchal element that Christianity brought into Algonquian society as well as the fundamentally inter-tribal nature of Algonquian relations during this period.
Woolley, Joseph
Joseph Woolley was a Delaware who died of consumption while keeping school at Onaquaga. He came to Wheelock in 1757 as a replacement for John Pumshire, and although Wheelock labeled him as "fit for college" in late 1761, he never attended. In the fall of 1764, Joseph went to the Six Nations with Kirkland to learn the Mohawk language and keep school, and in March 1765, he was officially approved as a schoolmaster and returned to Onaquaga to teach. He was very popular there, but died unexpectedly in late November 1765. Joseph was engaged to Hannah Garrett, who later married David Fowler, but a letter from David (765302.2) suggests that Joseph may also have pursued Amy (David's object of interest before Hannah).
Woolley, Jacob
Jacob Woolley, a Delaware, was one of Wheelock's first two Indian students. He was the cousin of Wheelock's third student, Joseph Woolley. John Brainerd sent Jacob Woolley, along with John Pumshire, to Wheelock late in 1754. While Pumshire died in 1757, Jacob continued studying with Wheelock and entered the College of New Jersey in 1759. He studied there until 1762, when he was expelled for failing his studies and abusing alcohol. It is also likely that there was a woman involved. In 1763, Jacob briefly returned to College before running away and enlisting in the army. Joseph Woolley met a man in Sheffield who described someone like Jacob Woolley teaching there in the fall of 1764, but this identification is not definite. Jacob never seems to have been very invested in becoming a missionary. Especially after his expulsion from the College of New Jersey, he expressed doubts about Wheelock's plans for him and struggled with alcohol. It is likely that he ran away primarily because Wheelock was non-responsive to these concerns.
Bull, Elizabeth (née Graham)
Fowler, Jacob
Jacob Fowler was a Montauk Indian whose life was dramatically shaped by Samson Occom, his brother-in-law. Occom taught Jacob when he was a child, and in 1762, Jacob followed his older brother David Fowler to Moor's. After three years he was approved as an usher in the 1765 examination, and in 1766 he went to assist Samuel Johnson at Canajoharie. He taught among the Six Nations until at least mid-1767. In early 1770, Occom procured him a job teaching at Mushantuxet through the Boston Board of the Society in Scotland for Propagating Christian Knowledge. Jacob taught and preached among the Pequots at Mushantuxet and Stonington until 1774, when Wheelock hired him to teach at Moor's, which had relocated to Hanover, NH as a complement to Dartmouth College. During this time, Jacob also assisted Joseph Johnson with efforts to rally the New England Christian tribes for a move to Oneida territory (the Brothertown Movement). By 1776, there were no Indians enrolled in Moor's and Jacob moved on to serve Governor John Trumbull of CT as a messenger to the Six Nations during the Revolution. After the Revolution, he continued organizing the Brothertown Movement and was among those who initially emigrated in 1784. He was elected clerk at Brothertown, and died sometime in the spring of 1787.