Daniel Bull, letter, to Eleazar Wheelock, 1765 January 22
ms-number: 765122
abstract: Bull writes that the Indian girl, whom Wheelock had committed to his care, has arrived.
handwriting: Handwriting is clear and legible.
paper: Small single sheet is in good condition, with light staining, creasing and wear.
ink: Brown.
noteworthy: The identity of the Indian girl mentioned by Bull is uncertain, and so she has been left untagged. The identity of the brother-in-law mentioned by Bull is uncertain, and so he has been left untagged. The name "Eleze" in Bull's signature is uncertain -- it may be an abbreviated middle name, or a reference to Elizabeth, Bull's wife.
---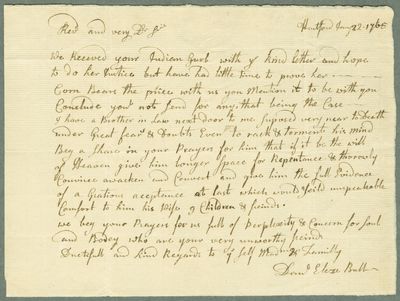 (View Page Image)
Hartford
Jany 22. 1765
Rev

d

and very D

r

Si

r



We Receved your Indien Gurl with y
r
kind letter and hope
to do her Justice but have had little time to prove her.—
Corn Bears the price with us you Mention it to be with you
Conclude you
l
not ſend for any, that being the Case —
I have a Brother in Law next door to me ſuposed very near to Death
under Great fear
s
& Doubts Even to rack & torment his mind
Beg a ſhare in your Prayers for him that if it be the will
of Heaven give him longer ſpace for Repentance & thorowly
Convince awacken and Convert and give him the full Evidence
of a Gratious aceptance at last which would Yeild unspeakable
Comfort to him his Wife 9 Children & freinds.
we beg your Prayers for us full of
[illegible]
[guess: Perplexity]
& Concern for ſoul
and Bodey who are your very unworthy freinds
Duetifull and kind Regards to y

r

ſelf Mad

m

& Familly
Dan

l

Eleze Bull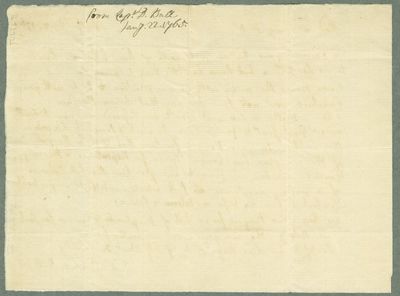 (View Page Image)
from
Cap.

t

D. Bull
Jan.

y

22. 1765
.
Hartford
Hartford is the capital city of Connecticut, located in the central part of the state. The land that would become Hartford was first inhabited by the Saukiog Indians (Saukiog was also the name of a village on the Connecticut River) along with the Podunks to the east and the Tunxis to the west. The Dutch explorer Adriaen Block was the first European to visit Saukiog, and by the early 1620s, the Dutch had established a fort in the area. They brought with them a smallpox epidemic that killed many Native Americans. By the mid-17th century the Dutch, outnumbered by the English, had retreated south. In order to protect themselves against the powerful Mohawk and Pequot Indians, tribes around Saukiog allied with the English. By 1635, the Puritan preacher Thomas Hooker and one hundred of his followers moved into the area, first calling their new home Newtown but later changing it to Hartford after Hertford, England. In a 1638 sermon, Hooker claimed that the new Connecticut government should authorize itself according to the consent of the people, words that inspired Connecticut's Fundamental Orders, considered America's first written constitution. Missionaries began to preach to the Tunxis near Hartford in 1670. By 1734, Indians at Hartford requested and received English ministers for reading and religious instruction, and used the missionary interest in their community to their advantage in several ways. Minister Samuel Woodbridge reported that Indians at Hartford would attend his church and learn to read if they had the proper clothing, and the New England Company sent blankets and primers as encouragement. Hartford served as the meeting place for Congregational ministers associated with Wheelock and his School to examine the acceptability of Native missionaries, such as Mohegan minister Samuel Ashpo. In 1775, Joseph Johnson went to the Hartford Assembly to deliver letters declaring the allegiance to the colonists of the Indians who had moved to upstate New York.
Bull, Daniel
Daniel Bull was a longtime resident of Hartford, CT, with whom Eleazar Wheelock, Samson Occom, and David Fowler all lodged between at least 1761 and 1765. He was a deacon of the South Church as well as a captain in Connecticut's 1st Regiment. In three letters between 1764 and 1765, Wheelock instructs recipients to direct their replies to the care of Bull in Hartford. Bull appears twice on lists of donations to Yale College for funding construction projects between 1756 and 1761. He may have also been a member of "The Company of Military Adventurers," a group of Englishmen who assembled in Hartford beginning 1763 to obtain grants of land from the Crown following their service in the French and Indian War. He died in Hartford in November 1776.
Wheelock, Eleazar
Eleazar Wheelock was a New Light Congregationalist minister who founded Dartmouth College. He was born into a very typical Congregationalist family, and began studying at Yale in 1729, where he fell in with the emerging New Light clique. The evangelical network that he built in college propelled him to fame as an itinerant minister during the First Great Awakening and gave him many of the contacts that he later drew on to support his charity school for Native Americans. Wheelock's time as an itinerant minister indirectly brought about his charity school. When the Colony of Connecticut retroactively punished itinerant preaching in 1743, Wheelock was among those who lost his salary. Thus, in 1743, he began operating a grammar school to support himself. He was joined that December by Samson Occom, a Mohegan Indian, who sought out an education in hopes of becoming a teacher among his people. Occom's academic success inspired Wheelock to train Native Americans as missionaries. To that end, he opened Moor's Indian Charity School in 1754 (where he continued to train Anglo-American students who paid their own way as well as students who functionally indentured themselves to Wheelock as missionaries in exchange for an education). Between 1754 and 1769, when he relocated to New Hampshire, Wheelock trained approximately 60 male and female Native American students from nearby Algonquian tribes and from the Haudenosaunee (Iroquois) of central New York. At the same time, he navigated the complicated politics of missionary societies by setting up his own board of the Society in Scotland for Propagating Christian Knowledge, although he continued to feud with the Boston Board of the SSPCK and the London Commissioners in Boston (more colloquially called the New England Company). By the late 1760s, Wheelock had become disillusioned with the idea of Native American education. He was increasingly convinced that educating Native Americans was futile (several of his students had failed to conform to his confusing and contradictory standards), and, in late 1768, he lost his connection to the Haudenosaunee. With his inclination and ability to sponsor Native American missionaries largely depleted, Wheelock sought instead to fulfill his ultimate ambition of obtaining a charter and opening a college, which he did in 1769. To fund this new enterprise, Wheelock drew on the £12,000 that Samson Occom had raised for Moor's Indian Charity School during a two-and-a-half year tour of Great Britain (1765 to 1768). Much of this money went towards clearing land and erecting buildings in New Hampshire for the Charity School's relocation — infrastructure that also happened to benefit Dartmouth. Many of Wheelock's contemporaries were outraged by what they saw as misuse of the money, as it was clear that Dartmouth College was not intended for Indians and that Moor's had become a side project. Although Wheelock tried to maintain at least some commitment to Native American education by recruiting students from Canadian communities, the move did a great deal of damage to his public image. The last decade of Wheelock's life was not easy. In addition to the problems of trying to set up a college far away from any Anglo-American urban center, Wheelock experienced the loss of relationships with two of his most famous and successful students, Samson Occom and Samuel Kirkland (an Anglo-American protégé). He also went into debt for Dartmouth College, especially after the fund raised in Britain was exhausted.
Wheelock, Mary (née Brinsmead)
Mary Wheelock was born Mary Brinsmead on July 26, 1714 in Milford, Connecticut. In the year following the death of his first wife, Eleazar began to court Mary Brinsmead, and the two married on November 21, 1747. Mary and Eleazar had five children together, including John, who would succeed his father as President of Dartmouth College. Little appears in the historical record about Mary, but many of the people who wrote to Wheelock, especially his Native correspondents who often lived with the family, referred to her warmly. In September 1770, Mary dismantled her longtime home in Connecticut, and travelled with her children to the Wheelocks' new home in the wilderness of New Hampshire. They rode in a coach sent over from England by John Thornton, accompanied by 30 Charity School students on foot. Eleazar, who had gone ahead to build housing for everyone, wrote a letter to Mary with many instructions about the move; the disposition of domestic animals, people, supplies; and the acquisition of money that suggests she was an able and trustworthy manager (manuscript 770510.1; this manuscript is not included in Occom Circle documents). She died in 1784 in Hanover, New Hampshire, where she is buried in the Dartmouth College Cemetery.