Connecticut Board of Correspondents of the Society in Scotland for Propagating Christian Knowledge, letter, to the Honorable Society in Scotland for Propagating Christian Knowledge, 1763
ms-number: 763900.9
abstract: An apparent draft of manuscript 764410.2, which informs the Society in Scotland for Propagating Christian Knowledge that, per its commission, a Connecticut board of correspondents has been formed, and officers have been elected. The Connecticut board proposes that the best prospect for furthering the Society's design lies with Wheelock's Indian charity school, and that the board's intention is to employ Occom and Ashpo.
handwriting: Loose and informal handwriting appears to be that of Solomon Williams. It is frequently difficult to discern letter case. There are several deletions and additions.
paper: Large sheet is in fair condition, with moderate creasing, yellowing and wear.
ink: Dark brown-black ink bleeds through to opposite sides of the paper.
noteworthy: Text of letter is identical to that of manuscript 764410.2, and this document appears to be a draft of that letter. In the Rauner Special Collections catalogue, this letter is erroneously attributed to Benjamin Pomeroy.
signature: No signature.
---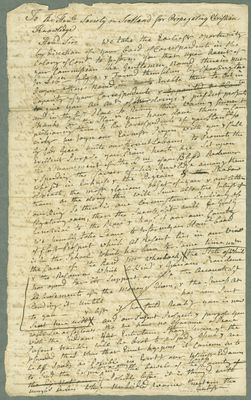 (View Page Image)
To The Hon

le

Society in Scotland for Propagating Chriſtian
Knowledge
Hon.

d

Sirs


We take the Earlieſt oportunity
by direction of your
bord of Correſpondents in the
Colony of Con

t
to Inform you that upon Receit of
your Commiſsion the Gentlemen namd there in met
in
Leb

n
July 9
& Formd themſelves by Chooſing the
Proper Officers nam
d
,
in
[illegible]
to Enable them to act in
Capacity of your Correſpondents &
appointed

[illegible]

a Com

tee


to
give you an ac
t
of
[illegible]
their doings & preſent proſpects
and in the firſt Place to Return their warm & ſincereſt
Thanks for the Hon
r
you have done them in Com
miſsioning them to be Correſpedents of
your Hon.

le

ſo
ciety
. We Joyn our Earneſt Prayers with you & ſhall
by Gods Grace unite our fervent Labours to Promote the
Excellent Purpoſe your Pious hearts are set upon
the advancement of the K
m
of our Bleſed Redeemer
& speading the ſavour of his knwledge among them
who ſit in darkneſs & the Regions of
the
Shadow
of Death, the moſt glorious object of your & our atten
tion. as the doing this will Serve alſo the Intreſt of
our King
So there is one Circumſtance Peculiarly ob
ligatory on us, that the Suceſs of it will be Greatly
beneficial to the Peace & hap
S
of our own Country
we humbly take Leave to Inform your Hon
le
board
y
t
y
e
beſt Proſpect which at Preſant lies in our vi
[illegible]
[guess: ew]
is In the
School
which has been for some time und
r
the Care of the Rev
d
M

r

Wheelock
.
the State of which
& the Reſources which a Kind & Gracious Providence
has opend for its Support, as alſo the Accounts of y

e


Reburſements of the Moneys Given, & the succeſs at
tending it untill — has been Sent
to you — & leſt it has faild Reach

g

you is now
sent here with
and our Preſent Proſpects & purpoſes you
will See as follows. tho we have no aſsurance of Peace
with the Indians but Entertain strong hopes y
t
the
Preſent troubles will be brot to a Speedy Iſsue & are
⅌ſwaded that when that Event happens it Concerns us to
be a
S
ſs speedy as Poſsible in Exert
g
our utmoſt Endeavors
to Send the Goſpel
⇑
as far as may be
into the bowels of the
⇑
Pagan
Country
of
the

Six Nations
if Poſsible before it is throng
d
with
unrigh
s
Dealers Whoſe unbridled avarice threatens the
Greateſt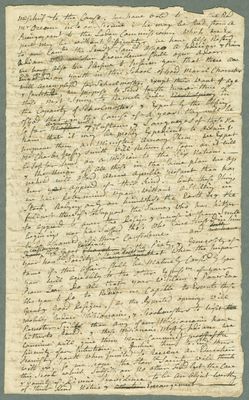 (View Page Image)
miſchief to the Cauſe. we have voted to take the Rev
d
M

r

Occom
into our Service if he may be freed from a
Preingagem
t
to the
London Commiſioners
which we Ex
pect may be without difficulty. we have alſo Referd
to our Com
tee
the send
g
Sam

ll

Aſhpo
a judicious & Pious
Indian
who we
when Providence ſhall open a door.
we have alſo the Pleaſure to Inform you that there are
[illegible]
Eight
⇑
or ten
Indian youth in this
School
of Good Moral Character
well accompliſhd for School maſters Except their want of age
& fortitutude, we purpoſe to Send forth two or three of
theſe next Spring to Remote Tribes,
Next Spring
in
the Capacity of Schoolmaſters & Expect by the bleſsing
of God that in the Courſe of a year they will be
ſo far
Maſters of
⇑
acquinted with
y
e
Cuſtoms, & Languages of thoſe na
tions that it may be probly Expedient to ordain & purpose them as miniſters among them. we Expect
M

r

Charles Jeoffry Smith
will Return as ſoon as it will
be Safe for him on a miſsion to the
Six Nations
. —
& The Union of all thoſe in the Same plan we ap
rehend will afford amore agreable proſpect than has
ever yet appeard of this kind. but theſe Things
we have determined upon without a Shilling in
Stock, Relying only on him whoſe the Earth is & the
fullneſs there of to Support the Same, who has hither
to appeard to own the Design & Increaſe it from Small
beginnings nor has Sufferd thoſe who have truſtd in him
to be aſhamed of their Confidence. — and
we have
⇑
doubt
From
⇑
conſidering
the Great
Charater
⇑
Evidince
of the Piety, & Generoſity of
your hon
le
Society
Stong hope
⇑
we doubt not
that when the Impor
tance of this affair ſhall be maturely Conſid
d
by you
you will agreably to the Other Expreſs
n
of your
Pious Zeal do all that your wiſdom & Power Ena
bles you to do to Render as Capable to Execute theſe
Great & Good Designs. as the Expected openings will
probebly Induce Miſsionaries, & Schoolmaſters to viſit
the
Remoter Tribes than any of our Miſsionaries have
hitherto Reach.
d
& theſe miſsionaries mostly Indians we conceive
will give them more Convinc
g
prooff of the
sincerity of our Intentions, & Incline them to Send their
Promiſing youth when Invited to Receive an Education
with us, ſo we hope
the Hon

le

Society
will think
this
Scool
which subſiſts on no other Fund but the Care
& bounty of divine Providence to be an object worthy
of their Kind notice &
attention
Encourgment —
Connecticut Board of Correspondents of the Society in Scotland for Propagating Christian Knowledge
The Connecticut Board of Correspondents of the SSPCK was founded in 1764 at Wheelock's request. He wanted a public board's support so that his school would seem more credible since it was a private organization with no charter. The Boston Board of the SSPCK would not do since they generally opposed Wheelock, so his solution was to petition the SSPCK for his own board. The SSPCK acquiesed, and the board met for the first time on July 4, 1764. While the board was nominally separate from Wheelock's school, in practice, he exercised considerable control over it. The members of the board were Wheelock's handpicked friends and supporters: Jonathan Huntington, Elisha Sheldon, Samuel Huntington, Solomon Williams, Joseph Fish, William Gaylord, Samuel Moseley, Benjamin Pomeroy, Richard Salter, Nathaniel Whitaker, David Jewett, and Wheelock himself. Wheelock used this board to send Occom and Whitaker to England, hold exams for Moor's Indian Charity School, and generally support his designs. When Wheelock moved to New Hampshire, he tried to establish a New Hampshire Board as well, but by that point the SSPCK was much more cautious when it came to Wheelock's plans and refused. The Connecticut Board dissolved in 1771 as Wheelock was its raison d'etre.
Society in Scotland for Propagating Christian Knowledge
The Society in Scotland for Propagating Christian Knowledge (SSPCK) is a Presbyterian missionary society formed in 1709 and still active today. The SSPCK was founded to anglicize the Scottish Highlands, which at the time were predominantly Gaelic and had little in common with lowland Scotland. British Protestants identified many of the same "problems" in Gaelic and Native American society, and in 1730, the SSPCK expanded into the colonies via a board of correspondents in Boston. Although most of Wheelock's contact with the SSPCK took place through its Boston, New Jersey/New York, and Connecticut boards, he did work directly with the SSPCK parent organization during Occom's fundraising tour of Great Britain (1765-1768). Since Occom was technically sent to England by the Connecticut Board of the SSPCK, it was only natural that his tour include a visit to the parent organization in Edinburgh. The SSPCK, headed by the Marquis of Lothian, issued a bulletin to its member churches which allowed Whitaker and Occom to collect a substantial sum of money with little time or travel. While most of the money that Occom raised went into a trust under the Earl of Dartmouth (the English Trust), the money he raised in Scotland (approximately £2,500) went into an SSPCK-controlled fund that ultimately proved difficult to access. While the English Trust essentially gave Wheelock a blank check for the money it controlled (much of which went toward clearing land and erecting buildings for Dartmouth College), the SSPCK was much more stringent about requiring that the money Occom had raised be applied only to Native American education. As was often the case in the 18th-century British-Atlantic world, religious politics were a powerful motivator. Wheelock and the SSPCK both practiced Reformed Protestant Christianity, but New Hampshire was an Episcopalian colony. To make Wheelock's Reformed Protestantism more palatable to Episcopalian New Hampshire, the New Hampshire governor attempted to make the Anglican Bishop of London a member of the English Trust and possibly the Dartmouth Trustees (the Bishop of London seems to have never replied to the invitation). Dartmouth's geographic association with the Episcopalian Church, in addition to concerns about the use of the fund, gave the SSPCK an incentive to withhold money from Wheelock. It only issued Wheelock £190 throughout his life, although it did provide financial support to Samuel Kirkland out of the fund. It is worth noting that Wheelock seems to have been well aware that he would have trouble getting money from the SSPCK: he went through the entirety of the English Trust's fund before soliciting the SSPCK. Subsequent Dartmouth presidents struggled to access the money, with limited success, until 1893. In 1922, the SSPCK concluded that since Moor's Indian Charity School had become defunct, it was within its rights to devote the remainder of the fund—then valued at £10,000—to other missionary operations.
Moor's Indian Charity School
Moor's Indian Charity School was a grammar school for Native Americans that Eleazar Wheelock opened in North Lebanon, Connecticut in 1754. The school was named for Colonel Joshua Moor, also spelled More, who donated the land and school building. Moor's was essentially an expansion of the grammar school that Wheelock opened in 1743 to support himself during the fallout from the First Great Awakening, when Wheelock, who'd participated in itinerant ministry during the Awakening, had his salary confiscated by the colony of Connecticut. In December of that year, Samson Occom asked Wheelock to teach him as well. Wheelock's work with Occom was so successful that Wheelock decided to replicate the experiment with other Native American boys. He accepted his first Indian students in 1754, and in 1761 began taking female students as well. Wheelock believed that in time, his school would become just one part of a larger missionary enterprise. He planned to send his Anglo American and Native American students to various tribes as missionaries and schoolmasters, with explicit instructions to pick out the best students and send them back to Moor's to continue the cycle. His ultimate goal was to turn his school into a model Christian Indian town that would include farms, a college, and vocational training. However, Wheelock's grand design did not survive the decade. Wheelock lost the vast majority of his Native American students; he fought with many of the best, including Samson Occom, Joseph Johnson, David Fowler, and Hezekiah Calvin, and other former and current students accused him of subjecting Native Americans to disproportionate amounts of manual labor. In 1769, perhaps due to concerns about corporal punishment, the Oneida withdrew all their children from Moor's. When Wheelock relocated to Hanover in 1769, only two Native American students came with him, and it became clear that Wheelock's focus was on Dartmouth and that Dartmouth was for white students. After Wheelock's death in 1779, Moor's Indian Charity School receded further into the background as John Wheelock, his father's reluctant successor, stopped taking Indian students. Some Native American students were enrolled in Moor's until 1850, when the school unofficially closed.
Six Nations
The Six Nations (often called the Haudenosaunee or Iroquois) is a confederacy composed of the Mohawks, Oneidas, Onondagas, Cayugas, Senecas, and Tuscaroras. The first five tribes unified at some point before European contact (dates differ by centuries), and the Tuscaroras joined them in 1722, after colonial violence drove the tribe out of Carolina. The Haudenosaunee occupied much of what is now central New York, and, thus, were sandwiched between French, English, and Dutch territories. They allied with the English against the French early on, just as their arch-enemies, the Huron, allied with the French. Despite the Six Nations' unity, the constituent nations experienced European contact in different ways. The Mohawks and Oneidas, as the two easternmost tribes, had by far the most contact with the English, while the Senecas and Cayugas, the westernmost nations, had little contact with the English (although both hosted French Jesuit missionaries). Mohawk territory was the site of Johnson Hall, the administrative center and home of Sir William Johnson, the British Superintendent for Indian Affairs in the Northeast. The Oneidas, meanwhile, played host to several prominent Anglo-American missionaries and were thought of as the most Christianized Haudenosaunee tribe by many colonists. Eleazar Wheelock became fixated on the Haudenosaunee soon after he established Moor's Indian Charity School in 1754. He saw in them the opportunity for a fresh start, since he believed that New England Indians had assimilated to Anglo-American norms in all the wrong ways (too much rum, too little Christianity). Wheelock established contact with the Haudenosaunee through Sir William Johnson and made the Mohawks and Oneidas the focal point of his missionary efforts for much of the 1760s. The American Revolution had dramatic repercussions for the Haudenosaunee Confederacy. The Mohawks, Senecas, Onondagas, and Cayugas sided with the British, while the Oneidas and Tuscaroras sided with the Americans. Since all Haudenosaunee hold membership in both a tribe (Mohawk, Oneida, etcetera) and a matrilineal clan (bear, wolf, and others), the tribes' divergent alliances brought about political schism and violence within extended families. Furthermore, Haudenosaunee territory was devastated during the war, especially in General Sullivan's 1779 raid on Cayuga and Seneca territory. After the Revolution, many Haudenosaunee who had affiliated with the British relocated to the Grand River Reserve in Canada, while many of the Oneidas and Tuscaroras remained in New York. The Haudenosaunee at the Grand River Reserve established their own council fire, which operated in parallel with the original council fire at Onondaga. Today, both council fires are still active, and each tribe also has its own independent government (as do displaced Haudenosaunee populations, such as the Oneidas of Wisconsin).
The Company for Propagation of the Gospel in New England and the parts adjacent in America
The Company for Propagation of the Gospel in New England and the parts adjacent in America was a missionary society active in America from 1649 until 1786. It was first called the "New England Company" in 1770. Most secondary literature uses that name for convenience and to distinguish it from other missionary societies. The company was first chartered in 1649 as the "President and Society for the Propagation of the Gospel in New England," largely in response to John Eliot's missionary efforts. After the Restoration (1660), it was rechartered as the "Company for Propagation of the Gospel in New England and the parts adjacent in America." The New England Company was very powerful and influential, in large part because it was a coalition between Anglicans and Dissenters. It supported a range of missionaries from the Mayhews to the Sergeants to Moor's alumnus Samuel Kirkland. After the Revolution, the New England Company refocused its attentions on New Brunswick and Canadian Indians. Wheelock had a very rocky relationship with the New England Company. Initially, it supported Wheelock's efforts. The Company funded Occom's education at Moor's and paid him a small salary during his time among the Montauketts. However, from 1765 onwards, its relationship with Wheelock rapidly deteriorated. The Company opposed the fundraising tour of Great Britain and went so far as to interfere with it by sending a widely circulated letter to England questioning Occom's background. The New England Company also interferred with Titus Smith's mission to Onaquaga by sending a rival missionary, Mr. Moseley, and stealing Titus' interpreter, Elisha Gunn. In 1767 it formally withdrew its financial support from Wheelock on the grounds that the fundraising tour had raised sufficient money. It is unclear what led the New England Company to suddenly change its stance towards Wheelock. Perhaps it wanted exclusive power over missionary distribution in New England, or perhaps it was thought that focusing on education over numbers in the field was counterproductive. Most secondary sources have conflated the New England Company's Boston Board and the Society in Scotland for Promoting Christian Knowledge's Boston Board, an easy mistake to make since both are sometimes referred to as the Boston Board and both vigorously opposed Wheelock. Any secondary source's statement about either should be carefully researched.
Lebanon
Lebanon is a town located in the state of Connecticut southwest of the town of Hartford. The land that became Lebanon was inhabited at least 10,000 years ago based on the archeological record. By the 1600s, the land was permanently inhabited by the Mohegan Indians, who used the area primarily for hunting. Lebanon was officially formed in 1700 when English settlers consolidated a number of land tracts, including several land grants by the Connecticut General Assembly and lands purchased from the Mohegans. However, these purchases were controversial. In 1659, the Mohegans entrusted their reserve land to Major John Mason, and in the following year, Mason transferred this land to the Connecticut colonial government with the understanding that there would be enough land left for the Mohegans to farm. The Mohegans claimed that they never authorized a transfer to the colonial government and only Mason's heirs were entrusted with their land. In 1662, Connecticut, which included the Mohegan land that had been entrusted to the Masons, was incorporated by a royal charter. Based on this charter, the colony argued that the land was now the property of the government. In 1687, the colony began granting the Mohegan land to townships, and in 1704 the Masons petitioned the Crown on behalf of the Mohegans, claiming that such transfers of land to townships were illegal. Between the years of 1705 and 1773 legal disputes and controversies persisted, finally ending in a verdict by the Crown against the Mohegans. In 1755, Wheelock received property and housing in Lebanon that he would use as his house and school. While Lebanon was originally incorporated as a part of New London County in 1700, in 1724 it became a part of New Windham, before once again becoming a part of New London County in 1826. Lebanon was central to the American Revolution with half of its adult population fighting for the colonists and hundreds of meetings convened in the town for the revolutionary cause.
Connecticut
Connecticut is a state in southern New England that borders Massachusetts to the north and the Long Island Sound to the south. Its name is derived from the Algonquian "Quonehtacut," meaning "long river," referring to the Connecticut, which runs from the border with Canada into the Long Island Sound. The area was originally inhabited by Algonquian-speaking Pequots, Mohegans, and Quinnipiacs. European settlers took advantage of tribal divisions to establish dominance in the region. Dutch explorer Adrian Block sailed up the Connecticut River in 1614, establishing an active Dutch trading post at what is now Hartford. English claims to Connecticut began in 1630, but settlement truly began when Thomas Hooker, a Congregationalist minister now known as "The Father of Connecticut," left Boston to found Hartford in 1636. Hartford became the center of the Colony of Connecticut, which did not receive its charter until 1662 when Governor John Winthrop, Jr. secured it from Charles II. In 1665, the Colony of New Haven, established in 1638 by the Puritan minister John Davenport, joined the Colony of Connecticut under this charter. Early settler relations with local Indians were tense, and encouraged the New England colonies of Massachusetts Bay, Plymouth, Connecticut, and New Haven to unify as the "United Colonies" or "New England Confederation" and fight together, with Indian allies, in the Pequot War and again in King Philip's (Metacom's) War. These wars helped establish a specifically Connecticut and specifically American identity; the latter drove the colony to join the rebellion against Britain in 1776. Occom, born into a Mohegan household in Connecticut, was closely associated with the Colony and retained strong ties to the region throughout his life. He converted to Christianity in 1743 when the Great Awakening spread through Connecticut, and inspired Wheelock's Indian Charity School, which was founded in Lebanon, CT in 1754. He also became involved in the Mason Land Case, a long-standing dispute over the ownership of reserve Mohegan lands in Connecticut. Wheelock also had strong ties to Connecticut, moving his Indian Charity School only when the colony would not grant it a charter.
Wheelock, Eleazar
Eleazar Wheelock was a New Light Congregationalist minister who founded Dartmouth College. He was born into a very typical Congregationalist family, and began studying at Yale in 1729, where he fell in with the emerging New Light clique. The evangelical network that he built in college propelled him to fame as an itinerant minister during the First Great Awakening and gave him many of the contacts that he later drew on to support his charity school for Native Americans. Wheelock's time as an itinerant minister indirectly brought about his charity school. When the Colony of Connecticut retroactively punished itinerant preaching in 1743, Wheelock was among those who lost his salary. Thus, in 1743, he began operating a grammar school to support himself. He was joined that December by Samson Occom, a Mohegan Indian, who sought out an education in hopes of becoming a teacher among his people. Occom's academic success inspired Wheelock to train Native Americans as missionaries. To that end, he opened Moor's Indian Charity School in 1754 (where he continued to train Anglo-American students who paid their own way as well as students who functionally indentured themselves to Wheelock as missionaries in exchange for an education). Between 1754 and 1769, when he relocated to New Hampshire, Wheelock trained approximately 60 male and female Native American students from nearby Algonquian tribes and from the Haudenosaunee (Iroquois) of central New York. At the same time, he navigated the complicated politics of missionary societies by setting up his own board of the Society in Scotland for Propagating Christian Knowledge, although he continued to feud with the Boston Board of the SSPCK and the London Commissioners in Boston (more colloquially called the New England Company). By the late 1760s, Wheelock had become disillusioned with the idea of Native American education. He was increasingly convinced that educating Native Americans was futile (several of his students had failed to conform to his confusing and contradictory standards), and, in late 1768, he lost his connection to the Haudenosaunee. With his inclination and ability to sponsor Native American missionaries largely depleted, Wheelock sought instead to fulfill his ultimate ambition of obtaining a charter and opening a college, which he did in 1769. To fund this new enterprise, Wheelock drew on the £12,000 that Samson Occom had raised for Moor's Indian Charity School during a two-and-a-half year tour of Great Britain (1765 to 1768). Much of this money went towards clearing land and erecting buildings in New Hampshire for the Charity School's relocation — infrastructure that also happened to benefit Dartmouth. Many of Wheelock's contemporaries were outraged by what they saw as misuse of the money, as it was clear that Dartmouth College was not intended for Indians and that Moor's had become a side project. Although Wheelock tried to maintain at least some commitment to Native American education by recruiting students from Canadian communities, the move did a great deal of damage to his public image. The last decade of Wheelock's life was not easy. In addition to the problems of trying to set up a college far away from any Anglo-American urban center, Wheelock experienced the loss of relationships with two of his most famous and successful students, Samson Occom and Samuel Kirkland (an Anglo-American protégé). He also went into debt for Dartmouth College, especially after the fund raised in Britain was exhausted.
Occom, Samson
Samson Occom was a Mohegan leader and ordained Presbyterian minister. Occom began his public career in 1742, when he was chosen as a tribal counselor to Ben Uncas II. The following year, he sought out Eleazar Wheelock, a young Anglo-American minister in Lebanon, CT, in hopes of obtaining some education and becoming a teacher at Mohegan. Wheelock agreed to take on Occom as a student, and though Occom had anticipated staying for a few weeks or months, he remained with Wheelock for four years. Occom's academic success inspired Wheelock to open Moor's Indian Charity School in 1754, a project which gave him the financial and political capital to establish Dartmouth College in 1769. After his time with Wheelock, Occom embarked on a 12-year mission to the Montauk of Long Island (1749-1761). He married a Montauk woman, Mary Fowler, and served as both teacher and missionary to the Montauk and nearby Shinnecock, although he was grievously underpaid for his services. Occom conducted two brief missions to the Oneida in 1761 and 1762 before embarking on one of the defining journeys of his career: a fundraising tour of Great Britain that lasted from 1765 to 1768. During this journey, undertaken on behalf of Moor's Indian Charity School, Occom raised £12,000 (an enormous and unanticpated amount that translates roughly to more than two-million dollars), and won wide acclaim for his preaching and comportment. Upon his return to Mohegan in 1768, Occom discovered that Wheelock had failed to adequately care for his family while he was gone. Additionally, despite the vast sums of money that he had raised, Occom found himself unemployed. Wheelock tried to find Occom a missionary position, but Occom was in poor health and disinclined to leave his family again after seeing the treatment with which they had met while he was in Britain. Occom and Wheelock's relationship continued to sour as it became apparent to Occom that the money he had labored to raise would be going towards infrastructure at Dartmouth College, Wheelock's new project, rather than the education of Native Americans. After the dissolution of his relationship with Wheelock, Occom became increasingly focused on the needs of the Mohegan community and increasingly vocal in criticizing Anglo-Americans' un-Christian treatment of Native Americans. In September of 1772, he delivered his famous "Sermon on the Execution of Moses Paul," which took Anglo-American spiritual hypocrisy as one of its major themes, and which went into four printings before the end of the year. In 1773, Occom became further disillusioned when the Mason Land Case was decided in favor of the Colony of Connecticut. The details of the Mason Case are complicated, but to summarize: the Colony of Connecticut had gained control of Mohegan land early in the 18th century under very suspect circumstances, and successfully fended off the Mohegan's 70-year-long legal challenge. The conclusion of the case came as a blow to the Mohegans, and further convinced Occom of Anglo-American corruption. Along with David Fowler (Montauk Tribe), Occom's brother-in-law, and Joseph Johnson (Mohegan), Occom's son-in-law, Occom helped found Brothertown, an Indian tribe formed from the Christian Mohegans, Pequots, Narragansetts, Montauks, Tunxis, and Niantics. They eventually settled in Oneida country in upstate New York. Occom moved there with his family in 1789, spending the remaining years of his life serving as a minster to the Brothertown, Stockbridge, and Mohegan Indians. Harried by corrupt land agents, the Brothertown and Stockbridge groups relocated to the eastern shore of Lake Winnebago, though Occom died in 1792 before he could remove himself and his family there. Occom's writings and legacy have made him one of the best known and most eminent Native Americans of the 18th century and beyond.
Ashpo, Samuel
Ashpo was born into a very powerful Mohegan family, considered equal to the Uncas line, and became an influential Mohegan preacher. He was converted at Mohegan during the Great Awakening, and became a schoolteacher among the Indians at Mushantuxet from 1753 until 1757 and from 1759 until 1762, when he left to attend Moor's. Between 1757 and 1759, he worked as an interpreter, and supposedly struggled with alcohol. He attended Moor's for only six months, and then continued his teaching and missionary career on successive trips to Chenango (the first was cut short because of violence in the region). On July 1, 1767, the Connecticut Board dismissed him from their service because of further charges of drinking. He continued to preach successfully to various New England Indian tribes until his death in 1795. The variations of his name exist in part because Ashpo is an abbreviated form of Ashobapow.
Smith, Charles Jeffery
Charles Jeffery Smith was an independently funded Presbyterian missionary and itinerant preacher. After his father's early death, Smith inherited a large private income. Instead of enjoying a life of leisure, he chose to complete his education at Yale and then become a missionary. After graduating, he taught at Moor's Indian Charity School, gratis, for a few months in 1763. His first mission, and his only mission among Indians, was a 1763 endeavor to the Six Nations, accompanied by then-student Joseph Brant as an interpreter. However, Pontiac's War forced them to return. Although Smith continued his missionary career, he focused on slaves in the Mid/South-Atlantic region and English-colonist congregations. Smith held several important roles in Wheelock's Grand Design. He was Wheelock's heir-once-removed (after Whitaker) in Wheelock's 1767 will, and was proposed as Occom's companion on the 1765 fundraising tour. Wheelock consulted Smith about the location of what was to be Dartmouth College (Smith proposed Virginia or South Carolina), and solicited him as an envoy to the Six Nations in 1768; when Smith refused, the job fell to Ralph Wheelock, who severely alienated the Haudenosaunee (Iroquois) and Sir William Johnson. Smith's residence was in Virginia at the time of his death, but he actually died in Long Island while visiting his family, from a gunshot wound sustained while hunting. It is unclear whether this was murder, an accidental shot, or suicide.
Frederick, George William
George William Frederick (King George III) became heir to the throne of England in 1751 upon the death of his father Frederick, Prince of Wales. He became King George III of England in the fall of 1760 at age 22, following the death of his grandfather King George II. George III passed many important edicts during his reign including that of the Royal Marriage Act of 1772; the Treaty of Paris in 1762, which ended the Seven Years War; the Stamp Act of 1765; and the Townshend Duties of 1767. However, he is most well-known for being the reigning monarch during the Revolutionary War. After the surrender of British forces to the Americans in 1782, George III considered abdicating the throne, but chose not to do so because he felt it would be too detrimental to Britain. The last 30 years of George's life were plagued with illness. In 1788 he had the first of many attacks of insanity, now believed to have been caused by an inherited disease known as porphyria. With George III unfit to rule, it was decided that his son George would become regent, an arrangement which was made permanent in 1810. King George III died on January 29, 1820 at the age of 81 after a reign of nearly 60 years (the third longest in British history). He was succeeded by his son George IV.