Samson Occom, letter, to Mary Occom, 1763 June 1
ms-number: 763351
abstract: On the eve of his departure for a mission, Occom writes with instructions for management of the farm in his absence.
handwriting: Handwriting is clear and legible, though letter case is frequently difficult to decipher, especially with regard to the letters "s" and "y."
paper: Large sheet folded in half to make four pages is in fair-to-poor condition, with moderate-to-heavy creasing, staining and wear.
ink: Brown-black.
noteworthy: On two verso, adhered to the top-left corner of the page, is a typed note that reads: "307 OCCOM, Samson. Famous Indian preacher. A. L. S. 1 p. 4to. 1763. Fine and very rare .................. 4 00" This piece of paper and the remnants of modern paper on the edge of two verso suggest that the letter may have been glued into a book to be sold. The letter is stuck together at the center and does not open completely.
events: Occom's Third Mission to the Oneidas
---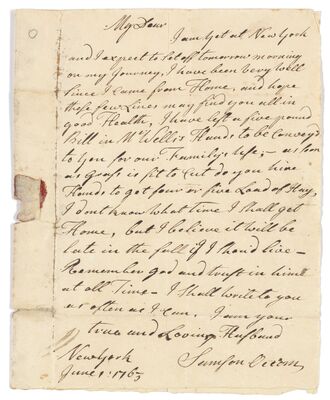 (View Page Image)
My Dear

I am yet at
New York
and I expect to set off tomorrow morning
on my Journey, I have been very well
Since I came from Home, and hope
theſe few Lines may find you all in
good Health, I have left a five pound
Bill in
M

r

Wells's
Hands to be convey'd
to You for our Family's uſe; — as soon
as Graſs is fit to Cut do you hire
Hands to get four or five Load of Hay,
I dont know what time I shall get
Home, but I believe it will be
late in the fall if I shou'd live —
Remember god and truſt in him
at all Time — I Shall write to you
as often as I Can,
I am your
true and Loving Huſband
Samſon Occom
New York
June 1: 1763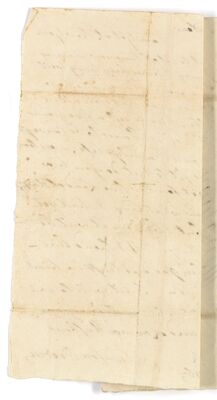 (View Page Image)
Blank page.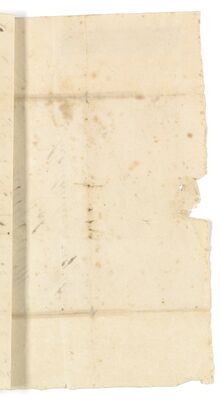 (View Page Image)
Blank page.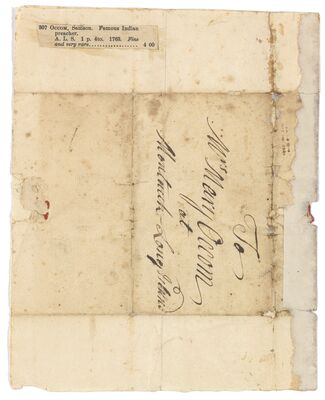 (View Page Image)
To
M

rs

Mary Occom
at
Montauk
—
Long Island
Montauk
Montauk is an unincorporated hamlet located on the eastern tip of Long Island in southeastern New York. The town was named after the Montaukett Indians who lived on much of eastern Long Island when Europeans first made contact in the 17th century. Archeological records show that Native Americans occupied eastern Long Island at least 3,000 years prior to European contact. The Montaukett Indians derived their name from the land they lived on, Montaukett meaning hilly country. The Montauketts made great use of Long Island's abundant resources, and the nation subsisted by growing crops such as corn, squash, and beans as well as gathering berries, herbs, and roots. In addition to game such as deer and fish, the Montauketts also hunted whales and used every part of the whale, including its oil, which they burned in large clamshells. Living on an island at first isolated the Montaukett people, but they soon became a strong economic force in the region thanks to the production of the American Indian currency wampum. Wampum was constructed out of polished sea shells, which were found in abundance along Long Island's beaches. The Montauketts' rich resources, however, led to wars with surrounding Indian nations, including the Pequots and Narragansetts to the north. The Pequots eventually forced the Montauketts to forfeit wampum as tribute. By the early 17th century, the Montauketts were faced with wars against surrounding Native Americans and an onslaught of European diseases, and in order to preserve his nation's territorial integrity, the Montaukett sachem, Wyandanch, established an alliance with English settlers in Connecticut in 1637. Over time, however, the Montauketts' began selling off land to the English settlers, and disease further decimated their numbers. A 1650 smallpox epidemic killed around two-thirds of the Montaukett people. In 1665, Wyandanch granted the English permission to pasture livestock on Montaukett lands. In 1686 a group of East Hampton settlers known as the Proprietors bought the territory of Montauk from the Montauketts, and would continue to hold on to the land in a joint trust for the next 200 years. Despite attempts over the years, the town has never been incorporated as a village. Many years later, the Montauketts attempted to reassert their land rights on Long Island by petitioning New York State Judge Abel Blackmar in 1909. Blackmar refused to recognize the Montauketts as an Indian tribe, which has to this day left them without a reservation on the land that still bears their name.
Long Island
Long Island is an island located in southeast New York State. In 1824, historian Silas Wood claimed that 13 different tribes inhabited the island when the Dutch and English arrived in 1639: the Canarsie, the Rockaway, the Matinecock, the Merrick, the Massapequa, the Nissequoge, the Secatoag, the Seatuket, the Patchoag, the Corchaug, the Shinnecock, the Manhasset, and the Montaukett. This is the commonly accepted tribal history of Long Island, and Wood's theory is taught in New York textbooks today. Yet, in 1992, historian John Strong challenged this dominant narrative, arguing that tribal systems did not develop on Long Island until after Europeans arrived. Based on Dutch and English colonists' accounts, the Algonquian communities on western Long Island likely spoke the Delaware-Munsee dialect and those to the east spoke languages related to the southern New England Algonquian dialects. These indigenous peoples organized themselves by language and kinship, but beyond village systems and the occasional alliance, there existed no formal tribal structure. Rather, internal structures arose among the Montauks, the Shinnecocks, the Poospatucks, and the Matinnocks to cope with English settlers, and became integral to these peoples' survival. Although new diseases and land negotiations severely encroached on the freedom of Long Island's Native population, these groups that developed tribal structures retain a sense of community today. By the 18th century, much of the island had fallen into the hands of the English, who were the sole European power on Long Island once the Dutch relinquished their claims to the land after the second Anglo-Dutch War in 1664. During the Great Awakening of the 18th century, Occom spent 12 years serving as a missionary to the Montaukett Indians of Long Island, along with Presbyterian minister Azariah Horton. Today, the western half of the island is densely populated due to its proximity to Manhattan, and its eastern half is mainly devoted to resort towns. The Shinnecocks and the Poospatucks retain autonomous reservations on Long Island.
Occom, Samson
Samson Occom was a Mohegan leader and ordained Presbyterian minister. Occom began his public career in 1742, when he was chosen as a tribal counselor to Ben Uncas II. The following year, he sought out Eleazar Wheelock, a young Anglo-American minister in Lebanon, CT, in hopes of obtaining some education and becoming a teacher at Mohegan. Wheelock agreed to take on Occom as a student, and though Occom had anticipated staying for a few weeks or months, he remained with Wheelock for four years. Occom's academic success inspired Wheelock to open Moor's Indian Charity School in 1754, a project which gave him the financial and political capital to establish Dartmouth College in 1769. After his time with Wheelock, Occom embarked on a 12-year mission to the Montauk of Long Island (1749-1761). He married a Montauk woman, Mary Fowler, and served as both teacher and missionary to the Montauk and nearby Shinnecock, although he was grievously underpaid for his services. Occom conducted two brief missions to the Oneida in 1761 and 1762 before embarking on one of the defining journeys of his career: a fundraising tour of Great Britain that lasted from 1765 to 1768. During this journey, undertaken on behalf of Moor's Indian Charity School, Occom raised £12,000 (an enormous and unanticpated amount that translates roughly to more than two-million dollars), and won wide acclaim for his preaching and comportment. Upon his return to Mohegan in 1768, Occom discovered that Wheelock had failed to adequately care for his family while he was gone. Additionally, despite the vast sums of money that he had raised, Occom found himself unemployed. Wheelock tried to find Occom a missionary position, but Occom was in poor health and disinclined to leave his family again after seeing the treatment with which they had met while he was in Britain. Occom and Wheelock's relationship continued to sour as it became apparent to Occom that the money he had labored to raise would be going towards infrastructure at Dartmouth College, Wheelock's new project, rather than the education of Native Americans. After the dissolution of his relationship with Wheelock, Occom became increasingly focused on the needs of the Mohegan community and increasingly vocal in criticizing Anglo-Americans' un-Christian treatment of Native Americans. In September of 1772, he delivered his famous "Sermon on the Execution of Moses Paul," which took Anglo-American spiritual hypocrisy as one of its major themes, and which went into four printings before the end of the year. In 1773, Occom became further disillusioned when the Mason Land Case was decided in favor of the Colony of Connecticut. The details of the Mason Case are complicated, but to summarize: the Colony of Connecticut had gained control of Mohegan land early in the 18th century under very suspect circumstances, and successfully fended off the Mohegan's 70-year-long legal challenge. The conclusion of the case came as a blow to the Mohegans, and further convinced Occom of Anglo-American corruption. Along with David Fowler (Montauk Tribe), Occom's brother-in-law, and Joseph Johnson (Mohegan), Occom's son-in-law, Occom helped found Brothertown, an Indian tribe formed from the Christian Mohegans, Pequots, Narragansetts, Montauks, Tunxis, and Niantics. They eventually settled in Oneida country in upstate New York. Occom moved there with his family in 1789, spending the remaining years of his life serving as a minster to the Brothertown, Stockbridge, and Mohegan Indians. Harried by corrupt land agents, the Brothertown and Stockbridge groups relocated to the eastern shore of Lake Winnebago, though Occom died in 1792 before he could remove himself and his family there. Occom's writings and legacy have made him one of the best known and most eminent Native Americans of the 18th century and beyond.
Occom, Mary (née Fowler)
Mary Occom (née Fowler) was a Montaukett woman who married Samson Occom. Although information about her is limited and often comes from male, Anglo-American sources, it offers a tantalizing glimpse of her strength, as well as an alternative to the Eleazar Wheelock-centered narrative of Occom's life that often dominates the latter's biography. Mary was born into the influential Fowler family at Montauk, Long Island. She met Samson during his missionary service there (1749-1761). Mary studied at Samson's school along with her brothers David and Jacob, and was almost certainly literate. She and Samson married in 1751. Wheelock and several other Anglo-American powers opposed their union because they worried it might distract Occom from being a missionary (as, indeed, family life did), and thus many scholars have read in Samson and Mary's marriage an act of resistance against Samson's domineering former teacher. Little information about the minutiae of Mary's life survives, but existing sources speak volumes about her character and priorities. In front of Anglo-American missionaries visiting the Occoms' English-style house at Mohegan, Mary would insist on wearing Montaukett garb and, when Samson spoke to her in English, she would only reply in Montaukett, despite the fact that she was fluent in English. Mary Occom was, in many ways, Wheelock's worst fear: that his carefully groomed male students would marry un-Anglicized Indian women. It is not a stretch to imagine that Mary provided much of the incentive for Wheelock to begin taking Indian girls into his school, lest his other protégés replicate Samson's choice. Much of our information about Mary comes from between 1765 and 1768, when Samson was fundraising in Great Britain. Despite promising to care for Samson's wife and family (at the time they had seven children), Wheelock, by every objective measure, failed to do so, and Mary's complaints are well documented. Hilary Wyss reads in Wheelock's neglect (and in letters from the time) a more sinister story, and concludes that on some level Wheelock was holding Samson's family hostage, in return for Occom curtailing his political beliefs on the Mason Case. Wyss also notes Mary's remarkable survivance in this situation. Mary drew on various modes of contact, from letters to verbal communication with influential women (including Sarah Whitaker, the wife of Samson's traveling companion, and Wheelock's own daughters), to shame Wheelock into action and demand what she needed. One of the major struggles in Mary's life, and in Samson's, was with their sons. Both Aaron and Benoni failed to live up to their parents' expectations. Aaron attended, and left, Moor's Indian Charity School three times, and both Aaron and Benoni struggled with alcohol and refused to settle down. The Occom daughters did not cause similar problems. Given the nature of existing sources, little is known about Mary after Samson and Wheelock lessened their communication in 1771. Joanna Brooks has conjectured that Mary was likely influential in Samson's Mohegan community involvement later in life, for instance, in his continued ministry to Mohegan and, perhaps, his increasingly vehement rejection of Anglo-American colonial practices.
Occom's Third Mission to the Oneidas
In May 1763, Occom, accompanied by Samuel Ashpo, another Mohegan minister, sets out on his third mission to the Oneidas but cannot get to New York because of the outbreak of Pontiac's War.