Samson Occom, letter, to Eleazar Wheelock, 1762 May 12
ms-number: 762312
abstract: Occom expresses gratitude toward the Boston Commissioners for past and present help, and reports that the controversies between Samuel Ashpo and the Indians he is teaching prevents Occom from receiving Ashpo.
handwriting: Handwriting is largely clear and legible.
paper: Large sheet folded in half is in good condition, with light-to-moderate creasing, staining and wear. A tear around the remnants of the seal results in no loss of text.
ink: Black-brown ink fades in and out.
layout: First page of letter is on one verso, not one recto.
events: Occom's Second Mission to the Oneidas
---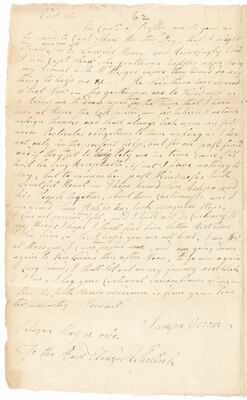 (View Page Image)
Rev

d

Sir

The Com

rs

of >Boſton
are So good as
to send to
Cap

t

Shaw
the other Day, that I might
Draw
⇑
upon 'em
for
£
20 Lawful Money, and Accordingly I hav
⇑
e
I told
Cap

t

Shaw
, the gentlemen inſiſted upon Seeing
my Acount with
M

r

Hedges
before they wou'd do any
thing to help me &c — — He Said there was no need
of that Now, — the gentlemen ar
[illegible]
e so Kind alſo as
to Allow me to draw upon
⇑
them
for the Time that I have
been at Home the laſt winter, — for which I return
unfeign thanks and shall always look upon my ſelf
under Perticular obligations to them as long as I live
not only for the perſent help, but for all paſt favou
⇑
rs
—
and if they
⇑
See
fit to
help
Pity me in time Come,
[illegible]
it
will be very Acceptable, if not I have nothing to
Say, but to remember paſt Kindneſes with
greatful Heart — I have heard
Sam Ashpo
and
his People together, about their Controverſes, and I
am afraid
Sam Ashpo
[illegible]
has took irragular Steps,
I Can not receive
⇑
him
Yet, and I will not do Contrary to
my Mind, — I hope I Shall find him better Next time
I See him, — Sir. I hope you are all well, I am Now
at
Mohegan
, I Came
⇑
here
before noon, and am going down
again to
New London
this after Noon, to go over again
to
Long Island
, — I Shall set out on my Journey next Week
if I Can, I beg your Continual remembrance of me —
this Sir, with Sincere obediance is from your true
tho' unworthy Servant



Samſon Occom





Mohegan

May 12 1762



To the Rev.

d

Eleazer Wheelock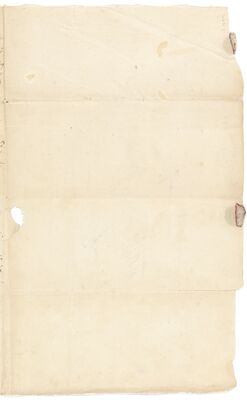 (View Page Image)
Blank page.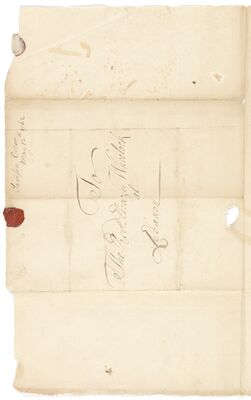 (View Page Image)
To
The Rev
d
Eleazar Wheelock
at
Lebanon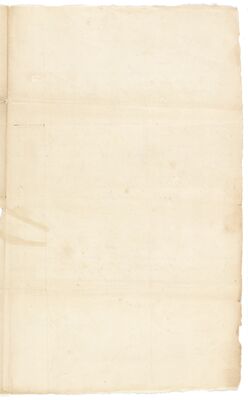 (View Page Image)
Blank page.
The Company for Propagation of the Gospel in New England and the parts adjacent in America
The Company for Propagation of the Gospel in New England and the parts adjacent in America was a missionary society active in America from 1649 until 1786. It was first called the "New England Company" in 1770. Most secondary literature uses that name for convenience and to distinguish it from other missionary societies. The company was first chartered in 1649 as the "President and Society for the Propagation of the Gospel in New England," largely in response to John Eliot's missionary efforts. After the Restoration (1660), it was rechartered as the "Company for Propagation of the Gospel in New England and the parts adjacent in America." The New England Company was very powerful and influential, in large part because it was a coalition between Anglicans and Dissenters. It supported a range of missionaries from the Mayhews to the Sergeants to Moor's alumnus Samuel Kirkland. After the Revolution, the New England Company refocused its attentions on New Brunswick and Canadian Indians. Wheelock had a very rocky relationship with the New England Company. Initially, it supported Wheelock's efforts. The Company funded Occom's education at Moor's and paid him a small salary during his time among the Montauketts. However, from 1765 onwards, its relationship with Wheelock rapidly deteriorated. The Company opposed the fundraising tour of Great Britain and went so far as to interfere with it by sending a widely circulated letter to England questioning Occom's background. The New England Company also interferred with Titus Smith's mission to Onaquaga by sending a rival missionary, Mr. Moseley, and stealing Titus' interpreter, Elisha Gunn. In 1767 it formally withdrew its financial support from Wheelock on the grounds that the fundraising tour had raised sufficient money. It is unclear what led the New England Company to suddenly change its stance towards Wheelock. Perhaps it wanted exclusive power over missionary distribution in New England, or perhaps it was thought that focusing on education over numbers in the field was counterproductive. Most secondary sources have conflated the New England Company's Boston Board and the Society in Scotland for Promoting Christian Knowledge's Boston Board, an easy mistake to make since both are sometimes referred to as the Boston Board and both vigorously opposed Wheelock. Any secondary source's statement about either should be carefully researched.
Boston
The first English immigrant to settle on a peninsula in a harbor on the northeastern coast of North America the local Algonquin Indians called "Shawmet" was William Blackstone in 1629. A year later, John Winthrop arrived with a group of English Puritans and other settlers and named the area Boston after his hometown in Lincolnshire, England. The colony quickly developed representative political institutions that would help shape a democratic nation. Over the next few centuries, Boston emerged as an intellectual and educational center, and, because of its excellent harbor, became a leading commercial hub and a primary port for North America. It is the capital and largest city of the Commonwealth of Massachusetts, and the largest city in New England. Boston was the home for the Boards of Commissioners of several overseas religious societies who sent missionaries throughout the colonies in the 18th century, and was the site of many important events of the American Revolution.
Mohegan
Mohegan is a village in southeastern Connecticut at the site of the present-day town of Montville, and is the location of the Mohegan Indian Reservation. The village gets its name from the Mohegan Tribe, or wolf people, who split from the Pequots in the early 17th century under the leadership of the sachem Uncas. In the 1720s, the Mohegans requested the colony of Connecticut provide them with an English educator. An English minister and schoolteacher named John Mason (no relation to Captain John Mason) moved to Mohegan in order to provide English-styled education to the Mohegans, convinced his sponsors, the New England Company, to build a schoolhouse at Mohegan, which eventually served as a boarding school for other Native American children from the surrounding area. During the 17th century, the Mohegan Tribe became embroiled in a complicated controversy over control of Mohegan land — known as the Mason Land Case or, more specifically, Mohegan Indians v. Connecticut — that included the village of Mohegan. The Tribe claimed that it never authorized a transfer of their lands, held in trust by the Mason family, to the colonial government. In 1662, the colony of Connecticut was incorporated by a royal charter, which included the disputed tribal land. The land controversy was revived in 1704 when descendants of John Mason, the original trustee, petitioned the Crown on behalf of the Mohegans, but the suit was finally decided against the Tribe in 1773. Born in Mohegan, Occom became involved in the Mason Land Case and vehemently argued for the rights of the Mohegan Indians to maintain their land, opposing Eleazar Wheelock and other ministers in the area. Although Occom left Mohegan for a 12-year mission with the Montauk Indians of Long Island, he returned at the end of 1763 with his large family to build a house in Mohegan, establishing it as his base of operations. Even after the creation of the Brothertown settlement in Oneida country, for which he served as minister, Occom continued to commute back and forth from Mohegan; he didn't sell his house in Mohegan and move his family to Brothertown until 1789. Many members of his family remained in Mohegan, including his sister Lucy Tantaquidgeon, who lived there until her death at 99 in 1830.
New London
New London is a city located in southeastern Connecticut along an estuary of the Atlantic Ocean called Long Island Sound. The area that would become New London was inhabited by the Pequots who called it Nameaug when the Europeans arrived in North America. Pequot villages bordered Long Island Sound and the Tribe had authority over the neighboring Tribes of the Mohegans and Niantics (all Algonquian-speaking tribes). The Dutch first explored this land in 1614 and established trade with the Native peoples, but the English soon gained possession of the land east of the Hudson in the 1630s. English animosity toward their Indian neighbors led to the Pequot War (1634-38), part of which took place in the present city of New London. The Pequots lost the war and their population deteriorated due to the violence and disease. The General Court of Massachusetts granted John Winthrop possession of Pequot territory in 1644 after which it was to be opened for settlement. By 1646, which is considered the official year of its founding, New London had permanent colonial inhabitants and municipal laws, and jurisdiction was granted to the colony of Connecticut in 1647. In 1658, the inhabitants renamed the town New London after London, England. New London was the colony of Connecticut's first trading port and was a hub of trade with the West Indies and other colonies. Though initially part of the town of New London when it was first settled by the colonists, Groton, Montville, and Waterford were each separated from New London in 1705, 1786, and 1801 respectively. Present-day Salem was also part of New London when it was settled, but in 1819, it became a separate incorporated town composed of parts of Lyme, Colchester, and Montville. Occom kept a school in New London in the winter in 1748. New London was the home of Captain Nathaniel Shaw, one of the wealthiest merchants in the area, who gave money to Occom in the 1750s for the missionary cause and also sold materials to Occom for the building of his home. However, their positive relationship ended when Shaw refused to provide supplies for Mary Occom while Occom was in England. New London served as the port from which Occom and other missionaries traveled to reach Long Island. During the American Revolution, New London's location and its status as a seaport made it both vulnerable to invasion and integral to colonial naval operations as well as the exchange of prisoners.New London was incorporated as a city in 1784.
Long Island
Long Island is an island located in southeast New York State. In 1824, historian Silas Wood claimed that 13 different tribes inhabited the island when the Dutch and English arrived in 1639: the Canarsie, the Rockaway, the Matinecock, the Merrick, the Massapequa, the Nissequoge, the Secatoag, the Seatuket, the Patchoag, the Corchaug, the Shinnecock, the Manhasset, and the Montaukett. This is the commonly accepted tribal history of Long Island, and Wood's theory is taught in New York textbooks today. Yet, in 1992, historian John Strong challenged this dominant narrative, arguing that tribal systems did not develop on Long Island until after Europeans arrived. Based on Dutch and English colonists' accounts, the Algonquian communities on western Long Island likely spoke the Delaware-Munsee dialect and those to the east spoke languages related to the southern New England Algonquian dialects. These indigenous peoples organized themselves by language and kinship, but beyond village systems and the occasional alliance, there existed no formal tribal structure. Rather, internal structures arose among the Montauks, the Shinnecocks, the Poospatucks, and the Matinnocks to cope with English settlers, and became integral to these peoples' survival. Although new diseases and land negotiations severely encroached on the freedom of Long Island's Native population, these groups that developed tribal structures retain a sense of community today. By the 18th century, much of the island had fallen into the hands of the English, who were the sole European power on Long Island once the Dutch relinquished their claims to the land after the second Anglo-Dutch War in 1664. During the Great Awakening of the 18th century, Occom spent 12 years serving as a missionary to the Montaukett Indians of Long Island, along with Presbyterian minister Azariah Horton. Today, the western half of the island is densely populated due to its proximity to Manhattan, and its eastern half is mainly devoted to resort towns. The Shinnecocks and the Poospatucks retain autonomous reservations on Long Island.
Lebanon
Lebanon is a town located in the state of Connecticut southwest of the town of Hartford. The land that became Lebanon was inhabited at least 10,000 years ago based on the archeological record. By the 1600s, the land was permanently inhabited by the Mohegan Indians, who used the area primarily for hunting. Lebanon was officially formed in 1700 when English settlers consolidated a number of land tracts, including several land grants by the Connecticut General Assembly and lands purchased from the Mohegans. However, these purchases were controversial. In 1659, the Mohegans entrusted their reserve land to Major John Mason, and in the following year, Mason transferred this land to the Connecticut colonial government with the understanding that there would be enough land left for the Mohegans to farm. The Mohegans claimed that they never authorized a transfer to the colonial government and only Mason's heirs were entrusted with their land. In 1662, Connecticut, which included the Mohegan land that had been entrusted to the Masons, was incorporated by a royal charter. Based on this charter, the colony argued that the land was now the property of the government. In 1687, the colony began granting the Mohegan land to townships, and in 1704 the Masons petitioned the Crown on behalf of the Mohegans, claiming that such transfers of land to townships were illegal. Between the years of 1705 and 1773 legal disputes and controversies persisted, finally ending in a verdict by the Crown against the Mohegans. In 1755, Wheelock received property and housing in Lebanon that he would use as his house and school. While Lebanon was originally incorporated as a part of New London County in 1700, in 1724 it became a part of New Windham, before once again becoming a part of New London County in 1826. Lebanon was central to the American Revolution with half of its adult population fighting for the colonists and hundreds of meetings convened in the town for the revolutionary cause.
Occom, Samson
Samson Occom was a Mohegan leader and ordained Presbyterian minister. Occom began his public career in 1742, when he was chosen as a tribal counselor to Ben Uncas II. The following year, he sought out Eleazar Wheelock, a young Anglo-American minister in Lebanon, CT, in hopes of obtaining some education and becoming a teacher at Mohegan. Wheelock agreed to take on Occom as a student, and though Occom had anticipated staying for a few weeks or months, he remained with Wheelock for four years. Occom's academic success inspired Wheelock to open Moor's Indian Charity School in 1754, a project which gave him the financial and political capital to establish Dartmouth College in 1769. After his time with Wheelock, Occom embarked on a 12-year mission to the Montauk of Long Island (1749-1761). He married a Montauk woman, Mary Fowler, and served as both teacher and missionary to the Montauk and nearby Shinnecock, although he was grievously underpaid for his services. Occom conducted two brief missions to the Oneida in 1761 and 1762 before embarking on one of the defining journeys of his career: a fundraising tour of Great Britain that lasted from 1765 to 1768. During this journey, undertaken on behalf of Moor's Indian Charity School, Occom raised £12,000 (an enormous and unanticpated amount that translates roughly to more than two-million dollars), and won wide acclaim for his preaching and comportment. Upon his return to Mohegan in 1768, Occom discovered that Wheelock had failed to adequately care for his family while he was gone. Additionally, despite the vast sums of money that he had raised, Occom found himself unemployed. Wheelock tried to find Occom a missionary position, but Occom was in poor health and disinclined to leave his family again after seeing the treatment with which they had met while he was in Britain. Occom and Wheelock's relationship continued to sour as it became apparent to Occom that the money he had labored to raise would be going towards infrastructure at Dartmouth College, Wheelock's new project, rather than the education of Native Americans. After the dissolution of his relationship with Wheelock, Occom became increasingly focused on the needs of the Mohegan community and increasingly vocal in criticizing Anglo-Americans' un-Christian treatment of Native Americans. In September of 1772, he delivered his famous "Sermon on the Execution of Moses Paul," which took Anglo-American spiritual hypocrisy as one of its major themes, and which went into four printings before the end of the year. In 1773, Occom became further disillusioned when the Mason Land Case was decided in favor of the Colony of Connecticut. The details of the Mason Case are complicated, but to summarize: the Colony of Connecticut had gained control of Mohegan land early in the 18th century under very suspect circumstances, and successfully fended off the Mohegan's 70-year-long legal challenge. The conclusion of the case came as a blow to the Mohegans, and further convinced Occom of Anglo-American corruption. Along with David Fowler (Montauk Tribe), Occom's brother-in-law, and Joseph Johnson (Mohegan), Occom's son-in-law, Occom helped found Brothertown, an Indian tribe formed from the Christian Mohegans, Pequots, Narragansetts, Montauks, Tunxis, and Niantics. They eventually settled in Oneida country in upstate New York. Occom moved there with his family in 1789, spending the remaining years of his life serving as a minster to the Brothertown, Stockbridge, and Mohegan Indians. Harried by corrupt land agents, the Brothertown and Stockbridge groups relocated to the eastern shore of Lake Winnebago, though Occom died in 1792 before he could remove himself and his family there. Occom's writings and legacy have made him one of the best known and most eminent Native Americans of the 18th century and beyond.
Wheelock, Eleazar
Eleazar Wheelock was a New Light Congregationalist minister who founded Dartmouth College. He was born into a very typical Congregationalist family, and began studying at Yale in 1729, where he fell in with the emerging New Light clique. The evangelical network that he built in college propelled him to fame as an itinerant minister during the First Great Awakening and gave him many of the contacts that he later drew on to support his charity school for Native Americans. Wheelock's time as an itinerant minister indirectly brought about his charity school. When the Colony of Connecticut retroactively punished itinerant preaching in 1743, Wheelock was among those who lost his salary. Thus, in 1743, he began operating a grammar school to support himself. He was joined that December by Samson Occom, a Mohegan Indian, who sought out an education in hopes of becoming a teacher among his people. Occom's academic success inspired Wheelock to train Native Americans as missionaries. To that end, he opened Moor's Indian Charity School in 1754 (where he continued to train Anglo-American students who paid their own way as well as students who functionally indentured themselves to Wheelock as missionaries in exchange for an education). Between 1754 and 1769, when he relocated to New Hampshire, Wheelock trained approximately 60 male and female Native American students from nearby Algonquian tribes and from the Haudenosaunee (Iroquois) of central New York. At the same time, he navigated the complicated politics of missionary societies by setting up his own board of the Society in Scotland for Propagating Christian Knowledge, although he continued to feud with the Boston Board of the SSPCK and the London Commissioners in Boston (more colloquially called the New England Company). By the late 1760s, Wheelock had become disillusioned with the idea of Native American education. He was increasingly convinced that educating Native Americans was futile (several of his students had failed to conform to his confusing and contradictory standards), and, in late 1768, he lost his connection to the Haudenosaunee. With his inclination and ability to sponsor Native American missionaries largely depleted, Wheelock sought instead to fulfill his ultimate ambition of obtaining a charter and opening a college, which he did in 1769. To fund this new enterprise, Wheelock drew on the £12,000 that Samson Occom had raised for Moor's Indian Charity School during a two-and-a-half year tour of Great Britain (1765 to 1768). Much of this money went towards clearing land and erecting buildings in New Hampshire for the Charity School's relocation — infrastructure that also happened to benefit Dartmouth. Many of Wheelock's contemporaries were outraged by what they saw as misuse of the money, as it was clear that Dartmouth College was not intended for Indians and that Moor's had become a side project. Although Wheelock tried to maintain at least some commitment to Native American education by recruiting students from Canadian communities, the move did a great deal of damage to his public image. The last decade of Wheelock's life was not easy. In addition to the problems of trying to set up a college far away from any Anglo-American urban center, Wheelock experienced the loss of relationships with two of his most famous and successful students, Samson Occom and Samuel Kirkland (an Anglo-American protégé). He also went into debt for Dartmouth College, especially after the fund raised in Britain was exhausted.
Shaw, Nathaniel
Captain Nathaniel Shaw was one of the wealthiest merchants in New London during the mid-18th century. In the early 1730s, after building a fortune through sea trade with Ireland, he settled in New London to oversee his business. Captain Shaw was sympathetic to the Company for Propagation of the Gospel in New England and the Parts Adjacent in America (often called the New England Company), and assisted them by transmitting money to Samson Occom in the 1750s, when the New England Company was providing him with financial support. Captain Shaw also had a private trade relationship with Occom, and sold him many household supplies and much of the equipment for his house at Mohegan. However, while Occom was in England (late 1765-mid 1768), Shaw refused to supply Mary Occom with goods, which put her in severe straits. Eleazar Wheelock hypothesized that Shaw was lashing out at Mary over Samson's stance in the Mason Case, which, along with other circumstances, had turned the New England Company vehemently against Wheelock and Occom. However, it is perhaps more likely that Shaw refused to supply Mary because Wheelock had shown no indication that he planned to pay Occom's debts (see 768114). During the Revolution, Captain Shaw and his son Nathaniel Shaw Jr., who took over much of the business around 1763, were noted patriots. They opened their mansion to wounded sailors, as well as to George Washington himself, helped to organize New London's participation in the war, and turned their merchant ships into a privateering fleet.
Hedges, William
William Hedges was a resident of Easthampton, Long Island, and a supporter of Occom during his mission at Montauk. He was the second son of William Hedges (b. 1679, d. November 4, 1768) and and Abiah Mulford (b. August 20, 1685, d. October 27, 1763). Both were descendants of the original settlers of Easthampton; Hedges' father was the grandson of the original William Hedges, a devout Puritan who fled with his wife from Kent in England to Lynn, Massachusetts in 1644, and finally moved to the new settlement of Easthampton on Long Island in 1650. There is little in the records about Hedges and his activities. He was close enough with Occom and his family on Long Island to be entrusted with the funds collected from local Long Island congregations to support the Occom family during Occom's first and second missions to the Oneidas, when the New York Board of the Society in Scotland for Propagating Christian Knowledge grew lukewarm about the missions. Hedges was also a close friend of Samuel Buell, the Presbyterian minister who sponsored Occom's ordination. Buell entrusted Jacob, one of the young Indian boys from Wheelock's school visting on Long Island, to Hedges' care.
Ashpo, Samuel
Ashpo was born into a very powerful Mohegan family, considered equal to the Uncas line, and became an influential Mohegan preacher. He was converted at Mohegan during the Great Awakening, and became a schoolteacher among the Indians at Mushantuxet from 1753 until 1757 and from 1759 until 1762, when he left to attend Moor's. Between 1757 and 1759, he worked as an interpreter, and supposedly struggled with alcohol. He attended Moor's for only six months, and then continued his teaching and missionary career on successive trips to Chenango (the first was cut short because of violence in the region). On July 1, 1767, the Connecticut Board dismissed him from their service because of further charges of drinking. He continued to preach successfully to various New England Indian tribes until his death in 1795. The variations of his name exist in part because Ashpo is an abbreviated form of Ashobapow.
Occom's Second Mission to the Oneidas
In 1762, Occom returns to Oneida from May to September to find the people in dire straits due to war and an early killing frost.