Samuel Hopkins, letter, to Eleazar Wheelock, 1761 September 30
ms-number: 761530
abstract: Hopkins writes Wheelock about reports that Occom lacks tact in his dealings with the Oneidas, and that he is instructing them to leave off their Indian ways. He suggests that Occom may not be right for an Indian mission.
paper: Slight wear, tearing around edges.
noteworthy: Margin note "Occom?" added in different ink and hand, likely 19th-century. The opening salutation "R.D.S." is likely an abbreviation of "Reverend and Dear Sir.
---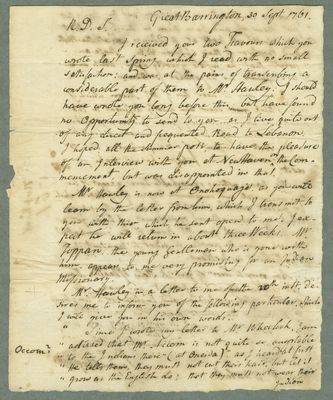 (View Page Image)
Great Barrington

,

30 Sept. 1761.
R. D. S.
I received your two Favours which you
wrote last Spring, which I read with no small
satisfaction: and was at the pains of transcribing a
considerable part of them to
M.

r

Hawley
. I should
have wrote you long before this; but have found
no Opportunity to send to you, as I live quite out
of any direct and frequented Road to
Lebanon
.
I hoped, all the Summer post, to have the pleaſure
of an Interview with you at
New Haven
⇑
on
the Com­
mencement, but was disappointed in that.
M.

r

Hawley
is now at
Onohoquage
, as you will
learn by the letter from him, which I transmit to
you with this, which he sent open to me. I ex­
pect he will return in about three Weeks.
M.

r


Toppan
, the young Gentleman who is gone with
him, appears to me very promising for an Indian
Miſsionary.
M.

r

Hawley
in a letter to me of the
20

th

inſt.
de­
sires me to inform you of the following particulars, which
I will give you in his own words.
"Since I wrote my letter to
M.

r

Wheelock
, I am
"advised that
M.

r

Accom
is not quite so acceptable
"to the Indians there" (at
Oneida
) "as I heard at first.
"He tells them, they muſt not cut their hair, but let it
"grow as the Engliſh do; that they muſt not wear their
⇑
[below]
Indian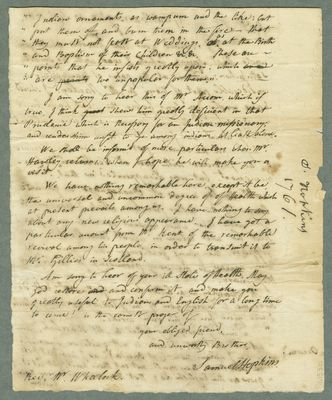 (View Page Image)
"Indian ornaments, as wampum and the like; but
"put them off, and burn them in the fire — That
"they muſt not feaſt at Weddings,
[illegible]
[guess: at]
as at the Birth
"and Baptism of their Children &c &c These are
[illegible]
[guess: .—.]
"points that he inſists greatly upon; which
are
"are
points
too unpopular for them."
I am sorry to hear this of
M.

r

Accom
, which if
true, I think
[illegible]
[guess: great]
ſhews him greatly deficient in that
Prudence which is Neceſsary for an Indian miſsionary;
and render him unfit to go among indians, at leaſt alone.
We ſhall be inform'd of more particulars when
M.

r


Hawley
returns, when I hope he will make you a
visit.
We have nothing remarkable here, except it be,
the universal and uncommon degree of Health which
at present prevails among us. I have nothing to say
about any new religious appearance. I have got a
particular account from
M.

r

Kent
of the remarkable
revival among his people, in order to transmit it to
M.

r

Gillies
in
Scotland
.
Am ſorry to hear of your ill State of Health. May
God restore
and
and confirm it, and make you
greatly useful to Indian and English for a long time
to come!
in the earneſt prayer of
your obliged friend
and unworthy Brother,
Samuel Hopkins
Rev.
M.

r

Wheelock
.
⇑
[right]
S. Hopkins

1761

.
Lebanon
Lebanon is a town located in the state of Connecticut southwest of the town of Hartford. The land that became Lebanon was inhabited at least 10,000 years ago based on the archeological record. By the 1600s, the land was permanently inhabited by the Mohegan Indians, who used the area primarily for hunting. Lebanon was officially formed in 1700 when English settlers consolidated a number of land tracts, including several land grants by the Connecticut General Assembly and lands purchased from the Mohegans. However, these purchases were controversial. In 1659, the Mohegans entrusted their reserve land to Major John Mason, and in the following year, Mason transferred this land to the Connecticut colonial government with the understanding that there would be enough land left for the Mohegans to farm. The Mohegans claimed that they never authorized a transfer to the colonial government and only Mason's heirs were entrusted with their land. In 1662, Connecticut, which included the Mohegan land that had been entrusted to the Masons, was incorporated by a royal charter. Based on this charter, the colony argued that the land was now the property of the government. In 1687, the colony began granting the Mohegan land to townships, and in 1704 the Masons petitioned the Crown on behalf of the Mohegans, claiming that such transfers of land to townships were illegal. Between the years of 1705 and 1773 legal disputes and controversies persisted, finally ending in a verdict by the Crown against the Mohegans. In 1755, Wheelock received property and housing in Lebanon that he would use as his house and school. While Lebanon was originally incorporated as a part of New London County in 1700, in 1724 it became a part of New Windham, before once again becoming a part of New London County in 1826. Lebanon was central to the American Revolution with half of its adult population fighting for the colonists and hundreds of meetings convened in the town for the revolutionary cause.
New Haven
New Haven is a city in south central Connecticut on New Haven Harbor and the Long Island Sound. The Quinnipiac Indians, specifically the Momauguin band of the Algonquin-speaking Tribe, were the area's original inhabitants. The Quinnipiacs lived along the banks of Connecticut's many rivers; fittingly, Quinnipiac means long water country. After Dutch explorer Adrian Block first sailed up the Connecticut River in 1614, Quinnipiac lands and peoples began to dwindle, especially as English settlement expanded. In 1638, Reverend John Davenport and Theophilus Eaton, a London merchant, sailed into New Haven Harbor from Massachusetts Bay Colony and formally established New Haven as a Puritan settlement. Though he did not have a royal charter for his new colony, Davenport signed a treaty with Quinnipiac sachem Momauguin in 1738, which gave the English formal ownership over the land. Davenport had left Massachusetts in the midst of the Anne Hutchinson controversy, likely coming to Connecticut to found his own Puritan theocracy. New Haven existed as its own colony distinct from Connecticut until 1665, when Charles II united the two under the Colony of Connecticut. From then on, New Haven referred to the city specifically, which in 1701 became the co-capital of Connecticut along with Hartford. In 1716, the college that would become Yale, where Eleazar Wheelock received his degree in 1733, moved to its permanent home in New Haven. From its creation, Yale was committed to training Christian missionaries; several of Wheelock's Anglo-American missionaries studied at Yale while many of his Anglo-American students from Moor's went on to study there. Wheelock took Occom to New Haven in 1744 to see Yale's commencement exercises, but due to terrible eye strain, Occom never attended the College. Because New Haven was the co-capital of Connecticut, any of Occom's or Wheelock's dealings with the Colony of Connecticut often involved New Haven. By the Revolutionary War, the city had a population of 3,500, almost none of whom were Quinnipiac Indians. New Haven remained co-capital of Connecticut until 1873, when it lost to Hartford in what is known as the "single capital contest."
Great Barrington
The town of Great Barrington, named after England's village of Great Barrington, is located in the southwest portion of Massachusetts near the Housatonic River. Mohican Indians travelled from the Hudson River into the Housatonic Valley and named the settlement in present-day Great Barrington Mahaiwe, meaning the place down stream, also the name of the Indian burial ground currently located there. The town was first settled by the British in 1726, and thrived due to its location along a path connecting Fort Orange in Albany, NY and Springfield, MA. Great Barrington was officially incorporated in 1761. In 1734, John Sergeant, a missionary who had recently graduated from Yale, opened a school in Great Barrington for Mohican children, with the goal of integrating English families with Christianized Indians in Berkshire County. Many Native Americans in the area were baptized into the Protestant faith by the mid-18th century. In a 1761 letter Samuel Hopkins wrote from Great Barrington, he expresses concern to Wheelock that Occom has grown unpopular among the Oneida tribe because Occom insists that the Oneidas adopt English customs in dress and manners.
Onaquaga
Onaquaga (more than 50 different spellings have been documented) was a cosmopolitan Indian town on the Susquehanna River, now the site of the town of Windsor, New York. It was initially established as an Oneida settlement by those seeking an alternative to the power politics of Kanawalohale, the new chief village of the Oneidas, and Old Oneida, the former capital. However, from the end of the 17th century onwards it became an immigration destination for displaced Indians from a wide range of tribes. Yet, from the late 1760s onward, Onaquaga's cosmopolitan composition proved to be its undoing. The community was fragmented by disputes over the extent and the proper style of Christian practice, with Sir William Johnson and Joseph Brant (who owned a farm at Onaquaga) urging Episcopalianism and the New England Company urging Congregationalism. An influx of Mohawk immigrants in the years after the 1768 Fort Stanwix treaty led the inhabitants of Onaquaga to side with the Crown in the Revolution, rather than with the colonies as most Oneida towns did, and it became Joseph Brant's base of operations. The town was destroyed by the Continental Army in 1778 as part of the wave of violent retaliation for British and Indian attacks on frontier communities that culminated in General Sullivan's ravaging of Cayuga and Seneca territory. The area was resettled by Americans after the Revolution.
Oneida
Oneida is a city in Madison County located at the geographical center of New York state. Before European settlement of the area, the Oneida Tribe, one of the Six Nations of the Haudenosaunee (Iroquois) Confederacy, inhabited a large territory adjacent to nearby Oneida Lake. Around 1533, they built their first village on the south shore of the lake, at or near the mouth of Oneida Creek. At the end of the 17th century, this area began suffering raids by parties from the French colony of Quebec, in a battle to control the fur trade. In 1696, Oneida village was burned by the French. As a result, the Oneidas moved their chief village east of the original site, called Old Oneida, to a new site called Kanawalohale, also known as Oneida Castle, which was fortified by tall palisades and a moat. This is the site of the present-day village of Oneida Castle, a small hamlet west of the city of Oneida in the northwest corner of the town of Vernon. When used in Occom Circle documents, the place name "Oneida" usually refers to the territory inhabited by the Tribe east of Oneida Lake, but can also refer specifically to Oneida Castle. Although the Oneidas sided with the patriots during the Revolutionary War, much of their territory was sold or appropriated by the state of New York. In 1790, the first European settlers moved into the area of Old Oneida village, and the district began to expand. In the 1830s, the state built a feeder from Oneida Creek through the present city site to provide water for the new canal system, which enabled canal boats to ship freight into the town. Eventually, the railroad came through the town and helped with its expansion. This led to the incorporation of the Village of Oneida in 1848 and the establishment of the Town of Oneida in 1896. The town was chartered as the City of Oneida in 1901, and with two more railroad lines transecting the area, it became a thriving manufacturing center for the first half of the 20th century.
Hopkins, Samuel
Samuel Hopkins was named after his uncle, Samuel Hopkins (1693-1755), who was a minister in West Springfield, MA. Hopkins the younger grew up on a farm in Waterbury, CT, and attended Yale. There, he was friends with David Brainerd, who would become the well-known missionary to the Delaware Indians, and was influenced by the famous theologian Jonathan Edwards, who served as missionary to the Stockbridge Indians. After graduation, Hopkins studied divinity with Edwards, until he was ordained pastor of the North Parish church of Sheffield at Housatonic, now Great Barrington, MA. Although he wasn't a missionary, in 1753, Hopkins published "Historical Memoirs relating to the Housatonic Indians." His strict theological views got him dismissed from his post in 1769, and in 1770 until his death in 1803, he preached at the First Congregational Church in Newport, RI. There, he was active in opposing the slave trade, freed his own slaves, lobbied for laws against the importation of Africans and for the freeing of children of slaves, and originated the idea of sending freed slaves to Africa as missionaries. These ideas appeared in his pamphlet, "Dialogue Showing it to be the Duty and Interest of the American States to Emancipate all their African Slaves," published in 1776. He originated a revision of Calvinist theology that become known as Hopkinsianism, described in his major work, "The System of Doctrinces Contained in Divine Revelation" (1793). Based on the ideas of Jonathan Edwards, it argued that people can overcome sin by disinterested benevolence and complete submission to God's will. He was an associate of Eleazar Wheelock, writing to him about reports of Occom's first mission to the Oneidas, and was also acquaintanted with Occom, who stayed with Hopkins during a preaching tour of western Massachusetts and Connecticut.
Wheelock, Eleazar
Eleazar Wheelock was a New Light Congregationalist minister who founded Dartmouth College. He was born into a very typical Congregationalist family, and began studying at Yale in 1729, where he fell in with the emerging New Light clique. The evangelical network that he built in college propelled him to fame as an itinerant minister during the First Great Awakening and gave him many of the contacts that he later drew on to support his charity school for Native Americans. Wheelock's time as an itinerant minister indirectly brought about his charity school. When the Colony of Connecticut retroactively punished itinerant preaching in 1743, Wheelock was among those who lost his salary. Thus, in 1743, he began operating a grammar school to support himself. He was joined that December by Samson Occom, a Mohegan Indian, who sought out an education in hopes of becoming a teacher among his people. Occom's academic success inspired Wheelock to train Native Americans as missionaries. To that end, he opened Moor's Indian Charity School in 1754 (where he continued to train Anglo-American students who paid their own way as well as students who functionally indentured themselves to Wheelock as missionaries in exchange for an education). Between 1754 and 1769, when he relocated to New Hampshire, Wheelock trained approximately 60 male and female Native American students from nearby Algonquian tribes and from the Haudenosaunee (Iroquois) of central New York. At the same time, he navigated the complicated politics of missionary societies by setting up his own board of the Society in Scotland for Propagating Christian Knowledge, although he continued to feud with the Boston Board of the SSPCK and the London Commissioners in Boston (more colloquially called the New England Company). By the late 1760s, Wheelock had become disillusioned with the idea of Native American education. He was increasingly convinced that educating Native Americans was futile (several of his students had failed to conform to his confusing and contradictory standards), and, in late 1768, he lost his connection to the Haudenosaunee. With his inclination and ability to sponsor Native American missionaries largely depleted, Wheelock sought instead to fulfill his ultimate ambition of obtaining a charter and opening a college, which he did in 1769. To fund this new enterprise, Wheelock drew on the £12,000 that Samson Occom had raised for Moor's Indian Charity School during a two-and-a-half year tour of Great Britain (1765 to 1768). Much of this money went towards clearing land and erecting buildings in New Hampshire for the Charity School's relocation — infrastructure that also happened to benefit Dartmouth. Many of Wheelock's contemporaries were outraged by what they saw as misuse of the money, as it was clear that Dartmouth College was not intended for Indians and that Moor's had become a side project. Although Wheelock tried to maintain at least some commitment to Native American education by recruiting students from Canadian communities, the move did a great deal of damage to his public image. The last decade of Wheelock's life was not easy. In addition to the problems of trying to set up a college far away from any Anglo-American urban center, Wheelock experienced the loss of relationships with two of his most famous and successful students, Samson Occom and Samuel Kirkland (an Anglo-American protégé). He also went into debt for Dartmouth College, especially after the fund raised in Britain was exhausted.
Hawley, Gideon
Gideon Hawley was born in Stratford (Bridgeport) CT, the son of Gideon, a descendant of Joseph Hawley, who immigrated to America in 1629, and Hannah Bennett, daughter of Lieutenant James Bennett of Stratford. Hawley's mother died at his birth, and his father died when he was three; he was raised mostly by his older brother. A very good student, Hawley graduated from Yale College in 1749 and was liscensed to preach by the Fairfield East Association. Sponsored by the Company for Propagation of the Gospel in New England and the Parts Adjacent in America (the New England Company), Hawley accepted a position as schoolteacer in Stockbridge in 1752, under the supervision of the noted theologian Jonathan Edwards, who was a preacher to whites and Housatonic Indians in the region. But because of the contentious politics in Stockbridge, Hawley accepted the NEC's offer to take over the mission among the Six Nations on the Susquehanna, in the multi-tribal town of Onaquaga, where Elihu Spencer has served five years before as missionary. Hawley was ordained in 1754 and acted successfully as missionary and interpreter, but was forced to leave in May 1756 during the hostilities of the French and Indian War. He returned to Boston and accepted a commission as chaplain to Colonel Richard Gridley's regiment, but resigned because of illness. The NEC then sent him to the large plantation of Mashpee Wompanoags at Plymouth, MA, who approved of him and requested his permanent appointment in 1758. Hawley was a staunch supporter of traditional tribal land ownership and Indian rights; the Mashpees enlisted his help in petitioning the Massachusetts General Court for their rights to self-government. During the Revolution, Hawley did not enlist in order to protect the tribe, and in 1789, he succeeded in abolishing Masphee as a "district" subject to state rule and served as the only resident overseer and treasurer until 1795. He opposed the mixing of whites and Indians, as in Stockbridge, which ultimately disenfranchised and drove out the Indians, but insisted the Mashpee Wampanoags learn English, the only language in which he preached, and practice agriculture. He married Lucy Fessenden in 1759; they had five children, four of whom lived to maturity. Their youngest son graduated from Harvard in 1792. Lucy died in 1777 and at age 50, Hawley remarried Mrs. Elizabeth Burchard in 1778, a widow twice over with a large estate. He died beloved and respected by the Mashpee Wampanoags, whose village he helped to sustain.
Occom, Samson
Samson Occom was a Mohegan leader and ordained Presbyterian minister. Occom began his public career in 1742, when he was chosen as a tribal counselor to Ben Uncas II. The following year, he sought out Eleazar Wheelock, a young Anglo-American minister in Lebanon, CT, in hopes of obtaining some education and becoming a teacher at Mohegan. Wheelock agreed to take on Occom as a student, and though Occom had anticipated staying for a few weeks or months, he remained with Wheelock for four years. Occom's academic success inspired Wheelock to open Moor's Indian Charity School in 1754, a project which gave him the financial and political capital to establish Dartmouth College in 1769. After his time with Wheelock, Occom embarked on a 12-year mission to the Montauk of Long Island (1749-1761). He married a Montauk woman, Mary Fowler, and served as both teacher and missionary to the Montauk and nearby Shinnecock, although he was grievously underpaid for his services. Occom conducted two brief missions to the Oneida in 1761 and 1762 before embarking on one of the defining journeys of his career: a fundraising tour of Great Britain that lasted from 1765 to 1768. During this journey, undertaken on behalf of Moor's Indian Charity School, Occom raised £12,000 (an enormous and unanticpated amount that translates roughly to more than two-million dollars), and won wide acclaim for his preaching and comportment. Upon his return to Mohegan in 1768, Occom discovered that Wheelock had failed to adequately care for his family while he was gone. Additionally, despite the vast sums of money that he had raised, Occom found himself unemployed. Wheelock tried to find Occom a missionary position, but Occom was in poor health and disinclined to leave his family again after seeing the treatment with which they had met while he was in Britain. Occom and Wheelock's relationship continued to sour as it became apparent to Occom that the money he had labored to raise would be going towards infrastructure at Dartmouth College, Wheelock's new project, rather than the education of Native Americans. After the dissolution of his relationship with Wheelock, Occom became increasingly focused on the needs of the Mohegan community and increasingly vocal in criticizing Anglo-Americans' un-Christian treatment of Native Americans. In September of 1772, he delivered his famous "Sermon on the Execution of Moses Paul," which took Anglo-American spiritual hypocrisy as one of its major themes, and which went into four printings before the end of the year. In 1773, Occom became further disillusioned when the Mason Land Case was decided in favor of the Colony of Connecticut. The details of the Mason Case are complicated, but to summarize: the Colony of Connecticut had gained control of Mohegan land early in the 18th century under very suspect circumstances, and successfully fended off the Mohegan's 70-year-long legal challenge. The conclusion of the case came as a blow to the Mohegans, and further convinced Occom of Anglo-American corruption. Along with David Fowler (Montauk Tribe), Occom's brother-in-law, and Joseph Johnson (Mohegan), Occom's son-in-law, Occom helped found Brothertown, an Indian tribe formed from the Christian Mohegans, Pequots, Narragansetts, Montauks, Tunxis, and Niantics. They eventually settled in Oneida country in upstate New York. Occom moved there with his family in 1789, spending the remaining years of his life serving as a minster to the Brothertown, Stockbridge, and Mohegan Indians. Harried by corrupt land agents, the Brothertown and Stockbridge groups relocated to the eastern shore of Lake Winnebago, though Occom died in 1792 before he could remove himself and his family there. Occom's writings and legacy have made him one of the best known and most eminent Native Americans of the 18th century and beyond.