Samson Occom, journal fragment
ms-number: 759666
abstract: A fragment of Occom's journal describing his travels as an itinerant preacher.
handwriting: Occom's faded handwriting has been almost completely overwritten in a different, likely 19th-century, hand.
paper: Small sheet is in poor condition, with heavy fading, staining and wear. There is some reinforcement on the left edge (one recto).
ink: Brown ink is heavily faded and obscured by staining.
noteworthy: Due to the near impossibility of discerning much of Occom's original text, the text transcribed is that of the non-contemporary editor. The edits date the document to 1759; however, the names and places contained in this fragment point to a significantly later date, likely the 1780s. The existence of other dates in pencil cast further doubt on a date of 1759. A second unknown editor has added dates in pencil to one recto.
---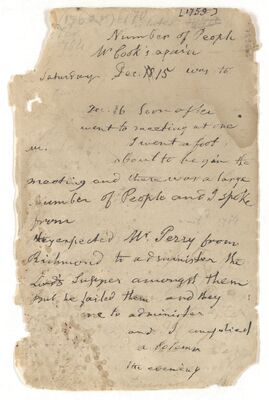 (View Page Image)
[gap: tear]
[gap: faded]
Number of People
[gap: tear]
[guess: Lod]
gd at
M

r

Cook
's again
[gap: stain]
Dec. 16
Soon after
[gap: faded]
went to meeting at one
m.
[gap: faded]
I went a foot
[gap: faded]
[gap: faded]
about to begin the
meeting and there was a large
Number of People and I spoke
from
[gap: faded]
they expected
M.

r

Perry
from
Richmond
to administer the
Lord's Supper amongst them
But he failed them and they
[gap: stain]
me to administer the
[gap: stain]
and I complied
[gap: stain]
a solemn
[gap: stain]
the evening
[gap: stain]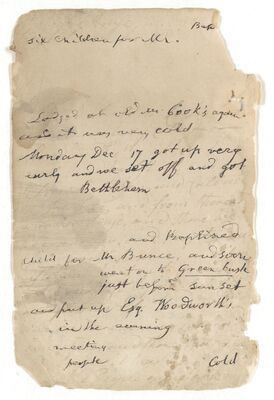 (View Page Image)
[gap: faded]
Houſe and Bap
[gap: tear]
[guess: tized]
six children for Mr.
[gap: faded]
[gap: faded]
Lodged at old
mr. Cook
's again
and it was very cold
[gap: faded]
Monday Dec 17
got up very
early and we set off and got
[gap: faded]
Bethlehem
and Call at
[gap: faded]
and from there
[gap: faded]
the Houſe and there we
had
[gap: faded]
and Baptized
child for
Mr. Bunce
and soon
after
[gap: faded]
went on to
Green bush
[gap: faded]
just before sun set
and put up
Esq. Woodworth
's
and in the evening we
[gap: faded]
[gap: faded]
meeting and there was
[gap: tear]
[gap: faded]
people it was
[gap: faded]
cold
[gap: tear]
the People
[gap: faded]
Greenbush
Greenbush was a town in central New York on the east bank of the Hudson River, located about five miles south of Albany. The name Greenbush comes from the Dutch "Greenebos," which referred to the many pine trees in the area when Dutch settlers first arrived. Originally, the area was inhabited by the Mohegans, but in 1629 Kiliean Van Rensselaer established the feudal manor of Rensselaerwyck and a tenant system that drew Europeans to the area. These settlers were primarily Dutch, and the majority of them were farmers. The area's population grew, and as early as 1642 Greenbush had a ferry across the Hudson River. In 1664, British colonists acquired the area from the Dutch and Greenbush became a part of the Province of New York. The town saw little action during either the French and Indian War or the Revolutionary War, but many of Greenbush's men served as soldiers in these conflicts. Occom visited the town several times beginning in 1785, using the Hudson River to travel to the town from both southeastern New York and Albany. In 1855, the original town of Greenbush was divided into East Greenbush and North Greenbush, both of which exist today as suburbs of Albany in New York's Rensselaer County.
Bethlehem
Bethlehem is a town located in Litchfield County, in western Connecticut. Colonists from the town of Stratford in the colony of Connecticut arrived on the land that would become Bethlehem in 1673 and purchased a 15-mile tract of land from the Native Americans who occupied western Connecticut, calling it Woodbury. In 1703, the Connecticut General Assembly allowed Woodbury to increase its land holdings. Woodbury inhabitants negotiated with Native Americans, and in 1710 signed a deed of sale with Nunawague and five other chiefs to purchase nearly 18,000 acres. This deed became known as the North Purchase. The area that would become Bethlehem was split into lots, and in 1734, British colonists began to settle these lots. The town was incorporated in 1787. By the mid-18th century, there was vibrant Congregationalist activity in Bethlehem, led by Pastor Joseph Bellamy. Occom stopped to preached in Bethlehem on one of his many tours of this region, as he recorded in his journal for 1785.
Occom, Samson
Samson Occom was a Mohegan leader and ordained Presbyterian minister. Occom began his public career in 1742, when he was chosen as a tribal counselor to Ben Uncas II. The following year, he sought out Eleazar Wheelock, a young Anglo-American minister in Lebanon, CT, in hopes of obtaining some education and becoming a teacher at Mohegan. Wheelock agreed to take on Occom as a student, and though Occom had anticipated staying for a few weeks or months, he remained with Wheelock for four years. Occom's academic success inspired Wheelock to open Moor's Indian Charity School in 1754, a project which gave him the financial and political capital to establish Dartmouth College in 1769. After his time with Wheelock, Occom embarked on a 12-year mission to the Montauk of Long Island (1749-1761). He married a Montauk woman, Mary Fowler, and served as both teacher and missionary to the Montauk and nearby Shinnecock, although he was grievously underpaid for his services. Occom conducted two brief missions to the Oneida in 1761 and 1762 before embarking on one of the defining journeys of his career: a fundraising tour of Great Britain that lasted from 1765 to 1768. During this journey, undertaken on behalf of Moor's Indian Charity School, Occom raised £12,000 (an enormous and unanticpated amount that translates roughly to more than two-million dollars), and won wide acclaim for his preaching and comportment. Upon his return to Mohegan in 1768, Occom discovered that Wheelock had failed to adequately care for his family while he was gone. Additionally, despite the vast sums of money that he had raised, Occom found himself unemployed. Wheelock tried to find Occom a missionary position, but Occom was in poor health and disinclined to leave his family again after seeing the treatment with which they had met while he was in Britain. Occom and Wheelock's relationship continued to sour as it became apparent to Occom that the money he had labored to raise would be going towards infrastructure at Dartmouth College, Wheelock's new project, rather than the education of Native Americans. After the dissolution of his relationship with Wheelock, Occom became increasingly focused on the needs of the Mohegan community and increasingly vocal in criticizing Anglo-Americans' un-Christian treatment of Native Americans. In September of 1772, he delivered his famous "Sermon on the Execution of Moses Paul," which took Anglo-American spiritual hypocrisy as one of its major themes, and which went into four printings before the end of the year. In 1773, Occom became further disillusioned when the Mason Land Case was decided in favor of the Colony of Connecticut. The details of the Mason Case are complicated, but to summarize: the Colony of Connecticut had gained control of Mohegan land early in the 18th century under very suspect circumstances, and successfully fended off the Mohegan's 70-year-long legal challenge. The conclusion of the case came as a blow to the Mohegans, and further convinced Occom of Anglo-American corruption. Along with David Fowler (Montauk Tribe), Occom's brother-in-law, and Joseph Johnson (Mohegan), Occom's son-in-law, Occom helped found Brothertown, an Indian tribe formed from the Christian Mohegans, Pequots, Narragansetts, Montauks, Tunxis, and Niantics. They eventually settled in Oneida country in upstate New York. Occom moved there with his family in 1789, spending the remaining years of his life serving as a minster to the Brothertown, Stockbridge, and Mohegan Indians. Harried by corrupt land agents, the Brothertown and Stockbridge groups relocated to the eastern shore of Lake Winnebago, though Occom died in 1792 before he could remove himself and his family there. Occom's writings and legacy have made him one of the best known and most eminent Native Americans of the 18th century and beyond.