Samuel Buell and James Brown, recommendation of Occom, 1758 March 21
ms-number: 758221
abstract: Buell and Brown, ministers of Long Island, recommend Occom and commend his work with the Montauk Indians.
handwriting: Formal and legible.
paper: Long sheet, yellowed, with moderate wear at creases.
ink: Light brown and faded in spots.
noteworthy: Trailer is in Wheelock's hand.
signature: Two signatures, in two different hands.
events: Occom's Mission to the Montauketts
---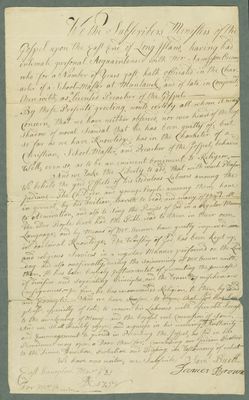 (View Page Image)
We the Subſcribers Miniſters of the
Goſpel upon the Eaſt-End of
Long-Iſland
, having had
intimate perſonal Acquaintence with M
r
Sampſon Occum,
who for a Number of Years paſt, hath officiated in the Char­
­acter of a School-Maſter at
Montauk
, and of late in Conjuncti
⇑
on
there-with, as
⇑
a
licenſed Preacher of the Goſpel —
By theſe Preſents greeting, would certefy all whom it may
concern, that we have neither obſerved, nor ever heard of the leaſt
Shadow of moral Scandal that he has been guilty of; but
so far as we have Knowledge, has in the Character of a
Chriſtian, School-Maſter, and Preacher of the Goſpel, behaved
Well, even so, as to be an eminent Orniment to Religion.—
And we take the Liberty to add, that with much Pleaſure
We behold the good Effects of his Sedulous Labours amoung the
Indians, — The Children and young-People amoung them, have
in general, by his Tuition, learnt to read, and many of the
⇑
[inline]
m
⇑
m
well
to Admiration; and alſo to Sing the Praiſes of God in a
[illegible]
regular Manner.
The elder People have had the Bible read to them in their own
Language, and by means of
M

r

Occum
have greatly improved
in
in doctrinal Knowledge. The Worſhip of God
;
has been kept up,
and religious Services in a regular Manner perform'd on the Lords
-day — and alſo occaſionally, during the Sojourning of
M.

r

Occum
with
them. He has been happ
e
ily Inſtrumental of preventing the Increaſe
of diviſive and Seperating Principles — and the train of miſchevious
Conſequences.— In fine, he has recommended Religion to them, by Word
and Example.— And we have Reaſon to hope, that God has been
pleaſed, eſpecially of late, to crown his Labours with deſierable Succeſs,
to the awakening of Many — and the hopeful real Converſion of Some.—
And we Shall heartily rejoyce, and acquieſce in his receiving
⇑
Proper
Authority,
and Encouragement to proceed in Preaching the Goſpel, as God in his
Providence may open a Door therefor. Commending our
Indian
Brother
to the Divine Direction, Protection, and Bleſsing, in Teſtimony of what
We have now writen,
we Subſcribe

Sam

l

Buell


James Brown





Eaſt-hampton

Mar

ch

y

e

21
AD 1758
For M

r

Occum —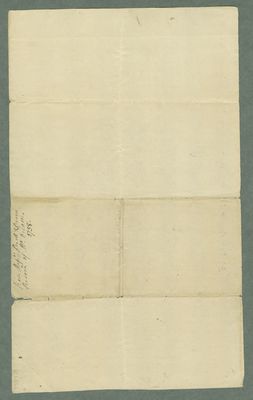 (View Page Image)
Rev. Meſs
rs
Buell
&
Brown
Recom.
n
of M.
r
Occom.
1758
.
Long Island
Long Island is an island located in southeast New York State. In 1824, historian Silas Wood claimed that 13 different tribes inhabited the island when the Dutch and English arrived in 1639: the Canarsie, the Rockaway, the Matinecock, the Merrick, the Massapequa, the Nissequoge, the Secatoag, the Seatuket, the Patchoag, the Corchaug, the Shinnecock, the Manhasset, and the Montaukett. This is the commonly accepted tribal history of Long Island, and Wood's theory is taught in New York textbooks today. Yet, in 1992, historian John Strong challenged this dominant narrative, arguing that tribal systems did not develop on Long Island until after Europeans arrived. Based on Dutch and English colonists' accounts, the Algonquian communities on western Long Island likely spoke the Delaware-Munsee dialect and those to the east spoke languages related to the southern New England Algonquian dialects. These indigenous peoples organized themselves by language and kinship, but beyond village systems and the occasional alliance, there existed no formal tribal structure. Rather, internal structures arose among the Montauks, the Shinnecocks, the Poospatucks, and the Matinnocks to cope with English settlers, and became integral to these peoples' survival. Although new diseases and land negotiations severely encroached on the freedom of Long Island's Native population, these groups that developed tribal structures retain a sense of community today. By the 18th century, much of the island had fallen into the hands of the English, who were the sole European power on Long Island once the Dutch relinquished their claims to the land after the second Anglo-Dutch War in 1664. During the Great Awakening of the 18th century, Occom spent 12 years serving as a missionary to the Montaukett Indians of Long Island, along with Presbyterian minister Azariah Horton. Today, the western half of the island is densely populated due to its proximity to Manhattan, and its eastern half is mainly devoted to resort towns. The Shinnecocks and the Poospatucks retain autonomous reservations on Long Island.
Montauk
Montauk is an unincorporated hamlet located on the eastern tip of Long Island in southeastern New York. The town was named after the Montaukett Indians who lived on much of eastern Long Island when Europeans first made contact in the 17th century. Archeological records show that Native Americans occupied eastern Long Island at least 3,000 years prior to European contact. The Montaukett Indians derived their name from the land they lived on, Montaukett meaning hilly country. The Montauketts made great use of Long Island's abundant resources, and the nation subsisted by growing crops such as corn, squash, and beans as well as gathering berries, herbs, and roots. In addition to game such as deer and fish, the Montauketts also hunted whales and used every part of the whale, including its oil, which they burned in large clamshells. Living on an island at first isolated the Montaukett people, but they soon became a strong economic force in the region thanks to the production of the American Indian currency wampum. Wampum was constructed out of polished sea shells, which were found in abundance along Long Island's beaches. The Montauketts' rich resources, however, led to wars with surrounding Indian nations, including the Pequots and Narragansetts to the north. The Pequots eventually forced the Montauketts to forfeit wampum as tribute. By the early 17th century, the Montauketts were faced with wars against surrounding Native Americans and an onslaught of European diseases, and in order to preserve his nation's territorial integrity, the Montaukett sachem, Wyandanch, established an alliance with English settlers in Connecticut in 1637. Over time, however, the Montauketts' began selling off land to the English settlers, and disease further decimated their numbers. A 1650 smallpox epidemic killed around two-thirds of the Montaukett people. In 1665, Wyandanch granted the English permission to pasture livestock on Montaukett lands. In 1686 a group of East Hampton settlers known as the Proprietors bought the territory of Montauk from the Montauketts, and would continue to hold on to the land in a joint trust for the next 200 years. Despite attempts over the years, the town has never been incorporated as a village. Many years later, the Montauketts attempted to reassert their land rights on Long Island by petitioning New York State Judge Abel Blackmar in 1909. Blackmar refused to recognize the Montauketts as an Indian tribe, which has to this day left them without a reservation on the land that still bears their name.
East Hampton
East Hampton is a town in New York's Suffolk county on southeast Long Island, 14 miles southwest of Montauk. East Hampton was originally inhabited by the Algonquin-speaking Montauketts, who numbered over 10,000 and had a peaceful trading relationship with the nearby Pequots until early 17th century when English colonists played the two tribes off each other. In 1640, after the Pequot War, an English settler named Lion Gardiner purchased an island in the bay between the present-day towns of Montauk and East Hampton from the Montauketts, which began the English settlement, or seizure, of the land that would become East Hampton. The Montauketts called the island Manchonacke, or island where many died, while Gardiner named the island after himself. In 1648, the colonies of New Haven and Connecticut purchased more land from the Montauketts, spreading beyond Gardiner's Island onto Long Island and settling the town of East Hampton. In 1664, East Hampton was annexed to the colony of New York. As the number of English settlers increased, the Montauketts became increasingly dispossessed, economically tied to the English but relegated to the bottom of the social order. By 1687, the English had fenced off the majority of Montaukett land through a series of resolutions, changing the tribal structure of the Montauketts and leaving them open to conversion to Christianity. In 1749, Occom had been released from his preparatory studies for college because of poor eyesight and went on a summer fishing trip to Montauk; he decided to settle there and by November had established a school for the Montauketts. He frequented East Hampton on his travels to New York and New England from his home in Montauk beginning in 1750, often staying with Reverend Samuel Buell of the Presbytery of Suffolk County, who presided over Occom's 1759 ordination at the Presbytery. While traveling through East Hampton, Occom also stayed with William Hedges, a whaling captain and one of his benefactors. One of Occom's letters indicates that Hedges took care of Occom's family while he completed his mission to the Oneidas in 1761. Occom's relationship to East Hampton changed in the 1770s, however, when he started to believe that the pervasive English influence on Montaukett society had become corrosive. As a result of Occom's encouragement, many of the Montauketts of East Hampton moved to Brothertown in the late 1780s.
Buell, Samuel
Buell was a popular Presbyterian minister during the second half of the 18th century in Long Island, as well as a close friend of Samson Occom. He was ordained in November 1743, and was a popular itinerant minister before settling at Easthampton. He preached at Occom's ordination, published the sermon in 1761 to raise funds for Occom (he also wrote the letter addressed to Bostwick prefacing his publication), and stayed in close contact with Occom even after Occom's public break from Wheelock. Occom's diary is full of references to visiting Buell and to their close friendship. During the Revolution, Buell was the only minister on Long Island for 40 miles, and was very active in assisting the American cause. He also founded Clinton Academy on Long Island in 1785, which was the first private school chartered by the New York Board of Regents. This academy was also remarkable in that it admitted women. Multiple historical sources have misconstrued Samuel Buell as Sol or Solomon Buell, likely because Buell sometimes signed his name Sa.l, a creative abbreviation of Samuel. However, there was no Reverend Solomon Buell in Easthampton, or, it seems, Long Island, in the second half of the 18th century: Samuel had no brothers, and were there to be two Reverend S. Buell's within 10 miles of one another during the same period, related or not, doubtlessly someone would have commented on it. In addition, the handwriting in letters ascribed to "Sol" and those assigned to Samuel is identical. Lastly, the only source besides collection manuscript 765530.3 describing a "Solomon Buell" is an anthology of letters from the Revolution, which contain letters from a Rev. Sol. Buell, or S. Buell, about aiding the American cause. These letters correspond well with descriptions of Samuel's life in an 1809 biography of his life, and, as he was the only Reverend but one for 40 miles during the Revolution, it is likely that these letters belong to him.
Occom, Samson
Samson Occom was a Mohegan leader and ordained Presbyterian minister. Occom began his public career in 1742, when he was chosen as a tribal counselor to Ben Uncas II. The following year, he sought out Eleazar Wheelock, a young Anglo-American minister in Lebanon, CT, in hopes of obtaining some education and becoming a teacher at Mohegan. Wheelock agreed to take on Occom as a student, and though Occom had anticipated staying for a few weeks or months, he remained with Wheelock for four years. Occom's academic success inspired Wheelock to open Moor's Indian Charity School in 1754, a project which gave him the financial and political capital to establish Dartmouth College in 1769. After his time with Wheelock, Occom embarked on a 12-year mission to the Montauk of Long Island (1749-1761). He married a Montauk woman, Mary Fowler, and served as both teacher and missionary to the Montauk and nearby Shinnecock, although he was grievously underpaid for his services. Occom conducted two brief missions to the Oneida in 1761 and 1762 before embarking on one of the defining journeys of his career: a fundraising tour of Great Britain that lasted from 1765 to 1768. During this journey, undertaken on behalf of Moor's Indian Charity School, Occom raised £12,000 (an enormous and unanticpated amount that translates roughly to more than two-million dollars), and won wide acclaim for his preaching and comportment. Upon his return to Mohegan in 1768, Occom discovered that Wheelock had failed to adequately care for his family while he was gone. Additionally, despite the vast sums of money that he had raised, Occom found himself unemployed. Wheelock tried to find Occom a missionary position, but Occom was in poor health and disinclined to leave his family again after seeing the treatment with which they had met while he was in Britain. Occom and Wheelock's relationship continued to sour as it became apparent to Occom that the money he had labored to raise would be going towards infrastructure at Dartmouth College, Wheelock's new project, rather than the education of Native Americans. After the dissolution of his relationship with Wheelock, Occom became increasingly focused on the needs of the Mohegan community and increasingly vocal in criticizing Anglo-Americans' un-Christian treatment of Native Americans. In September of 1772, he delivered his famous "Sermon on the Execution of Moses Paul," which took Anglo-American spiritual hypocrisy as one of its major themes, and which went into four printings before the end of the year. In 1773, Occom became further disillusioned when the Mason Land Case was decided in favor of the Colony of Connecticut. The details of the Mason Case are complicated, but to summarize: the Colony of Connecticut had gained control of Mohegan land early in the 18th century under very suspect circumstances, and successfully fended off the Mohegan's 70-year-long legal challenge. The conclusion of the case came as a blow to the Mohegans, and further convinced Occom of Anglo-American corruption. Along with David Fowler (Montauk Tribe), Occom's brother-in-law, and Joseph Johnson (Mohegan), Occom's son-in-law, Occom helped found Brothertown, an Indian tribe formed from the Christian Mohegans, Pequots, Narragansetts, Montauks, Tunxis, and Niantics. They eventually settled in Oneida country in upstate New York. Occom moved there with his family in 1789, spending the remaining years of his life serving as a minster to the Brothertown, Stockbridge, and Mohegan Indians. Harried by corrupt land agents, the Brothertown and Stockbridge groups relocated to the eastern shore of Lake Winnebago, though Occom died in 1792 before he could remove himself and his family there. Occom's writings and legacy have made him one of the best known and most eminent Native Americans of the 18th century and beyond.
Occom's Mission to the Montauketts
After being released from his studies in the summer of 1749 because of acute eyestrain, Occom goes on a fishing expedition to Montauk, Long Island and decides to establish a school there and become a missionary to the Montaukett Indians. He serves in that role for 12 years.