William Sobuck, letter, to Samson Occom, 1757 September 12
ms-number: 757512
abstract: Sobuck requests that his son, Enoch, be allowed to come home, and notes that he expects to visit Occom in a month, at which time he will bring Enoch back.
handwriting: Handwriting is formal and clear, yet letter case is occasionally difficult to decipher. The trailer is in Occom's hand.
paper: Small single sheet is in good-to-fair condition, with light-to-moderate staining, creasing and wear. The remnants of old tape are visible on one verso.
ink: Brown ink is lightly faded on one verso..
noteworthy: The writer does not use periods.
---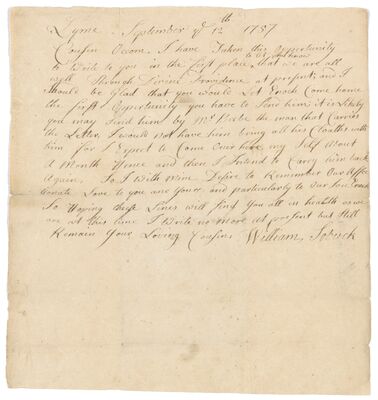 (View Page Image)
Lyme
September y

e

12

th

1757
Couſin

Occom

,

I have Taken this oppertunity
to Write to you in the firſt place
⇑
to let you know
that we are all
well Through Divine Providence at preſent; and I
Should be Glad that you would Let
Enoch
Come home
the firſt Oppertunity you have to Send him; it is Likely
you may Send him by
M.

r

Beebe
the man that Carries
the Letter, I would not have him bring all his Cloaths with
him for I Expect to Come Over here my Self About
A Month Hence and then I Intend to Carry him back
Again, So I with mine Deſire to Remember Our Affec
‐tionate Love to you and Yours and particularly to Our Son
Enoch
So Hoping theeſe Lines will find You all in health as we
are at this time I Write no more at preſent but Still
Remain
Your Loving Couſin:

William Sobuck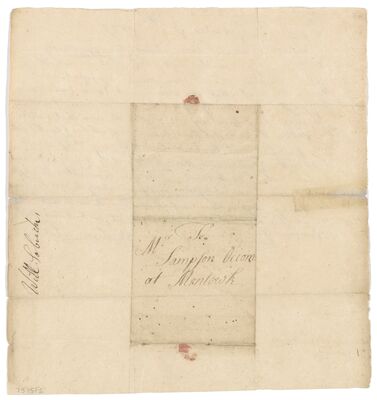 (View Page Image)
To
M.
r
Sampſon Occom
at
Montowk
Lyme
Lyme is a town in southern Connecticut located along the Connecticut River. The Niantic tribe inhabited the area when, around 1590, the Pequot Indians displaced them. The area that became Lyme was founded as part of the Saybrook settlement, which is located at the mouth of the Connecticut River. The Earl of Warwick established Saybrook in 1631, but it was not yet settled by the English. The Dutch purchased the Saybrook territory in 1633 from local Native peoples, but in 1665, before the Dutch could fully occupy the territory, Governor Winthrop of the colony of Connecticut sent armed men to prevent the Dutch from holding the land. Subsequently, the English settled and named the land Saybrook. In 1665, the land on the east bank of the Connecticut River was formally separated from Saybrook, and the General Connecticut Court named the separated land Lyme after the town of Lyme Regis in England. In 1669, the colonists purchased an eight square mile area of river valley from a Mohegan Indian named Chapeto and then purchased the Joshuatown area from the son of the Mohegan sachem, Uncas. In 1839, East Lyme became a separate town, and in 1854, Lyme was regionally divided into Old Lyme in the south and Lyme in the north.
Montauk
Montauk is an unincorporated hamlet located on the eastern tip of Long Island in southeastern New York. The town was named after the Montaukett Indians who lived on much of eastern Long Island when Europeans first made contact in the 17th century. Archeological records show that Native Americans occupied eastern Long Island at least 3,000 years prior to European contact. The Montaukett Indians derived their name from the land they lived on, Montaukett meaning hilly country. The Montauketts made great use of Long Island's abundant resources, and the nation subsisted by growing crops such as corn, squash, and beans as well as gathering berries, herbs, and roots. In addition to game such as deer and fish, the Montauketts also hunted whales and used every part of the whale, including its oil, which they burned in large clamshells. Living on an island at first isolated the Montaukett people, but they soon became a strong economic force in the region thanks to the production of the American Indian currency wampum. Wampum was constructed out of polished sea shells, which were found in abundance along Long Island's beaches. The Montauketts' rich resources, however, led to wars with surrounding Indian nations, including the Pequots and Narragansetts to the north. The Pequots eventually forced the Montauketts to forfeit wampum as tribute. By the early 17th century, the Montauketts were faced with wars against surrounding Native Americans and an onslaught of European diseases, and in order to preserve his nation's territorial integrity, the Montaukett sachem, Wyandanch, established an alliance with English settlers in Connecticut in 1637. Over time, however, the Montauketts' began selling off land to the English settlers, and disease further decimated their numbers. A 1650 smallpox epidemic killed around two-thirds of the Montaukett people. In 1665, Wyandanch granted the English permission to pasture livestock on Montaukett lands. In 1686 a group of East Hampton settlers known as the Proprietors bought the territory of Montauk from the Montauketts, and would continue to hold on to the land in a joint trust for the next 200 years. Despite attempts over the years, the town has never been incorporated as a village. Many years later, the Montauketts attempted to reassert their land rights on Long Island by petitioning New York State Judge Abel Blackmar in 1909. Blackmar refused to recognize the Montauketts as an Indian tribe, which has to this day left them without a reservation on the land that still bears their name.
Occom, Samson
Samson Occom was a Mohegan leader and ordained Presbyterian minister. Occom began his public career in 1742, when he was chosen as a tribal counselor to Ben Uncas II. The following year, he sought out Eleazar Wheelock, a young Anglo-American minister in Lebanon, CT, in hopes of obtaining some education and becoming a teacher at Mohegan. Wheelock agreed to take on Occom as a student, and though Occom had anticipated staying for a few weeks or months, he remained with Wheelock for four years. Occom's academic success inspired Wheelock to open Moor's Indian Charity School in 1754, a project which gave him the financial and political capital to establish Dartmouth College in 1769. After his time with Wheelock, Occom embarked on a 12-year mission to the Montauk of Long Island (1749-1761). He married a Montauk woman, Mary Fowler, and served as both teacher and missionary to the Montauk and nearby Shinnecock, although he was grievously underpaid for his services. Occom conducted two brief missions to the Oneida in 1761 and 1762 before embarking on one of the defining journeys of his career: a fundraising tour of Great Britain that lasted from 1765 to 1768. During this journey, undertaken on behalf of Moor's Indian Charity School, Occom raised £12,000 (an enormous and unanticpated amount that translates roughly to more than two-million dollars), and won wide acclaim for his preaching and comportment. Upon his return to Mohegan in 1768, Occom discovered that Wheelock had failed to adequately care for his family while he was gone. Additionally, despite the vast sums of money that he had raised, Occom found himself unemployed. Wheelock tried to find Occom a missionary position, but Occom was in poor health and disinclined to leave his family again after seeing the treatment with which they had met while he was in Britain. Occom and Wheelock's relationship continued to sour as it became apparent to Occom that the money he had labored to raise would be going towards infrastructure at Dartmouth College, Wheelock's new project, rather than the education of Native Americans. After the dissolution of his relationship with Wheelock, Occom became increasingly focused on the needs of the Mohegan community and increasingly vocal in criticizing Anglo-Americans' un-Christian treatment of Native Americans. In September of 1772, he delivered his famous "Sermon on the Execution of Moses Paul," which took Anglo-American spiritual hypocrisy as one of its major themes, and which went into four printings before the end of the year. In 1773, Occom became further disillusioned when the Mason Land Case was decided in favor of the Colony of Connecticut. The details of the Mason Case are complicated, but to summarize: the Colony of Connecticut had gained control of Mohegan land early in the 18th century under very suspect circumstances, and successfully fended off the Mohegan's 70-year-long legal challenge. The conclusion of the case came as a blow to the Mohegans, and further convinced Occom of Anglo-American corruption. Along with David Fowler (Montauk Tribe), Occom's brother-in-law, and Joseph Johnson (Mohegan), Occom's son-in-law, Occom helped found Brothertown, an Indian tribe formed from the Christian Mohegans, Pequots, Narragansetts, Montauks, Tunxis, and Niantics. They eventually settled in Oneida country in upstate New York. Occom moved there with his family in 1789, spending the remaining years of his life serving as a minster to the Brothertown, Stockbridge, and Mohegan Indians. Harried by corrupt land agents, the Brothertown and Stockbridge groups relocated to the eastern shore of Lake Winnebago, though Occom died in 1792 before he could remove himself and his family there. Occom's writings and legacy have made him one of the best known and most eminent Native Americans of the 18th century and beyond.