Eleazar Wheelock, letter, to Colonel Henchman, 1756 September 20
ms-number: 756520
abstract: Wheelock writes a draft of a letter discussing the intended charter for the Charity School.
handwriting: Relatively tidy and legible, with a few deletions and additions.
paper: Moderate staining and creasing; large stain on upper right corner of 1 recto, with no loss of text.
noteworthy: On same paper as 756190, 756900.1 and 756900.2.
layout: If the paper containing all four letters were to be read as a book, this letter would be page two.
---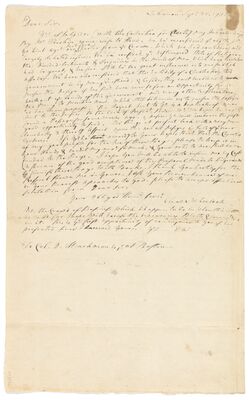 (View Page Image)
Lebanon
ſep.

t

20. 1756.
Dear Sir.


Y
rs
of
July 30
. (with the Collection for Cloath
g
my Indian Boys)
By
M.

r

Elderkin
came Safe to Hand. we ha' reconſidered y.
e
obj
ns
w
c
y
o
hint ags
t
our
⇑
Suit for a
Charter from y
e
Crown. which we had conſidered and
largely debated before. We ha' conſidr
d
y.
e
Diſtemperd ſtate of Religion
the divided Sentiments & Prejudices in the minds of men, which have heretofore
had ſo great, & we fear Still ha' too great influence into our publick
Affairs. We have also conſidered that the validity of a Charter from this
Government is by many Questiond. & beſides they cant Enable us to
act
purſue the Deſign if we ſho
d
have ever ſo fair an opportunity for it
without y
e
bounds of this Government and many other Conſiderations
too many to mention now. which Still determin us to purſue the Deſign
as has been propoſ
d
. The Paquet ſent to y
o
is a Duplicate of one
ſent to
the Jerſies
to the care of
Preſid.

t

Burr
w.
c
we hope he has
found a Paſsage for ſome weeks ago. & Deſire y
o
will imbrace the firſt
good opportunity to ſend. The things at preſent look with a very me-
-loncholly & threat
g
Aſpect upon this and all Deſigns in fav.
r
of y.
e
poor
Creatures. If y.
o
ha'
Rec.d
accord
g
to your hopes Rec.
d
Rec.
d
the Charities
of any good people for the use of these Boys. please to keep it in
your Hands & credit my acco.
t
ſo much. & your ord.
r
to me ſhall be re-
funded to the Boys. I hope you will be able to inform me by
Cap

t
[illegible: [guess: J

n

Freeman] ]
of the good acceptance of the Proposal made to
D.

r

Gardener
to furniſh these Boys with Books. I thank you hartily for the
Reſpect ſhewn me in yours. I aſk your Remembrance of me
in your Neareſt aproaches to God. pleaſe to accept affectionate
ſalutation from Dear ſir,
your obliged Hum.

le

ſerv.

t



Eleazr Wheelock
P.S. the Crowd of Buſineſs which I happen to be in when this Lett
r
is call
d
for I hope will Excuſe the inacuracies Blotts & Er
[illegible]
in it. This is y
e
firſt opportunity of conveyance to you y
t
has
preſented ſince I Received yours. y
rs
—
EW
To
Col. D. Henchman Esq.

r
at
Boſton
—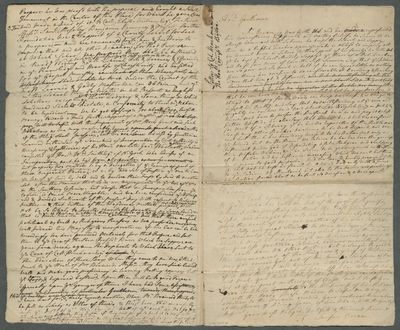 (View Page Image)
Blank page.
Boston
The first English immigrant to settle on a peninsula in a harbor on the northeastern coast of North America the local Algonquin Indians called "Shawmet" was William Blackstone in 1629. A year later, John Winthrop arrived with a group of English Puritans and other settlers and named the area Boston after his hometown in Lincolnshire, England. The colony quickly developed representative political institutions that would help shape a democratic nation. Over the next few centuries, Boston emerged as an intellectual and educational center, and, because of its excellent harbor, became a leading commercial hub and a primary port for North America. It is the capital and largest city of the Commonwealth of Massachusetts, and the largest city in New England. Boston was the home for the Boards of Commissioners of several overseas religious societies who sent missionaries throughout the colonies in the 18th century, and was the site of many important events of the American Revolution.
New Jersey
New Jersey is a state located on the mid-Atlantic coast of the United States. For at least 10,000 years before the arrival of Europeans, the area of New Jersey was occupied by the Delaware Indians whose territory extended from what is now the state of Delaware to eastern Pennsylvania. Established as a colony in 1664 and named in honor of the English Channel's Isle of Jersey, New Jersey shared a royal governor with the nearby colony of New York until 1738. During the Revolutionary War, New Jersey fought for independence from Britain and was the site of over a hundred different battles. In the later 1730s, the Society in Scotland for the Propagation of Christian Knowledge and the New England Company showed particular interest in missionizing in the Native communities along the Delaware River in New Jersey. At the same time, the First Great Awakening erupted along the eastern seaboard, and one of its most influential figures was Gilbert Tennent from New Brunswick, New Jersey, who, like other New Light ministers, courted and attracted Native converts. In the first years of Wheelock's Indian Charity School, he was less interested in recruiting Native students from local tribes and looked towards the powerful Haudenosaunee (Iroquois) tribes of New York and the Delawares of New Jersey. In 1754, at Wheelock's behest, John Brainerd, a SSPCK missionary in New Jersey, sent two Delaware boys, John Pumshire and Jacob Woolley, who were the first official Native students at the School. In 1788, Occom, David Fowler and Peter Pohquonnappeet attempted fundraising in Pennsylvania and New Jersey for Brothertown and New Stockbridge.
Lebanon
Lebanon is a town located in the state of Connecticut southwest of the town of Hartford. The land that became Lebanon was inhabited at least 10,000 years ago based on the archeological record. By the 1600s, the land was permanently inhabited by the Mohegan Indians, who used the area primarily for hunting. Lebanon was officially formed in 1700 when English settlers consolidated a number of land tracts, including several land grants by the Connecticut General Assembly and lands purchased from the Mohegans. However, these purchases were controversial. In 1659, the Mohegans entrusted their reserve land to Major John Mason, and in the following year, Mason transferred this land to the Connecticut colonial government with the understanding that there would be enough land left for the Mohegans to farm. The Mohegans claimed that they never authorized a transfer to the colonial government and only Mason's heirs were entrusted with their land. In 1662, Connecticut, which included the Mohegan land that had been entrusted to the Masons, was incorporated by a royal charter. Based on this charter, the colony argued that the land was now the property of the government. In 1687, the colony began granting the Mohegan land to townships, and in 1704 the Masons petitioned the Crown on behalf of the Mohegans, claiming that such transfers of land to townships were illegal. Between the years of 1705 and 1773 legal disputes and controversies persisted, finally ending in a verdict by the Crown against the Mohegans. In 1755, Wheelock received property and housing in Lebanon that he would use as his house and school. While Lebanon was originally incorporated as a part of New London County in 1700, in 1724 it became a part of New Windham, before once again becoming a part of New London County in 1826. Lebanon was central to the American Revolution with half of its adult population fighting for the colonists and hundreds of meetings convened in the town for the revolutionary cause.
Wheelock, Eleazar
Eleazar Wheelock was a New Light Congregationalist minister who founded Dartmouth College. He was born into a very typical Congregationalist family, and began studying at Yale in 1729, where he fell in with the emerging New Light clique. The evangelical network that he built in college propelled him to fame as an itinerant minister during the First Great Awakening and gave him many of the contacts that he later drew on to support his charity school for Native Americans. Wheelock's time as an itinerant minister indirectly brought about his charity school. When the Colony of Connecticut retroactively punished itinerant preaching in 1743, Wheelock was among those who lost his salary. Thus, in 1743, he began operating a grammar school to support himself. He was joined that December by Samson Occom, a Mohegan Indian, who sought out an education in hopes of becoming a teacher among his people. Occom's academic success inspired Wheelock to train Native Americans as missionaries. To that end, he opened Moor's Indian Charity School in 1754 (where he continued to train Anglo-American students who paid their own way as well as students who functionally indentured themselves to Wheelock as missionaries in exchange for an education). Between 1754 and 1769, when he relocated to New Hampshire, Wheelock trained approximately 60 male and female Native American students from nearby Algonquian tribes and from the Haudenosaunee (Iroquois) of central New York. At the same time, he navigated the complicated politics of missionary societies by setting up his own board of the Society in Scotland for Propagating Christian Knowledge, although he continued to feud with the Boston Board of the SSPCK and the London Commissioners in Boston (more colloquially called the New England Company). By the late 1760s, Wheelock had become disillusioned with the idea of Native American education. He was increasingly convinced that educating Native Americans was futile (several of his students had failed to conform to his confusing and contradictory standards), and, in late 1768, he lost his connection to the Haudenosaunee. With his inclination and ability to sponsor Native American missionaries largely depleted, Wheelock sought instead to fulfill his ultimate ambition of obtaining a charter and opening a college, which he did in 1769. To fund this new enterprise, Wheelock drew on the £12,000 that Samson Occom had raised for Moor's Indian Charity School during a two-and-a-half year tour of Great Britain (1765 to 1768). Much of this money went towards clearing land and erecting buildings in New Hampshire for the Charity School's relocation — infrastructure that also happened to benefit Dartmouth. Many of Wheelock's contemporaries were outraged by what they saw as misuse of the money, as it was clear that Dartmouth College was not intended for Indians and that Moor's had become a side project. Although Wheelock tried to maintain at least some commitment to Native American education by recruiting students from Canadian communities, the move did a great deal of damage to his public image. The last decade of Wheelock's life was not easy. In addition to the problems of trying to set up a college far away from any Anglo-American urban center, Wheelock experienced the loss of relationships with two of his most famous and successful students, Samson Occom and Samuel Kirkland (an Anglo-American protégé). He also went into debt for Dartmouth College, especially after the fund raised in Britain was exhausted.
Burr, Aaron Sr.
Aaron Burr, Sr. is known as the founder of Princeton University (formerly College of New Jersey). He is technically Princeton's second president, but his predecessor, Jonathan Dickinson, died during his first year in office so the responsibility of Princeton's organization fell to Burr. Prior to his presidency at Princeton, Burr was a Presbyterian minister in Newark, New Jersey. He became acquainted with Jonathan Dickinson and was the youngest clergyman of the original trustees of Princeton when Dickinson established it as a classical school. Burr took over the running of the college in October 1747, upon Dickinson's death. One year later Burr was formally elected as president of the college. Burr served as both the president and pastor of the college until 1755 when, at the request of the trustees, he ceased his duties as pastor in order to devote more time to the college. Burr established the first entrance requirements, the first course of study, the first set of rules and regulations, and supervised the erection of the first building, Nassau Hall. Burr also moved the college to its permanent home in Princeton, New Jersey. Burr died only ten years after the founding of Princeton, at the age of 41.