Eleazar Wheelock, letter, to Colonel Henchman and The Boston Commissioners, February 1756
ms-number: 756190
abstract: Wheelock describes Occom's duties, notes that Occom is in debt, and proposes that he be given aid.
handwriting: Some deletions and additions; note added in different handwriting/ink.
noteworthy: Letter is on the same paper as 756900.1, 756900.2 and 756520. It is clearly a draft.
layout: If the paper containing all four letters were to be read as a book, this letter would be the top half of page one.
---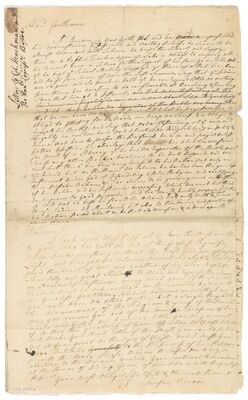 (View Page Image)

Hon.

d

Gentlemen

M.

r

Occom
is now with
Me
US and has
made a
repreſented
his circumſtances as
⇑
bieng
Difficult. and wanting Releif. he Seems to be
almoſt worn out with Labour. he keeps the School and Supplys
them as a Publick Teacher upon y
e
Sab. is oblig
d
to imploy all
his vacant hours in Labour for the Support of his family. he tells
Me
US
y.
t
he Kept y.
e
School Steadily Supply
d
y.
e
Place of a Pub. Teacher
and Raiſd four acres of corn the Laſt Summer. ſays that y
e
Indians
are So poor and So much in Debt y.
t
he can Expect little or nothing from them.
has Occaſion to do conſiderable at Boarding & Teaching
Some that live at a Diſtance,
and that notwithstanding all the
Prudence and frugality he can use is now about £50

N. York

Cur

cy
in Debt. that he has no Expositor of the Bible nor many other
that he can have no Creature Pasture but what he pays Deer for. is
obligd to
[illegible]
pay for his wood, can keep no Sheep, & is obligd to
buy all his Cloath
g
. and Says that notwithſtanding all the y
e.
care and
Frugality he can use he is now about £50
N. York
Cur
cy
in Debt. &
knows not how to purſue the Buiſineſs he is in and pay it
unleſs further Aſsiſted he also Says that
[illegible]
his abilites are
ſtarved ,
for want of a Library y.
t
he has no Expositor of the Bible nor
Scarſe any other Books. he Seems to be well diſposed, and we
cant but think he has been very useful to his Nation not only on
y

e

Island
but on the Main. we believe he
ha
has been the
greateſt Inſtrument under God of Diſcrediting a false Religion and rectifying
their miſtaken notions, &c. he Seems to be growing much in the Eſteem
of his Nation and his Influence increaſing which we cant but think
he improves to good purpose. And we would humbly propose whether
it will not be beſt he ſhould be ordaind not only with a
⇑
Special
view
to y
e
Indians at
Muntauck
but also to the Towns and parties of
his Nation Round about as he ſhall So Occaſion & a Door open to
ſerve them.
[left]
Letters to

Col. Henchman

and
The Hon

le

Com̅iſs

rs

Boston
Boston Board of the Society in Scotland for Propagating Christian Knowledge
The Boston Board of the Society in Scotland for Propagating Christian Knowledge (SSPCK) was established in 1730 to support local missionary efforts. It was the SSPCK's first board in the British colonies in America. The SSPCK later founded a New York Board (1741) and a Connecticut Board (1764). Although Wheelock lobbied for a New Hampshire board after his 1770 relocation, by that time the SSPCK had had enough of him and his request was denied. The Boston Board of the SSPCK sponsored many missionaries to Native Americans, including David and John Brainerd. However, it did not provide very much support to Wheelock or his school, in large part because Wheelock and Charles Chauncy, chair of the Boston Board, clashed over Congregationalist politics. The Boston Board did provide £20 to support Samson Occom and David Fowler on a 1761 mission to the Six Nations to procure Moor's students, but it was then reluctant to support the boys Occom and Fowler obtained. The Board eventually paid £58.10.1 in 1762. They never gave money to Wheelock again. Wheelock was instrumental in forming the Connecticut Board of the SSPCK in 1764, over which he exerted considerable influence. From that point forward, he was largely able to avoid dealing with the Boston Board of the SSPCK. The The Company for Propagation of the Gospel in New England and the parts adjacent in America is also called the Boston Board in some letters, and most secondary sources have mixed the two Boston Boards. This is an easy mistake to make since both are sometimes called the Boston Board and vigorously opposed Wheelock. However, the general confusion in the literature means that any secondary source's statement on either board should be taken with some skepticism.
Long Island
Long Island is an island located in southeast New York State. In 1824, historian Silas Wood claimed that 13 different tribes inhabited the island when the Dutch and English arrived in 1639: the Canarsie, the Rockaway, the Matinecock, the Merrick, the Massapequa, the Nissequoge, the Secatoag, the Seatuket, the Patchoag, the Corchaug, the Shinnecock, the Manhasset, and the Montaukett. This is the commonly accepted tribal history of Long Island, and Wood's theory is taught in New York textbooks today. Yet, in 1992, historian John Strong challenged this dominant narrative, arguing that tribal systems did not develop on Long Island until after Europeans arrived. Based on Dutch and English colonists' accounts, the Algonquian communities on western Long Island likely spoke the Delaware-Munsee dialect and those to the east spoke languages related to the southern New England Algonquian dialects. These indigenous peoples organized themselves by language and kinship, but beyond village systems and the occasional alliance, there existed no formal tribal structure. Rather, internal structures arose among the Montauks, the Shinnecocks, the Poospatucks, and the Matinnocks to cope with English settlers, and became integral to these peoples' survival. Although new diseases and land negotiations severely encroached on the freedom of Long Island's Native population, these groups that developed tribal structures retain a sense of community today. By the 18th century, much of the island had fallen into the hands of the English, who were the sole European power on Long Island once the Dutch relinquished their claims to the land after the second Anglo-Dutch War in 1664. During the Great Awakening of the 18th century, Occom spent 12 years serving as a missionary to the Montaukett Indians of Long Island, along with Presbyterian minister Azariah Horton. Today, the western half of the island is densely populated due to its proximity to Manhattan, and its eastern half is mainly devoted to resort towns. The Shinnecocks and the Poospatucks retain autonomous reservations on Long Island.
Boston
The first English immigrant to settle on a peninsula in a harbor on the northeastern coast of North America the local Algonquin Indians called "Shawmet" was William Blackstone in 1629. A year later, John Winthrop arrived with a group of English Puritans and other settlers and named the area Boston after his hometown in Lincolnshire, England. The colony quickly developed representative political institutions that would help shape a democratic nation. Over the next few centuries, Boston emerged as an intellectual and educational center, and, because of its excellent harbor, became a leading commercial hub and a primary port for North America. It is the capital and largest city of the Commonwealth of Massachusetts, and the largest city in New England. Boston was the home for the Boards of Commissioners of several overseas religious societies who sent missionaries throughout the colonies in the 18th century, and was the site of many important events of the American Revolution.
Montauk
Montauk is an unincorporated hamlet located on the eastern tip of Long Island in southeastern New York. The town was named after the Montaukett Indians who lived on much of eastern Long Island when Europeans first made contact in the 17th century. Archeological records show that Native Americans occupied eastern Long Island at least 3,000 years prior to European contact. The Montaukett Indians derived their name from the land they lived on, Montaukett meaning hilly country. The Montauketts made great use of Long Island's abundant resources, and the nation subsisted by growing crops such as corn, squash, and beans as well as gathering berries, herbs, and roots. In addition to game such as deer and fish, the Montauketts also hunted whales and used every part of the whale, including its oil, which they burned in large clamshells. Living on an island at first isolated the Montaukett people, but they soon became a strong economic force in the region thanks to the production of the American Indian currency wampum. Wampum was constructed out of polished sea shells, which were found in abundance along Long Island's beaches. The Montauketts' rich resources, however, led to wars with surrounding Indian nations, including the Pequots and Narragansetts to the north. The Pequots eventually forced the Montauketts to forfeit wampum as tribute. By the early 17th century, the Montauketts were faced with wars against surrounding Native Americans and an onslaught of European diseases, and in order to preserve his nation's territorial integrity, the Montaukett sachem, Wyandanch, established an alliance with English settlers in Connecticut in 1637. Over time, however, the Montauketts' began selling off land to the English settlers, and disease further decimated their numbers. A 1650 smallpox epidemic killed around two-thirds of the Montaukett people. In 1665, Wyandanch granted the English permission to pasture livestock on Montaukett lands. In 1686 a group of East Hampton settlers known as the Proprietors bought the territory of Montauk from the Montauketts, and would continue to hold on to the land in a joint trust for the next 200 years. Despite attempts over the years, the town has never been incorporated as a village. Many years later, the Montauketts attempted to reassert their land rights on Long Island by petitioning New York State Judge Abel Blackmar in 1909. Blackmar refused to recognize the Montauketts as an Indian tribe, which has to this day left them without a reservation on the land that still bears their name.
Wheelock, Eleazar
Eleazar Wheelock was a New Light Congregationalist minister who founded Dartmouth College. He was born into a very typical Congregationalist family, and began studying at Yale in 1729, where he fell in with the emerging New Light clique. The evangelical network that he built in college propelled him to fame as an itinerant minister during the First Great Awakening and gave him many of the contacts that he later drew on to support his charity school for Native Americans. Wheelock's time as an itinerant minister indirectly brought about his charity school. When the Colony of Connecticut retroactively punished itinerant preaching in 1743, Wheelock was among those who lost his salary. Thus, in 1743, he began operating a grammar school to support himself. He was joined that December by Samson Occom, a Mohegan Indian, who sought out an education in hopes of becoming a teacher among his people. Occom's academic success inspired Wheelock to train Native Americans as missionaries. To that end, he opened Moor's Indian Charity School in 1754 (where he continued to train Anglo-American students who paid their own way as well as students who functionally indentured themselves to Wheelock as missionaries in exchange for an education). Between 1754 and 1769, when he relocated to New Hampshire, Wheelock trained approximately 60 male and female Native American students from nearby Algonquian tribes and from the Haudenosaunee (Iroquois) of central New York. At the same time, he navigated the complicated politics of missionary societies by setting up his own board of the Society in Scotland for Propagating Christian Knowledge, although he continued to feud with the Boston Board of the SSPCK and the London Commissioners in Boston (more colloquially called the New England Company). By the late 1760s, Wheelock had become disillusioned with the idea of Native American education. He was increasingly convinced that educating Native Americans was futile (several of his students had failed to conform to his confusing and contradictory standards), and, in late 1768, he lost his connection to the Haudenosaunee. With his inclination and ability to sponsor Native American missionaries largely depleted, Wheelock sought instead to fulfill his ultimate ambition of obtaining a charter and opening a college, which he did in 1769. To fund this new enterprise, Wheelock drew on the £12,000 that Samson Occom had raised for Moor's Indian Charity School during a two-and-a-half year tour of Great Britain (1765 to 1768). Much of this money went towards clearing land and erecting buildings in New Hampshire for the Charity School's relocation — infrastructure that also happened to benefit Dartmouth. Many of Wheelock's contemporaries were outraged by what they saw as misuse of the money, as it was clear that Dartmouth College was not intended for Indians and that Moor's had become a side project. Although Wheelock tried to maintain at least some commitment to Native American education by recruiting students from Canadian communities, the move did a great deal of damage to his public image. The last decade of Wheelock's life was not easy. In addition to the problems of trying to set up a college far away from any Anglo-American urban center, Wheelock experienced the loss of relationships with two of his most famous and successful students, Samson Occom and Samuel Kirkland (an Anglo-American protégé). He also went into debt for Dartmouth College, especially after the fund raised in Britain was exhausted.
Occom, Samson
Samson Occom was a Mohegan leader and ordained Presbyterian minister. Occom began his public career in 1742, when he was chosen as a tribal counselor to Ben Uncas II. The following year, he sought out Eleazar Wheelock, a young Anglo-American minister in Lebanon, CT, in hopes of obtaining some education and becoming a teacher at Mohegan. Wheelock agreed to take on Occom as a student, and though Occom had anticipated staying for a few weeks or months, he remained with Wheelock for four years. Occom's academic success inspired Wheelock to open Moor's Indian Charity School in 1754, a project which gave him the financial and political capital to establish Dartmouth College in 1769. After his time with Wheelock, Occom embarked on a 12-year mission to the Montauk of Long Island (1749-1761). He married a Montauk woman, Mary Fowler, and served as both teacher and missionary to the Montauk and nearby Shinnecock, although he was grievously underpaid for his services. Occom conducted two brief missions to the Oneida in 1761 and 1762 before embarking on one of the defining journeys of his career: a fundraising tour of Great Britain that lasted from 1765 to 1768. During this journey, undertaken on behalf of Moor's Indian Charity School, Occom raised £12,000 (an enormous and unanticpated amount that translates roughly to more than two-million dollars), and won wide acclaim for his preaching and comportment. Upon his return to Mohegan in 1768, Occom discovered that Wheelock had failed to adequately care for his family while he was gone. Additionally, despite the vast sums of money that he had raised, Occom found himself unemployed. Wheelock tried to find Occom a missionary position, but Occom was in poor health and disinclined to leave his family again after seeing the treatment with which they had met while he was in Britain. Occom and Wheelock's relationship continued to sour as it became apparent to Occom that the money he had labored to raise would be going towards infrastructure at Dartmouth College, Wheelock's new project, rather than the education of Native Americans. After the dissolution of his relationship with Wheelock, Occom became increasingly focused on the needs of the Mohegan community and increasingly vocal in criticizing Anglo-Americans' un-Christian treatment of Native Americans. In September of 1772, he delivered his famous "Sermon on the Execution of Moses Paul," which took Anglo-American spiritual hypocrisy as one of its major themes, and which went into four printings before the end of the year. In 1773, Occom became further disillusioned when the Mason Land Case was decided in favor of the Colony of Connecticut. The details of the Mason Case are complicated, but to summarize: the Colony of Connecticut had gained control of Mohegan land early in the 18th century under very suspect circumstances, and successfully fended off the Mohegan's 70-year-long legal challenge. The conclusion of the case came as a blow to the Mohegans, and further convinced Occom of Anglo-American corruption. Along with David Fowler (Montauk Tribe), Occom's brother-in-law, and Joseph Johnson (Mohegan), Occom's son-in-law, Occom helped found Brothertown, an Indian tribe formed from the Christian Mohegans, Pequots, Narragansetts, Montauks, Tunxis, and Niantics. They eventually settled in Oneida country in upstate New York. Occom moved there with his family in 1789, spending the remaining years of his life serving as a minster to the Brothertown, Stockbridge, and Mohegan Indians. Harried by corrupt land agents, the Brothertown and Stockbridge groups relocated to the eastern shore of Lake Winnebago, though Occom died in 1792 before he could remove himself and his family there. Occom's writings and legacy have made him one of the best known and most eminent Native Americans of the 18th century and beyond.